Inaugural Conference Demonstrates Strength of Student Leaders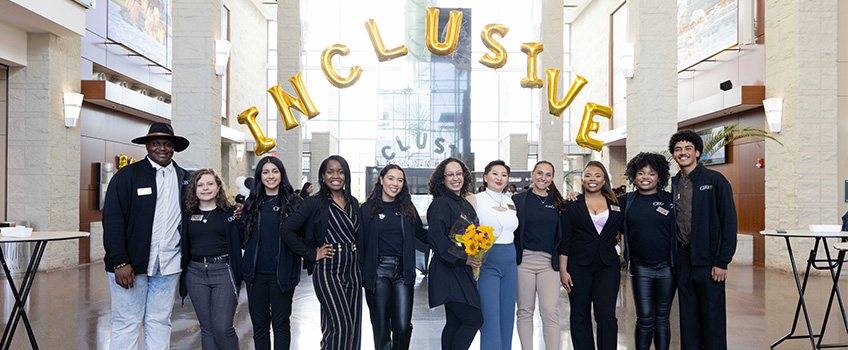 Galloway, N.J. — The first cohort of the Cultural Engagement Ospreys (CEO) interns held the inaugural Inclusive Leadership Conference on April 14 in the Campus Center.
The conference included live music, free sessions on thrifting and headshots, an interactive fair about the art of origami, henna and gaming, and other educational sessions throughout the day. In addition, the conference included two keynote speakers who are also Educational Opportunity Fund alumni — Anyelis Cordero, CEO of Propel on Purpose Coaching, and Akeem Lloyd, CEO of A Leadership Journey.
The conference also provided students from Ocean County College, Rowan College of Burlington County and Hudson Community College an opportunity to check out Stockton University and the programs/initiatives that are offered here on campus.
Ana Edmondson, interim assistant vice president of Student Transition Access and Retention, supported the students in organizing the conference, which she said has prepared them for the world after graduation by developing their National Association of Colleges and Employers (NACE) career competencies.
"The conference schedule has been organized in such a way to be dynamic, immersive, interactive and entertaining to excite students to learn more about this crucial topic on diversity and inclusion and educate the attendees on the value of becoming inclusive leaders," Edmondson said. "The CEO Interns are strengthening their skills in communication, critical thinking, equity and inclusion, leadership, professionalism, teamwork and technology."
According to Edmondson, the lead-up to the conference has had exciting highlights, such as the CEO interns getting valuable training from departments on campus on assessment, marketing, social capital and leadership; hosting a professional clothing drive that were distributed to attendees in need at the conference; attending a Diversity Retreat with AtlantiCare that allowed them to network with different departments; and receiving $150 gift cards to Boscov's, so that each intern can purchase professional attire before the event.
"Ultimately, the Inclusive Leadership Conference is a collaborative effort from staff, faculty and students," Chief CEO Alicia Jenkins said. "It was literally every hand coming together to support something bigger than ourselves: inclusion. There were no little 'I's, but just big 'We's."
Conference Highlight: Student-Led Projects
Throughout the day, students led multiple sessions and had active roles during the conference. In the morning, selected Board of Trustee (BOT) Student Fellows spoke on their social justice-related projects in the Campus Center Theatre and the impact that the projects had on the campus community and themselves.
Business Studies major Shannon Glover utilized the fellowship in the spring of 2022 to create a human library — a project where participants can "check out books" about different topics by listening to their peers and their lived experiences. His main takeaways from the project were don't be afraid to ask for help, you'll gain more perspective after completing it and turnout doesn't necessarily equal impact.
"When my event happened, we didn't get the turnout that we exactly wanted, but, in the end, we had a lot bigger impact than expected," Glover said. "One of my coworkers called me after and told me that she cried because, even though she didn't go through them herself, she was able to connect to so many of the stories told. It was a transformative experience for me that shaped me as a person and really pushed me into my role as a leader in my community."
Communication Studies major Shanyce Smith was awarded the fellowship in the spring of 2022 to give back to her high school. Smith met with high school students in Camden to help them visualize their goals, get professional dress attire and learn how to apply to colleges — all during their sophomore year.
"This made a big impact on me because I didn't have this guidance when I was in high school," Smith shared. "I was a first-generation student, and I was nervous walking into the college world. It was different; no one exposed me to this, so I wanted (the high schoolers) to be ready for it. This project helped me help my community."
Criminal Justice major Mo Keane was granted their fellowship in the fall of 2022. They're currently researching perceptions of LGBTQ+ relationships and how those perceptions can impact LGBTQ+ individuals in terms of receiving care in power-based personal violence cases, access to family planning resources and more.
"As much as we have progressed, liberation didn't start or stop with the legalization of same-sex marriage," Keane said. "Liberation didn't start or stop at the AIDS crisis of the '60s and '70s, and it isn't starting or stopping now. We have to continue to fight."
Conference Highlight: Emphasis on Community
In the afternoon, there were multiple breakout sessions that encompassed a wide variety of topics, such as dressing to impress, being LGBTQ+ in leadership spaces, the significance of nutrition and wellness and combatting ableism.
In one such session, Service and Solidarity, participants sat in on a panel discussion with members of multicultural Greek organizations. Moderated by Social Work major Aleyshka Barbosa (Chi Upsilon Sigma) and director of the Multicultural Center, Jovin Fernandez (Delta Sigma Theta), the panelists discussed why they decided to join their organizations, how Greek Life helped them develop into student leaders and how involvement goes beyond one's undergraduate year.
Ellis Bonds, coordinator for Social Justice Education and Inclusive Communities for Residential Life, was hesitant to pledge to a fraternity on campus. It wasn't until after attending a couple of information sessions, a friend discussing their experience being in a fraternity and dreaming of his probate (the official acknowledgment of pledging to an organization) that Bonds had a change of heart. Bonds is now the inaugural executive director of the Zulu chapter for Lambda Sigma Upsilon Latino Fraternity and has five cohorts of pledges under him.
"I saw these men who were doing so many great things on campus — serving on Student Senate, RAs and orientation leaders — and I wanted to emulate that," Bonds said.
Social Work major Janet Martin originally wasn't interested in joining Greek Life, but her change of heart came when she reflected on the help she received from a youth auxiliary of Zeta Phi Beta during her sophomore and senior years of high school. The organization's scholarships helped Martin prepare for the SATs and supported her first year at Stockton. The choice became clearer after attending information sessions like Meet the Greeks and Meet Black Stockton, and Martin soon became vice president of her organization with a new member under her.
"During the fall semester of my junior year, I felt the need for community, and it wasn't that I needed to join another club," Martin said. "I needed to feel connected to something larger than myself."
Joe Thompson, director of Campus Center Operations, was admittedly anti-Greek Life as an undergraduate student due to common stereotypes of partying 24/7, something that Thompson wasn't interested in. He eventually met the chapter president of Phi Mu Delta at his college in Pennsylvania who showed him that they were different. Thompson soon became national president and served as director of Sorority and Fraternity Life at Stockton for 10 years.
"He told me about the kind of organization that they wanted to start at the school, and everything reflected my values of being inclusive, focusing on service and philanthropy," Thompson said. "I was the first person that he spoke to, too, so that meant I was going to be able to help create this group and pull in like-minded people."
Biology major Leilani Moreno-Solano's experience reflected the rest of the panel. She even lightly joked that Stockton is an EWI – an extremely white institution – which didn't make her feel comfortable looking for a sorority to join. A genuine interaction with someone in the organization, however, dispelled all of those negative feelings for Moreno, who has just pledged to Chi Upsilon Sigma in the fall of 2022.
"I honestly felt an instant connection to them because of their purpose of educating, elevating and empowering women," Moreno said. "They also have an emphasis on sisterhood. I'm the eldest sister with a younger brother, so I didn't have interactions like this until I joined."
Other sessions included:
NOMMO (The Power of the Spoken Word) – The campus community was given an opportunity to step up to the mic and discuss lived experiences of attending a predominantly white institution. (Led by Donnetrice Allison, chair of Africana Studies)
Dress to Invest – An interactive session where students learned how to express themselves and feel confident while in a professional setting. (Led by CEO Ter'ron Oglesby)
MOSAIC Leadership: Making Our Space and Inclusive Community – Attendees learned the difference between diversity and inclusion with interactive activities with Brian Davis and Bryant Edmondson.
Lead with Pride – Students learned how perceptions of queerness impact individuals in professional settings and how to be inclusive. (Led by CEO Mo Keane)
Dismantling Ableism – Participants learned the importance of accessibility and how to become allies for those with disabilities. (Led by CEO Rebecca Nagy-Miller and Tierra Houston, program coordinator for the Women's Gender & Sexuality Center)
Leaders Pause Every Now and Zen (Yoga and Meditation Session) – Participants were encouraged to center health and wellness through yoga exercises with instructor Sophia.
Eating While Leading on the Run (Tips on Nutrition) – The community was introduced to Lyndsay Grega, MS, RDN, who discussed nutrition.
Post-Conference Reactions
Most of the students that attended the conference had a positive experience. Two students, Health Sciences major Dourna Moisc, of Long Branch, and Social Work major Armani Cox, both attended the MOSAIC Leadership workshop, where attendees were given a bag of different LEGO pieces — all the same color — and grouped with those around them.
Groups that worked individually and threw their completed pieces together at the last minute demonstrated diversity: all of the pieces were different, but they weren't coherent creations. Teams that worked closely together, however, had intricate and colorful creations, demonstrating inclusion.
"I really liked this activity because it touched on how you can have diversity but not inclusion," Moisc said. "The whole day has been informational, and I'm glad I can take all of these experiences and information and learn more."
"This day has pushed me to step up and to start a (mentoring) club that I've wanted to start for a while now," Cox said. "I want to become a student leader, especially since I'm already inspiring my family as the eldest daughter in my family."
Visual Arts major Christyna Howard, of Hamilton, and Biology major Jasmeen Warner, of Teaneck, both considered the conference impactful due to it being student-driven and its emphasis on introducing students to various professionals of color on campus.
"It wasn't something that I was expecting because I'm very used to diversity (programs) that are white-centered," Howard said candidly. "This conference was based on people of color who talked about their own experiences and who wanted to talk about what students wanted to talk about specifically. I really enjoyed it, and I'm glad that it will happen again next year. We'll most definitely be there again."
"As Chrissy said, it was just so different because I see people who look like me," Warner said. "The engagement was the most important part — they didn't just bring together some administrators and we're not just sitting there listening to them. They actually engaged with students and got to know us. When we see them in the hallway, we'll be able to recognize them and have deeper conversations with them now."
To conclude the day, awards were presented to faculty and staff in the Campus Center Event Room. The CEOs surprised both Jenkins and Edmondson with flowers and praise for the work that they did to support and organize the conference.
"This was quite the experience," Edmondson said. "This has been really heartfelt, and I couldn't have done this without these folks right here. This conference has been a success because of each and every CEO — they have impressed me and made me proud throughout this whole thing."
– Story by Loukaia Taylor
– Photos by Susan Allen