19th Annual MLK Day of Service a Success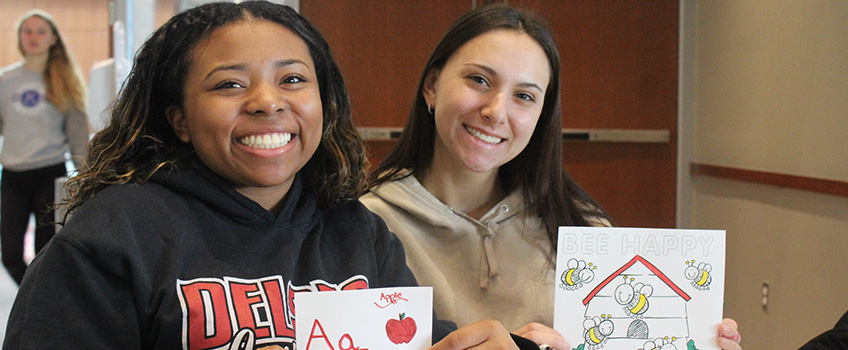 Galloway, N.J. — Stockton University's Galloway, Atlantic City and Hammonton locations came together and participated in a day of service projects on Jan. 16.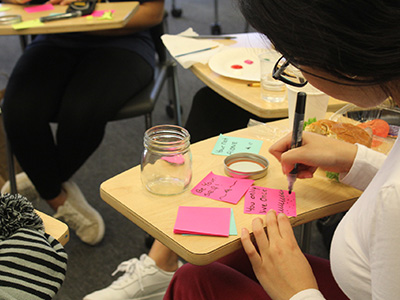 The Stockton Center for Community Engagement and Service Learning (SCCESL) coordinated the annual event, which had 32 programs both on and off campus for the first fully in-person day of service since 2020. Merydawilda Colon, director of SCCESL, welcomed participants during breakfast.
"I am delighted to have so many students, community members, faculty and staff among us today," Colon said. "I am so thankful that you chose to be here today, serving our community."
Colon also introduced Christopher Lipari-Pazienza, Engage NJ Changebuilder VISTA of SCCESL, who talked about the significance of today as a way to honor Rev. Dr. Martin Luther King Jr.'s legacy.
The MLK Day of Service is particularly "near and dear" to Lipari-Pazienza, as he has been involved with the event since he was a first-year student and volunteer in 2018. He has since graduated from the Criminal Justice dual degree program and now helps coordinate the projects with SCCESL.
"Martin Luther King Jr. was an activist who believed that in order to uplift and improve our communities, we must take the action ourselves," Lipari-Pazienza said. "We are the ones that we have been waiting for. He believed that we must be the change that we want to see. Even though we use this one day to honor him and give back to the community, I encourage you all to not let this be the only day that you give back."
Stockton President Harvey Kesselman echoed Lipari-Pazienza's sentiments after giving a shout-out to "Mama T," a community member who has attended every MLK Day since its inception almost 20 years ago.
"Don't end today with today," Kesselman said. "Today should only mark the beginning of your commitment to not only doing community service on MLK Day but to graduate and be involved in truly making a difference in the lives of the people that you impact."
Students, staff and faculty were eager to get started on their projects. Some of those projects were new, like Chi Upsilon Sigma National Latin Sorority, Inc.'s Jars of Inspiration and the Murphy Writing Center's archive projects.
Leilani Moreno-Solano, a sophomore Biology major from Egg Harbor Township, credited her line sister, Aleyshka Barbosa, for the idea of creating and decorating positive affirmations for students in the GOALS/GEAR UP program. Moreno-Solano said the project made her reflect on her journey from middle/high school and see how important words of encouragement are during that transition.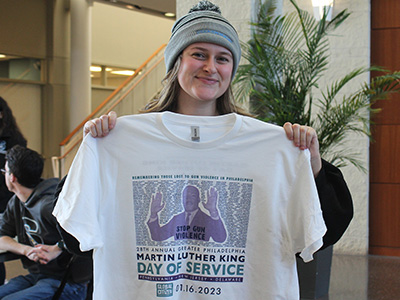 The Galloway campus had many volunteers from both Stockton and the greater community.
Projects included:
Creating various crafts and cards for local organizations with student organization Circle K International
Decorating posters that promote the use of American Sign Language with the Stockton Honors program
Writing positive affirmations and messages with Active Minds
Stuffing and decorating pencil cases for local school children with student organization Los Latinos Unidos
Touring the campus' science labs with the School of Natural Sciences and Mathematics
Making buttons with positive affirmations with the Social Work Club
Participating in storytelling stations with local community members, which was facilitated by Stories of Atlantic City
Promoting a paid student grant program with Save Barnegat Bay
Scanning paper documents to create a digital archive with the Murphy Writing Center
Creating inspiration jars for middle and high schoolers with the sorority Chi Upsilon Sigma
Making wreaths for older adults with the co-ed service fraternity Sigma Sigma Sigma
The Hammonton campus had 65 volunteers who upcylced 300 old T-shirts upcycled into recyclable bags, created 150 dog toys for local animal shelters and made 200 cards for older adults and veterans.
Projects included:
The Atlantic City campus had 257 Stockton-affiliated volunteers and members of the greater community volunteer for their projects.
Members of the community included students from Atlantic City High School, South Jersey Industries, Hard Rock Casino and Hotel, Ocean Casino Resort, Borgata, fraternity Iota Phi Theta, Inc., and Friday TyeDay.
Projects included:
Painting original designs on handmade tiles made by MudGirls Studios of Atlantic City

250

tiles were completed by volunteers

Decorating small bags, design and complete handwritten note cards and fill the kits with personal hygiene products (soap, shampoo, conditioner, toothbrushes and paste, lotion, body wash, etc. and a healthy snack) donated by local casino properties and dentist offices
Scanning photographs for inclusion in the African American Heritage Museum of Southern New Jersey's digital catalog
Participate in an employment workshop with Convenant House residents with sorority Alpha Kappa Alpha, Inc.

60

volunteers participated in the workshop.

Design positive messaging boards to display in communities throughout Atlantic City with the Eastern Service Workers Association
"I remember that fear that we all probably had at the end of high school where we're all like, 'What am I going to do with my life?' and so much pressure around having your life together," Moreno-Solano said. "But then, I came to Stockton and, I realized, there isn't that much pressure to grow up so fast. There are so many places here at Stockton where I feel safe and comfortable. Even when I don't know what I'm doing, at least I have a good environment to grow in."
Kirsten McGuire, of Barnegat, has participated in the day of service since she was a freshman. The Health Sciences graduate said this, however, is her first year working with the Murphy Writing Center, where she scanned and digitally archived various documents from the center.
"I used to be a History major, and I've always enjoyed history, so I thought that it was a good opportunity to read through previous writings and data that we've collected and transcribe it to the computer to use for future reference," McGuire said. "I guess the most interesting things I've seen so far were people's opinions while traveling. Some of the documents are from as early as 2016 and from a bunch of different countries. I liked seeing different people's reflections and opinions on what they saw."
For others, like student organization Circle K International and international student Riya Goyal, of India, the day involved projects that have since become day of service traditions.
Circle K President Laurel Flockhart and Vice President Ryan La had one of the best turnouts of the day with volunteers. Their project was several craft-making activities, including decorating grip socks for hospital patients, literacy packets for preschoolers to learn the alphabet and Valentine's Day wreath-making for Spring Home, a local home for older adults.
"We're really excited to see that we have not only our own club members here, but members of the community as well," Flockhart said. "There's a lot of engagement and a lot of different projects. We're happy to be here and to be doing good!"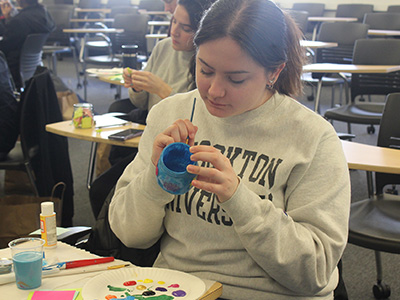 "It's nice to see a good turnout again after not having the projects fully in person," La said. "Seeing everyone come back has just been really nice to see. I think that, after this project, we're going to have a lot to donate to those in need, so it's become a really fun day."
Goyal, a Computer Science and Mathematics major, is a part of Stockton's Honors program. The program's project was to promote the learning and use of American Sign Language (ASL) by creating and posting various posters and flyers on campus. They started this project last year and Goyal hopes to continue the tradition.
"I think it'll be fun," said Goyal, who learned the alphabet and basic greetings in ASL through the project. "Everybody's having a great time learning about ASL, and it's a great way to expose people to it."
In addition to joining projects that included craft making, archiving and community clean-ups, participants on the Galloway campus attended the 2023 Community Engagement Awards, which honored those in the Stockton community who are dedicated to building and supporting their community through acts of service.
The awards were presented by the Community Engagement Awards committee co-chairs Patricia Collins and Shawn Cooper of SCCESL. Collins, community engagement liaison for SCCESL, said the awards committee — which included Michele Collins-Davies (director, Manahawkin campus), Stephanie Clineman (SCCESL) and Brian Pluchino (director, Residential Operations) — had a "huge undertaking" considering the caliber of all of the nominees.
"We want to congratulate all of the recipients on their Community Engagement award and for being selected as winners," Collins said. "This year's nominees were truly extraordinary individuals."
This year's recipients of the Community Engagement Awards are:
-Story by Loukaia Taylor
-Photos by Emma Desidero and Stockton community