Research & Outreach Centers
Stockton-Rothenberg Building
The Stockton-Rothenberg Building is located at 3430 Atlantic Ave. in Atlantic City. It hosts: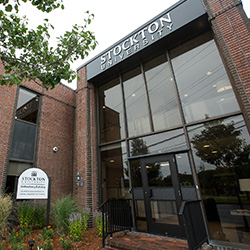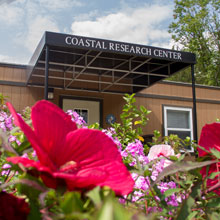 The Coastal Research Center originated in 1981 to assist local municipalities with coastal environmental issues related to recurring storm damage and shoreline retreat.
Since then the CRC has been working on shoreline monitoring and assessment programs with the State of New Jersey and various municipalities, and has grown into a nationally known organization.
The CRC also utilizes Stockton's Marine Field Station, which includes the use of Stockton's fleet of research vessels for various projects.
The CRC and Marine Field Station are located on Nacote Creek at 30 Wilson Ave. in Port Republic, NJ; 609-652-4245
Stockton Center for Community Engagement & Service-Learning offers community partnerships, faculty research and fellowship opportunities for students. Among its many activities are the Campus Kitchen based at Atlantic City High School, which feeds over 2,500 families each year while teaching students to cook nutritious meals with readily available ingredients. An after-school homework completion program and community gardens are other examples of the center's work. It is located on the main Galloway campus; 609-652-4535
Stockton Center for Economic & Financial Literacy (SCFL) coordinates and participates in activities, workshops, conferences, and professional development opportunities that promote economic and financial literacy and capabilities. It also includes a Speakers Bureau with experts on topics including banking, student loans, credit cards, identity theft, investing, mortgages, economic issues and trends.
The Center, located on the main Galloway campus, houses the southern regional office of the New Jersey Coalition for Financial Education (NJCFE). 609-652-4619
Center for Public Safety & Security at Stockton University is an academic initiative in partnership with New Jersey's public safety and security sectors that provides training, consulting and resources to support professional excellence throughout the industry.
The William J. Hughes Center for Public Policy serves as a catalyst for research on public policy and economic issues facing southern New Jersey. The center provides a forum for public discussion of policy issues to engage citizens and policy makers, encourages broader civic engagement, and strengthens the voice of Southern New Jersey in public debate.
The Hughes Center also includes the Stockton Polling Institute, the Center for Higher Education Strategic Information and Governance (HESIG), and a Speakers Bureau, with experts on topics including politics, public health, economics, business and business law, constitutional law, sustainability and climate change.
The Hughes Center is located on the second floor of the L-Wing on the Galloway campus; 609-626-3542
The Sara & Sam Schoffer Holocaust Resource Center offers workshops, seminars and programs on a regular basis for students, educators and the community. Its mission includes commemorating the Holocaust and developing sensitivity and understanding; paying tribute to survivors, liberators, and eyewitnesses; fostering academic research and serving as a repository for Holocaust materials including oral histories. The center works to educate future generations through exhibits, workshops and seminars and through training those teaching the Holocaust.
Above its entrance, railroad tracks provide powerful testimony to the center's mission. The authentic tracks were brought to Stockton from Bialystok, Poland, a central point in the network of rail lines moving victims to the Auschwitz-Birkenau, Treblinka, Theresienstadt and Majdanek concentration camps.
The center, a joint project of Stockton and the Jewish Federation of Atlantic and Cape May Counties, is located on the second floor of the university's Bjork Library on the Galloway campus; 609-652-4699
The South Jersey Culture and History Center is designed to foster awareness within local communities of the rich cultural and historical heritage of Southern New Jersey, to promote the study of this heritage, especially among area students, and to produce publishable materials that provide a deepened understanding of this heritage. Email Director Thomas Kinsella for more information.
Southern Regional Institute (SRI) & Educational Technology Training Center (ETTC)
Southern Regional Institute (SRI) & Educational Technology Training Center (ETTC) provides professional development opportunities for preK-12 educators, technology coordinators, school administrators, and other professionals who offer support services to schools. The overall goals of the SRI are to improve student academic achievement, organization effectiveness, employee performance and user satisfaction. The ETTC offers technology training and technology services to southern New Jersey school districts to enhance the education available to students through the creative use of educational technologies in the classroom.
The Southern Regional Institute & ETTC Consortium is comprised of school districts and other regional organizations in Atlantic, Camden, Cumberland, Cape May, Ocean and Burlington counties. The consortium represents approximately 90,000 PreK-12 students and more than 24,000 educators.
SRI-ETTC is located at the Parkway Building, 10 West Jimmie Leeds Road, in Galloway, NJ; 609-626-3850 609-626-3850; Dial "1' for the operator
Stockton Center on Successful Aging (SCOSA)
Stockton Center on Successful Aging (SCOSA) promotes education, research, and services to respond to local, regional, and statewide needs related to population aging. The center's core mission is to encourage older residents to "age successfully" through vital involvements and engagement in their community. SCOSA collaborates with various organizations, including the Society on Aging of New Jersey, the Seashore Gardens Living Center, Galloway Township Senior Services and the Family Services Association. SCOSA also has a Speakers Bureau.
SCOSA is located on the main Galloway campus; 609-652-4311
Other services on the main Galloway, NJ campus include:
The Women's, Gender & Sexuality Center, designed to serve as a clearinghouse for gender, sexuality and survivor resources, provides a safe, welcoming space to enhance the quality of campus life. The mission of the WGSC is to serve the entire campus, including Stockton's instructional sites, via internet resources and outreach programs.
The WGSC is founded upon the conviction that issues related to sexualized violence, gender and sexuality are pertinent not only to women, but to everyone. Email Director Laurie Dutton or call 609-626-3611.