Four New BOT Student Fellows Named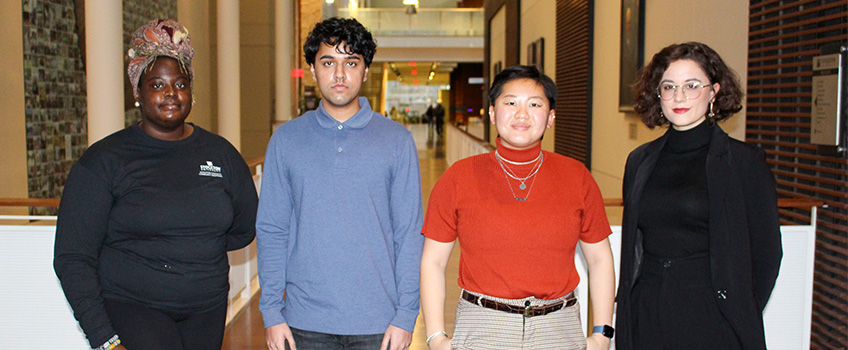 Galloway, N.J. – Four students were awarded the Board of Trustees Fellowship for Distinguished Students at the December board meeting.
Ana Edmondson, interim assistant vice president of Student Transition, Access and Retention within Student Affairs, said she and the selection committee are amazed at the diverse projects proposed by the applicants every year, but she is particularly pleased about the diversity of project advisors for this cohort.
"Some fellowship projects have been advised by faculty, directors and assistant vice presidents who provide guidance, feedback, mentorship and letters of recommendations at the end of the project," Edmondson said. "Fellows increase their career readiness and graduate school enrollment opportunities by participating in these projects that require problem solving, communication, critical thinking and creativity."
The fall cohort of BOT Students Fellows and their projects are:
Elizabeth Myers, a senior majoring in Literature with a minor in Literary Studies
Affiliations/Accomplishments: Editor in Chief of the Argo Newspaper and Stockpot Literary Magazine, Writing Center tutor, 2022 recipient of the Feet/Armstrong Award for Best Long Critical Essay and member of Sigma Tau Delta, Alpha Lambda Delta and National Society of Leadership and Success
Project: Assessing the Role and Value of College Newspapers
The purpose of this project is to assess the value of student-led college newspapers and their impact on the communities in which they operate, focusing on independent, student-led newspapers from four-year universities and colleges within a 100-mile radius of Stockton University. Independent college newspapers play a unique role in their communities, providing valuable, resume-building employment opportunities for students, keeping their schools' administrations in check and providing information about local news and events that other outlets may not cover. Through the distribution of a Qualtrics survey, participating students will measure the importance of their local student-run newspapers and share how these publications have personally impacted their college experiences.
Advisor: Craig Stambaugh, assistant vice president of Engagement and Community Development within the Dean of Students office
Affiliations/Accomplishments: Osprey Chess Club vice president
Project: Turning Champions Inside the Classroom and Beyond
The purpose of this civic engagement project is to teach the game of chess and its educational value to Atlantic County students through community outreach and local partnerships. This project aims to familiarize our local youth with some of the core skills and values rewarded in higher education like critical thinking, decision-making and creativity. Since chess is a game consistent with many of these values, it will be used as a fun and engaging activity to introduce these concepts and strengthen their ability to recognize their application and importance in education and the world. It will serve as a strong foundation to guide them as they continue through their educational journey.
Advisor: Tomas Itaas, associate director of Student Success Scholars
Affiliations/Accomplishments: Honors, Cultural Engagement Osprey (CEO) intern, president of Queer Trans People of Color Society (QTPOCS), public relations chair of Stockton Birding Club and research assistant to Nusret Sahin, assistant professor of Criminal Justice
Project: Perceptions of Relationship Legitimacy
This project is a continuation of my research study investigating the impacts of social legitimacy on perceptions of sexual violence. The goal of this project is to demonstrate the ramifications of social processes on perceptions of violence. The legalization of same-sex marriage has not provided equity to queer individuals when it comes to available resources and protections and does not negate the impacts of violence experienced. Understanding how legitimacy factors into perceptions of sexual violence can provide individuals with a more expansive understanding of the implications of sexual violence and can help identify weaknesses within formal resources that need to be addressed.
Advisor: Kimberley Schanz, assistant professor of Criminal Justice
Stephanie Kusi Bamfo, a senior in Social Work with a minor in Sociology
Affiliations/Accomplishments: Bonner Program, intern at AtlantiCare Foundation, International Model UN Study Tour – Japan 2022, African Student Organization
Project: Shop with AtlantiCare Project and Initiative
The purpose of this civic engagement project is to encourage healthy eating and raise awareness about Atlantic City's status as an urban food desert, as there is only one major grocery store in the city. The initiative part of this project will allow 10 residents of Atlantic City who are considered low income and have some difficulty finding healthier food options to do grocery shopping with health professionals from AtlantiCare. Prior to the shopping sessions, participants will be surveyed on their satisfaction with food options and food availability in Atlantic City. After the shopping sessions, participants will be surveyed again with the assistance of health professionals. The results from both surveys will be analyzed and presented to professionals within AtlantiCare and the general public.
Advisor: Lisa Cox, professor of Social Work
-Story by Loukaia Taylor
-Photo by Mark Melhorn