Social Media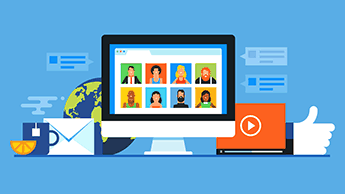 University Relations & Marketing understands that social media is a rapidly evolving medium that is used by a large and diverse population, including students, prospective students, alumni, parents, faculty, staff, and the community surrounding the University.


Make a Request
If a department has content that is appropriate for social media, but not enough content to maintain its own departmental social media account, staff and faculty members are encouraged to submit a request to post news and events on the institutional social media accounts. Requests can be made using the University Relations and Marketing request form, which offers fields to input all of the relevant information such as date, time, location, contact e-mail, PDFs, images, etc.
If you have a video that you would like uploaded to the university's institutional YouTube channel, please use the University Relations and Marketing request form.


Social Media Recommendations
At Stockton, we embrace social media and encourage students, faculty and staff to engage in sharing and conversations through these social platforms.
Creating a Presence: Prior to creating a social media presence, please contact University Relations and Marketing for consultation and guidance. Before creating a page, consider whether or not you have enough content to post regularly (three to four times per week throughout the year). If you cannot support a page with regular postings, submit a request to University Relations and Marketing, and your content will be posted to the institutional page.
Logo Usage: The official Stockton seal and wordmark are reserved for institutional use only and should be used in profile images and cover photos when possible. View the Brand Guide for more on logo usage. Imagery that may be used for cover photos or profile images can be obtained by contacting University Relations and Marketing or by browsing Flickr.
Naming Conventions: Departmental social media pages should begin with Stockton University. "Stk" can be used when space is limited. "SU" should be avoided as it could be confused with other universities such as Syracuse University.
Administrators: To ensure that accounts are always accessible even when the primary administrator is out of the office, a second administrator (or more) should be present at all times. If your department is unable to staff a second admin, please contact University Relations and Marketing, and a staff member will serve as a back-up admin to ensure that the account is accessible by more than one person in the event of an emergency.
Officially Recognized Pages: University affiliated pages are defined as pages that are managed by Stockton faculty or staff members and post content related to an academic school or university department. In order to have an officially recognized university affiliated page, please contact University Relations and Marketing to have your page added to the social media archive.
Facebook Group for Admins: The Social Media Admins at Stockton Facebook group

serves as a platform for administrators of official S

tockton University social media accounts to communicate and share information.




Social Media Guidelines