TALONS Share Advice for Incoming Students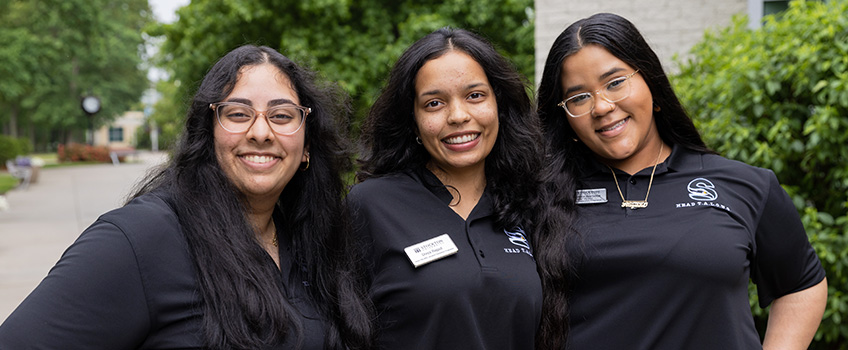 Galloway, N.J.- The nest is never really empty at Stockton University, even during the summer months, when the campus is filled with incoming students and their families.
Often you see the Transition Activity Leader of New Students, or TALONS for short, leading the way. These student leaders dedicate their summers to helping new ospreys acclimate to the campus.
Our Head TALONS share tips that helped them succeed at Stockton:
TIP #1: GET OUT AND GET INSPIRED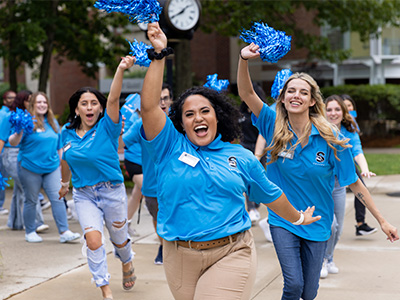 The transition from high school to university can be isolating, both emotionally and physically, as students try to simultaneously learn the lay of the land and stay on top of classes.
"I am a commuter student, so making that transition from high school to college was scary enough without the added pressure of being a Biology major," Divya Rajput said. "My classes were really hard, so I was scared of getting involved and messing up my classes."
Being a self-proclaimed "homebody" and naturally introverted proved a challenge for Rajput, but after attending her orientation in Summer of 2019 with her mom, she was inspired to start looking at the campus in a new light.
"At that time, they were doing silly skits depicting different student issues," Rajput said. "I was watching them, and I was just like, 'This is such a fun position, there's no way they're getting paid for this! They're probably volunteering.' When my mom and I met back up, she told me that they're not only getting paid, but that they're getting housing during the summer for free. That's when my mom told me to apply and told me it was perfect for me."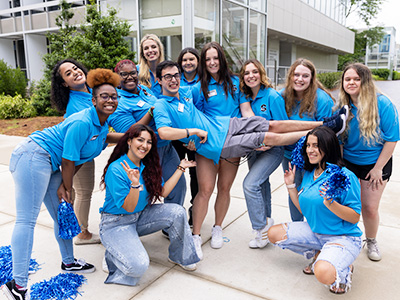 TIP #2: CREATE OR JOIN A COMMUNITY
Aleyshka Barbosa said her first year as a first-generation student was overwhelming.
"I thought that I had to figure out everything by myself," she said. "I messed up one of my loans, and I literally started crying in the Financial Aid office."
While Barbosa laughs about the experience now, it made her seek out other students with the same struggles. She found First Ospreys, an initiative that supports first-generation college students.
"The people around me never judged me for not knowing what I don't know," Barbosa said. "I remember Dr. (Ana) Edmondson telling me, 'You are not your mistakes. You're not a bad student, it's just a bad day.' I really needed to hear that, and I think a lot of other first-generation students need to hear that too."
TIP #3: TAKE COURSES THAT INSPIRE AND CHALLENGE YOU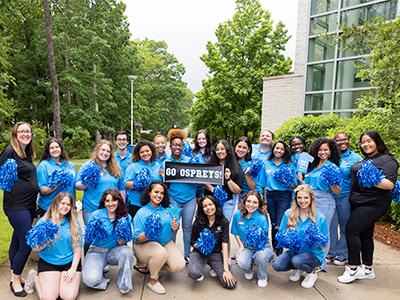 In order to join TALONS, students are required to take a course, Inclusive Student Transitions, which explores diversity, equity and inclusion best practices and strategies for student retention. It also meets the R1 requirement for graduation. Priya Parikh signed up for the course recalling how the TALONS that she met during her virtual orientation inspired her.
"Even though we weren't in person, the TALONS online still helped us with OspreyHub, and played icebreaker games," Parikh said. "They still created a sense of community for us with each other. That was when I decided to become one too."
Parikh said the course prepared her for more than becoming a TALONS.
"I remember thinking to myself, 'where is this going to take me?' Parikh said. "It's a lot of reading and we had really hard, in-depth conversations. Even though they were hard, they were necessary. After something like that, you can't use ignorance as an excuse."
TIP #4: FIND MENTORS WHO WANT YOU TO BE AN EVEN BETTER YOU
Through TALONS, Rajput, Barbosa and Parikh found a mentor in Ana Edmondson, the director of Student Transition Programs. They encourage students to seek out a mentor as they grow their networks on campus.
"Dr. E is a great mentor for me," Rajput said. "She always helps me with my goals of being a pediatrician and tries to connect me with any doctors that she knows."
"She truly impacted the trajectory of my life.," Barbosa said. "It's because this whole program is meant to help you improve as a person, not just to become a TALONS. Dr. E. does all of this to make us better people at and after Stockton."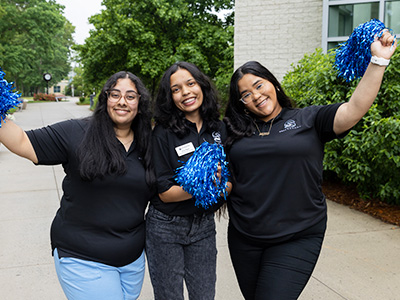 TIP #5: FIND MENTEES YOU RELATE WITH AND ENGAGE WITH THEM
Figuring out how you can help fellow students will enhance your Stockton experience.
"I remember signing up for a LAP (Learning Access Program) course and seeing a student having a lot of trouble," Parikh said. "They were changing majors and struggling with this course. I was on my way to class and found myself emailing my professor like 'I'm not coming today, I'm sorry!' I skipped that class to help the student work it out and go to Academic Advising for guidance. She actually passed the class with an 'A' after."
"It's such a powerful connection to make," Rajput said, beaming. "Last year, I had a student who always came to me for help, and now, she's a TALONS and one of my best friends. She's like doing her own thing and even became president of her club! It's so amazing to see the students in their first year and then seeing them progress into strong and involved leaders on-campus."
-Story by Loukaia Taylor
-Photos by Susan Allen