Arts & Entertainment Venues
The Performing Arts Center on the main Galloway campus provides audiences from across the region with a wide variety of cultural programming by professional touring companies of regional, national and international stature.
M-Wing, 101 Vera King Farris Drive, Galloway, NJ 08205; E-mail:pac@stockton.edu or call the Box Office at 609-652-9000. Hours: 9 a.m. to 3 p.m., Monday through Friday, and open 90 minutes prior to performances.
The Stockton University Art Gallery provides students, staff, faculty, area schools, artists, and the community-at-large with an opportunity to experience contemporary and historical art exhibitions and related programming of the highest quality.
L-wing, adjacent to the PAC 1st & 2nd floors, 101 Vera King Farris Drive, Galloway, NJ 08205. Visitors should park in lot 6 ot 7.
E-mail:denise.mcgarvey@stockton.edu
The Noyes Museum of Art benefits the University, enthusiasts of the arts and the entire southern New Jersey region. Come learn, explore, experience and celebrate the arts at the Noyes Museum of Arts' dynamic locations in South Jersey.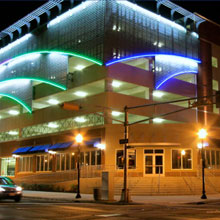 The Noyes Arts Garage of Stockton University is a retail arts space that includes the African American Heritage Museum of Southern New Jersey, a gallery, artists' studios and retail spaces showcasing regional artists and photographers, locally handmade fine crafts and the work of Fair Trade artisans from around the world.
The Noyes Arts Garage is located in the developing Atlantic City Arts District, on the corner of Mississippi and Fairmount avenues. The $1.6 million Arts Garage is managed by the Noyes, which operates a museum store and a 1,200-square-foot satellite art gallery at the site, on the first floor of The Wave parking garage. Parking is free with a $25 Arts Garage purchase.
2200 Fairmount Ave., Atlantic City, NJ 8401; 609-626-3805
Noyes Museum of Art of Stockton University :
The Noyes Gallery at Kramer Hall in Hammonton
The Noyes Gallery at Kramer Hall in Hammonton is the newest addition to the vibrant Arts District in Downtown Hammonton, and The Noyes Museum's satellite exhibition spaces. The Noyes Gallery showcases artwork from both New Jersey artists and Stockton students, in exhibitions that change quarterly throughout the year.
30 Front Street, Hammonton, NJ 08037; 609-626-3840