Visual Arts Program
Within the Visual Arts program you can pursue a B.A. degree in Interdisciplinary Visual Arts, Art Teacher Certification for K-12, Art History, or a B.F.A. (Bachelor of Fine Arts) degree in Studio Art. Students in the BFA select a concentration from Photography, Studio Art (painting, printmaking, sculpture) or Visual Communications (graphic design or Illustration).
This curriculum provides the student with the foundation and advanced skills necessary for a career in the arts, graduate study, and preparation for a broad range of general career paths.
Minors in Art History and Studio Art are also available.
---
About the Program
Program Coordinator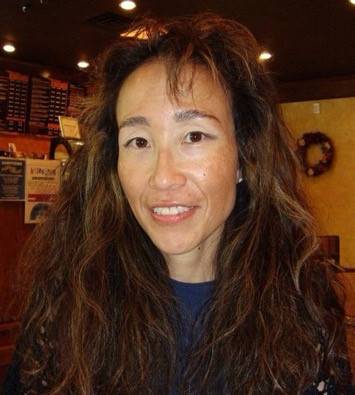 With nationally recognized faculty members and dedicated studios for digital media, drawing, painting, print-making, photography, and sculpture, the Visual Arts program at Stockton is an excellent place to develop your skills as an artist while receiving an excellent liberal arts education.
The Visual Arts program prepares students for careers as artists, graphic designers, photographers, illustrators, and fabricators, as well as careers in education, business, galleries and museums, and not-for-profit organizations.
The B.A. in Interdisciplinary Visual Arts or Art History, or Visual Arts K-12 Teacher Education, or the BFA in Studio Art, is also the first step for students interested in graduate study in art or art history. Visual Arts students are constantly pushed to develop their critical thinking and creative problem-solving skills, which are consistently listed among the skills Fortune 500 companies desire most.
The successes of our alumni are the best evidence of the quality of our program! Graduates of the Stockton Visual Arts program have attended top-ranked graduate programs and gone on to successful careers as photographers, graphic designers, illustrators, and in museums and galleries around the county.
Our Mission
The mission of the visual arts program is to help students acquire the skills and conceptual framework necessary for the expression of ideas in art, design and art history, and to help them develop the basis for a lifelong pursuit of creative activity.
Visual Arts Program Statement of Solidarity
Student Testimonials
A 4-credit studio class meets 5-contact-hours per week for 15 semester weeks. In addition, students are required to complete 6th-hour assignment, ann additional hour per week, or 15 total hours per semester.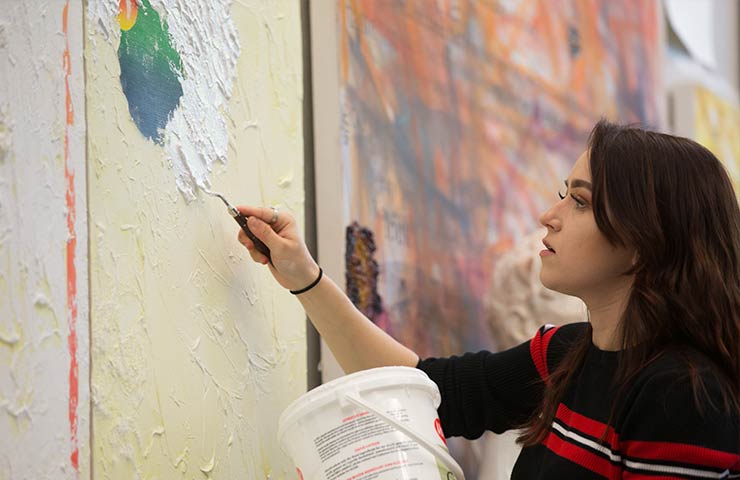 The Bachelor of Arts Degree (BA)
The Bachelor of Arts Degree (BA) is offered through the Visual Arts Program. While completing the Core Curriculum, students select a BA concentration in Art History, Interdisciplinary Visual Arts (VIBA), or Visual Arts K-12 Teacher Certification(EDVA). Click here for information about Portfolio Submission for VIBA and EDVA.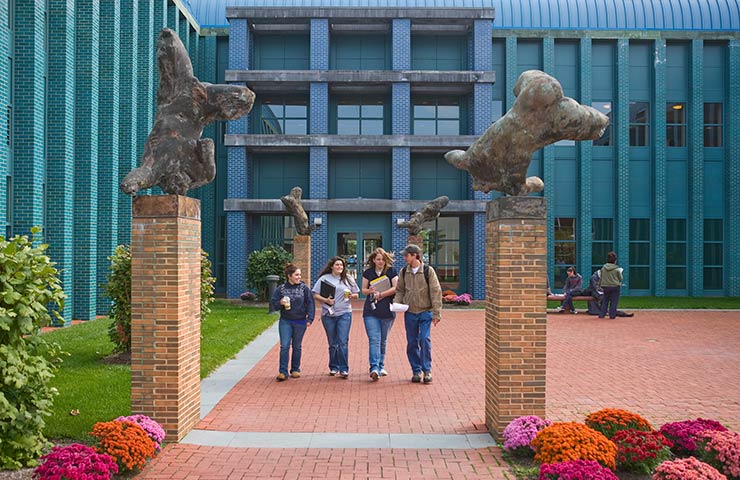 ---
Concentrations:
Interdisciplinary Studio Art (VIBA) is a general studio arts degree in the Visual Arts with flexible course selection. The one-semester capstone (Senior Project), offered each spring, culminates in a project portfolio.
Designed to provide structured opportunities for liberal arts students to develop individual artistic potential and knowledge.
Click here for information about Portfolio Submission.
Art History (VHIS) is the academic discipline that studies the history and development of the visual arts, including architecture, painting, photography, prints, sculpture, and other media.
A useful supporting field for students of the visual arts, history, literature, languages, psychology, philosophy, religion, and other disciplines.
The careers most directly related to Art History are in the curatorial, education, and administrative departments of art museums and galleries.
Art history majors have found employment in fields as varied as teaching, interior design, antiques, architecture, fashion, writing, editing, and publishing.
Visual Arts K-12 Teacher Certification (EDVA) is designed for those students seeking to earn a B.A. in Visual Arts with Teacher Certification.
Although the University requires a 2.00 cumulative G.P.A., a 3.0 cumulative GPA is the minimum requirement for NJDOE Certification. A grade of C or better is required in all ARTV courses and a B- or better in all professional education courses. (For a list of all education requirements, including Praxis Core and Praxis II tests, refer to the Teacher Education section of the Bulletin.) The student is responsible for ensuring that all graduation and teacher certification requirements are fully met. Students should consult with their designated preceptors in both ARTV and EDUC on a regular basis.
The Bachelor of Fine Art Degree (BFA)
The Bachelor of Fine Art Degree (BFA) is offered through the Visual Arts Program. While completing the Core Curriculum, students select a BFA concentration in Illustration, Painting, Photography, Printmaking, Sculpture, or Visual Communications (graphic design).
The BFA offers depth in a discipline, more intense studio experience, the knowledge and technical skill set fundamental to discipline, and preparation for a career in the visual arts. In the two-semester capstone (Senior Project I and II) courses, faculty work closely with individual students toward the acquisition of advanced problem-solving skills and a personal execution of theory and techniques. The BFA culminates in a Senior Project Thesis Exhibition in the Stockton Art Gallery.
Click here for information about Portfolio Submission.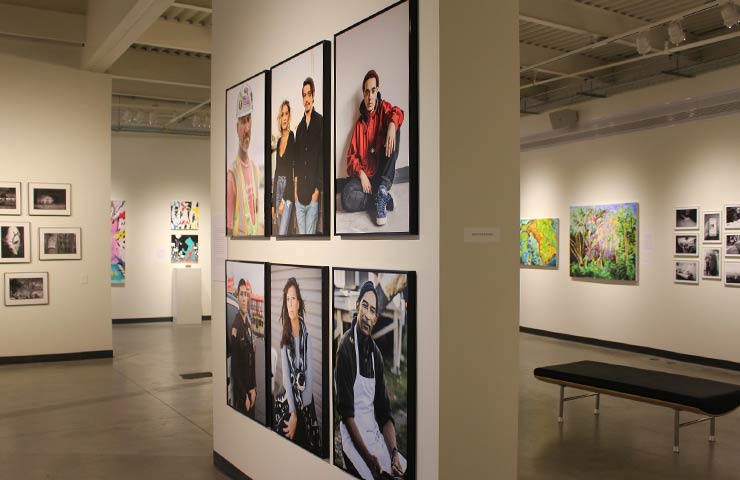 ---
Concentrations:
Student have an opportunity to focus on three areas of empahsis.
Painting (VPTG) has been around since Paleolithic times and continues to reinvent itself.
Technical skill is developed through realism, the representation of convincing forms in light and space, via proficient color-mixing and atmospheric perspective. Abstraction investigates the expressive potential of formal means, and the personal process of composing an image. Invention is developed in imaginative, conceptual and self-directed projects.
Developing a personal, life-enriching vocation, though a career exhibiting and selling paintings (landscapes, abstractions, portraits, murals, etc.) is always possible.
Problem-solving aspects involving imagination and experimentation, and project development and analysis are creative and critical thinking skills applicable to many occupations.
Continue on to graduate school, pursue careers in teaching, illustration, graphic design, galleries and museums, arts management, and a variety of other fields.
Printmaking is about the creation of works of art using various multiple-image processes that usually involve ink on paper.
Printmaking techniques include intaglio, lithography, linocut, monotype, relief printing, and woodcut. Building on knowledge learned in drawing and two-dimensional design, printmaking students learn how to mix inks, work on a press, and about different types of paper, etc.
Emphasizes the formulation of an individual artistic voice and involves students in a variety of techniques.
Sets a solid foundation for nearly any arts area. Printmaking majors have gone on in a variety of careers, including teaching, graphic design, and arts management.
Sculpture is about the creation of art in three-dimensional space. While sculpture includes traditional techniques like modeling and carving, and traditional materials like clay and stone, it can also involve almost any process, and be almost anything.
Sculpture is an excellent starting point for careers in special effects, animation, the toy design, industrial design, furniture design, interior design, architecture, landscape architecture, and commercial fabrication.
Photography is one of our concentrations in the BFA in General Studio Arts. It involves a wide range of issues and technologies related to photographic practice.
The photography concentration emphasizes the use camera based images (analog and digital), light sensitive materials and problem solving skills as an expression of ideas or concepts. Students work with both analog and digital image-making processes as a means of understanding the history and contemporary practice of the medium. The darkroom and the computer labs provide complementary tools for practical and creative problem solving.
Prepares artists for nearly every aspect of the creative industries including opportunities with for-profit and not-for-profit organizations, news media, advertising, museums, galleries, and more.
Career choices include graduate study; periodicals; large media producing companies; independent professional photographer; K-12 teaching (with certification) as well as college level teaching (with graduate study and professional record).
Visual Communications offers two areas of emphasis within its concentration.
Graphic Design is about the presentation of information through visual means.
The graphic design profession plans and creates the visual means to communicate a particular message to a particular audience and context. Graphic Designers design things people read, whether including words, signs, symbols, and imagery, or any combination of those which interprets, informs or persuades. Graphic Design utilizes typography, illustration, photography, and computer graphics.
Acquire the technical, conceptual, and theoretical skills needed for entry-level positions in the field, for continued professional advancement, and for more specialized studies in graduate school.
Stockton VCOM majors have gone on to careers in advertising and marketing agencies, design studios, in-house design departments in corporations and other institutions, publishing, and packaging.
Illustration is about the creation of images in order to tell a story. Illustration incorporates both representation and design.
Bridges the disciplines of graphic design, painting, photography, and computer graphics.
Draw attention, tell a story, and convey information with traditional and digital media.
Illustrators often work as freelance entrepreneurs or utilize illustration approaches to imagery in combination with design and typography in advertising, publishing, and digital media.
Minors
The minors in Studio Art and Art History are designed to provide a coherent, formal, and officially recognized course of study in the Visual Arts for the non-art major, the student whose primary field lies elsewhere but who desires, out of personal interest or for career reasons, to pursue a cohesive program in art. Studio Art majors working toward either the BFA or B.A. degree may also elect to minor in Art History. The Visual Arts comprise a field of great relevance and enrichment to a variety of disciplines, including but not limited to communication, history, literature, education, theatrical studies, business studies, and the sciences.
A student must meet the University criteria, which include a minimum grade point average of 2.0 overall and must satisfy all of the course distribution requirements for the Visual Arts minors. A maximum of two transfer courses will be counted toward a Stockton Visual Arts minor.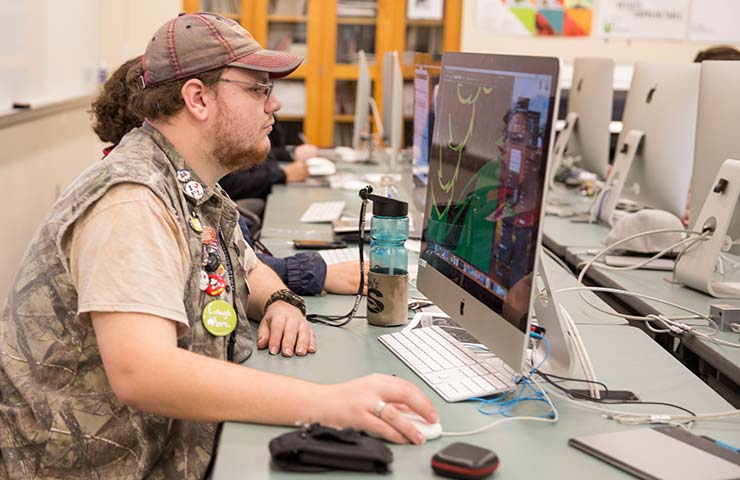 To view the Course Schedule by term, click here. See the Catalog of Courses for complete descriptions of course offerings.
For detailed curriculum information, please refer to the Academic Bulletin.
Visual Arts Faculty


---
Adjunct Faculty


Special Opportunities
Students have access to studios for printmaking, painting, drawing, sculpture, graphic design and computer graphics, and a photographic darkroom. The Stockton University Art Gallery hosts a variety of exhibitions throughout the year, including work by graduating BFA students. The Visual Arts Program offers regular bus trips to New York City and Philadelphia.
Interested students have the option of participating in Design for Community Partners, a service-learning internship in which design students collaborate with not-for-profit community partners to solve visual communication problems for the benefit of the entire community. Students also have the opportunity to participate in internships with other companies, studios, and museums, including the Noyes Museum of Art of Stockton University.
The Art Club is an extracurricular organization, open to any Stockton student that engages in art-related creative and social activities. Activities have included field trips; figure drawing sessions, silk screening, button making, and the production of a colorful calendar featuring student artwork.
---
---
---
Facilities
Students have access to studios for printmaking, painting, sculpture, graphic design and computer graphics, and a photographic darkroom. A brand new Art Gallery hosts a variety of exhibitions throughout the year.
Careers
This list is not exhaustive but it provides a solid idea of what fellow graduates have gone on to do and what potential careers a Visual Arts degree can offer. Some options are more directly associated with specific areas of Visual Arts than others.
Architect
Archivist
Art Consultant
Art Editor
Art Gallery Director
Artist
Cartoonist
Cinematographer
Courtroom Sketch Artist
Critic
Curator
Engraver
Exhibit Designer
Fashion Designer
Furniture Designer
Gallery Director
Graphic Designer
Historian
Illustrator
Interior Decorator
Jewelry Designer
Journalist
Landscape Designer
Medical Illustrator
Multimedia Consultant
Museum Director
Non-profit Administrator
Painter
Performer
Photographer
Product Designer
Sculptor
Set Designer
Special Effects Consultant
Tattoo Artist
Teacher