Biology
The Biology (BIOL) program offers Bachelor of Arts (B.A.) and Bachelor of Science (B.S.) degrees and a Biology minor in order to prepare students for a variety of careers in biological science; provide a background of skills, attitudes and knowledge needed for further study in professional and graduate schools; and promote enjoyment and appreciation of the organisms that populate our planet.
Stockton's Biology courses emphasize the diversity of life-forms that have evolved and the wide range of levels at which they can be studied: molecular to ecosystem. Many courses have laboratory and/or field components, and seminar, tutorial or independent project modes of instruction are also utilized.

---
About the Program
The Biology program takes advantage of the University's 1,600-acre setting in the New Jersey Pine Barrens close to the Atlantic Ocean. It is an area rich with diverse terrestrial, estuarine and marine habitats. Nearby are the Forsythe National Wildlife Refuge and many other federal, state, county and private wildlife preserves. The laboratory complex includes a greenhouse, animal rooms, environmental growth chambers, computer apparatus for physiological studies, light microscopes of many descriptions, plant and animal tissue culture facilities, and modern biological instrumentation including centrifuges, thermocyclers, and instrumentation for automated DNA sequencing.
Program Features
All program faculty hold doctoral degrees from highly reputed institutions.
Opportunity for one-on-one assistance.
Biology seminar series.
Research opportunities in field and laboratory work.
Diversity of faculty and of Biology allows students the freedom in choosing their coursework.
Talk to the professors about their research; they love to talk about it!


Biology Alumni Highlights

Additional Information
Curriculum
The Biology program welcomes all interested Stockton students. Early declaration of a Biology major is advisable. To be assigned a biology preceptor, students should see the Center for Academic Advising or the desired preceptor and file the declaration of major (or minor) and preceptor form available from the Center for Academic Advising. High school students preparing for a career in biology should take at least three years of college-preparatory mathematics, three years of college-preparatory science (especially chemistry), and four years of college-preparatory English. Computer skills are helpful, and a foreign language is also recommended.
Curriculum Worksheets
Fall 2018 - Spring 2019
Fall 2017 - Spring 2018
Minor
The core course requirement contributes breadth and the elective component contributes depth in biology. The minor might be of interest to almost any student curious about the living world. Students for whom the minor would fit most easily include those majoring in BCMB, CHEM, ENVL, MARS, PSYC, and PUBH.
As with all minors within the School of Natural Sciences and Mathematics, all courses taken within the minor must be completed with a C or better. A Cgrade is not acceptable. Additionally, at least the Seminar (BIOL 4600) and the two elective courses must be taken at Stockton.
Faculty
Our faculty have diverse scholarly interests and a commitment to undergraduate education, providing a broad educational experience in the biological sciences, and opportunities for faculty mentoring and undergraduate research.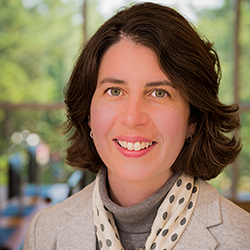 Assistant Professor

of Biology
609.652.4700 | USC - 119
Opportunities
Local internships: Mentoring is available at wildlife refuges and other public and private facilities for monitoring, rehabilitating and otherwise studying local wildlife, zoos, museums, aquariums, botanical gardens, hospitals and other healthcare practices and laboratories, nursing homes, the State Police forensic laboratory, the Federal Aviation Authority Technical Center, pharmaceutical companies, environmental testing laboratories, etc.


Washington, D.C. Internship: The University participates in a program open to all majors. Biology students have been assigned to the Walter Reed Hospital and Research Center, the Food and Drug Administration, National Institutes of Health laboratories, etc. See Washington Internship program in the Bulletin.


Semester abroad: There is a semester- or year-abroad program, in which Biology majors have enjoyed taking classes at universities in Britain, Ireland, Australia, etc. See International Education in the Bulletin.


Research: Most Stockton faculty maintain research programs, which engage students.


Teaching Certificate: Students who combine a Biology degree with preparation for a teaching career have developed projects to introduce new teaching or laboratory instructional units as part of their practice teaching in a local school.


Independent study: Students are invited to approach faculty with ideas for learning topics not included in the regular curriculum, which are then pursued by independent study or tutorial modes of instruction.


Minor: The opportunity to combine a Biology degree with a minor in Chemistry, Biochemistry/Molecular Biology, Mathematics, Language, Performing Arts, Economics, etc., is particularly valuable.


Certificate programs: Certificates may be earned in Energy, Forensic Science, Gerontology and Holocaust-Genocide Studies. Certificates indicate that students have successfully completed course work in theses interdisciplinary subjects beyond those completed as part of the Biology degree.
The Biology Program also offers a number of opportunities for students to get involved in various areas of interest outside of the classroom.
Careers
Biology program alumni report that the largest employment niche for graduates has been the research and development laboratories of pharmaceutical companies and other industries, university research labs and clinics. Graduates also find employment in other industrial and commercial niches (such as pharmaceutical sales) and in the public sector as teachers or as technicians in federal, state, or county laboratories and agencies. Other Biology graduates go on 553 to professional or graduate school, and several are now faculty members at major universities. Virtually all graduates report the need for frequent use of their writing and computer skills, suggesting that future graduates should take full advantage of Stockton's writing program and opportunity for minors. Many graduates develop careers by combining their preparation in biology with expertise in computer science, library science, drawing, journalistic, creative or technical writing, environmental law, accounting, marketing, management, psychology, etc.