Bachelor of Science in Health Science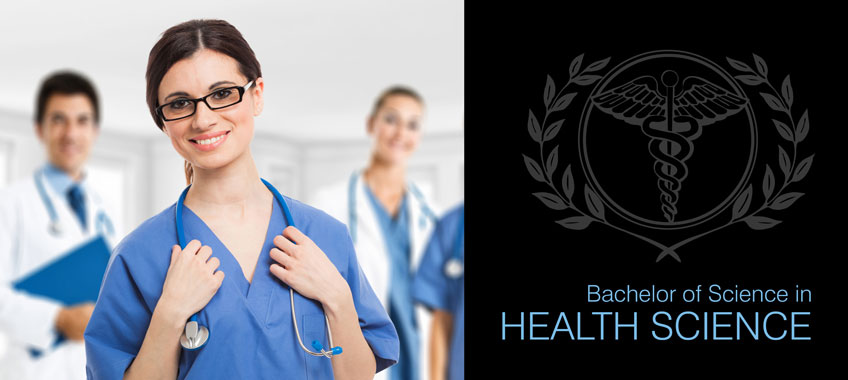 The Bachelor of Science in Health Science (BSHS) offers students who are interested in careers in health care the opportunity to begin their career path.
The curriculum is based on the Core Competencies for Interpersonal Collaborative Practice (IPEC). Working closely with a faculty preceptor, students have the ability to design an education program, within the structure of the major, which will help them prepare for a variety of positions in health care or for future Professional/Graduate education. For those who already have an associate's degree, and are working in their chosen health related field, the BSHS degree may allow for increased opportunities for advancement.
---
About the Program
The BSHS Program prepares students for a range of career options, from entry-level positions in the health services arena, to admission into graduate or professional educational programs in disciplines such as medicine, dentistry, nursing, pharmacy, physician assistant, physical therapy, occupational therapy, and speech-language pathology. Through an interdisciplinary approach, students are provided with the underpinnings of interprofessional collaborative practice in health care and acquire foundational understanding of the interrelationships among health professionals.
Stockton University's Bachelor of Science in Health Science typically takes four years of full time study to complete, however part-time study is available.
---
The concentrations within the Bachelor of Science in Health Science are the following:
General
Pre-Communication Disorders (CD) Concentration
Pre-Occupational Therapy (OT) Concentration
Pre-Physical Therapy (PT) Concentration
Students must earn a grade of "C" or better in all BSHS program and cognate courses in order to receive the BSHS degree.
Program Information
---
Program Chair
Kerri Sowers
Associate Professor of Health Science
F211b
kerri.sowers@stockton.edu
609-652-4418
---
BSHS Core Courses
HLTH 1101 Introduction to the Health Sciences
HLTH 1241 Medical Terminology
HLTH 2305 Statistics for Health Professionals
HLTH 2411 Informatics for Health Sciences
HLTH 2501 Ethic and Teamwork in Health Care*
HLTH 3411 Writing and Editing for the Health Sciences
HLTH 4200 Research for the Health Sciences
*A designated Service-Learning course
---
Concentrations
Admissions
For admission to the Bachelor of Science in Health Science program, incoming first year students, current students, and transfer students must meet one of the following mathematics requirements:
An SAT Math score of at least 570.
An ACT Math score of at least 24.
An Accuplacer Math score equivalent to College Level Math:

Elementary Algebra Accuplacer Score of 76 or higher.
Next-Gen Quantitative Reasoning, Algebra, and Statistics (QAS) Accuplacer score of 256 or higher AND Advanced Algebra and Functions (AAF) Accuplacer score of 260 or higher.
CONDITIONAL ADMISSION TO THE PROGRAM
Students who do not meet the mathematics requirement may request to the Admissions Office a Conditional Admission to the BSHS program General Concentration.
The Conditional Admission will grant students one academic year to complete the necessary sequence of math courses in order to meet the mathematics requirement. Students admitted under a conditional admission will be eligible to register in HLTH1101 (Introduction to Health Sciences) and/or in HLTH 1241 (Medical Terminology for Health Science).