Annual Flag Raising Encourages Students to Celebrate Black History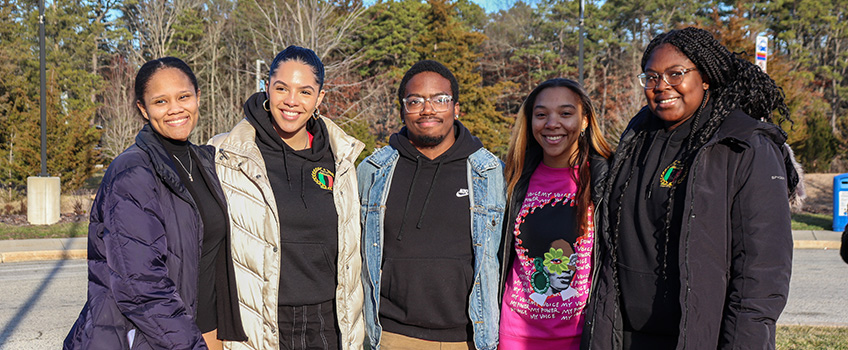 Galloway, N.J. – "Part of (Carter G. Woodson's) mission was to make sure that not only Black people learn about themselves, but for everyone to learn about the contribution of Black history and culture because it is foundational to this country. There would be no country without it."
Donnetrice Allison, professor and chair of the Africana Studies program, delivered a powerful speech during the Unified Black Students Society's (UBSS) annual Black History Month flag-raising on Feb. 1 in the Arts and Sciences Circle.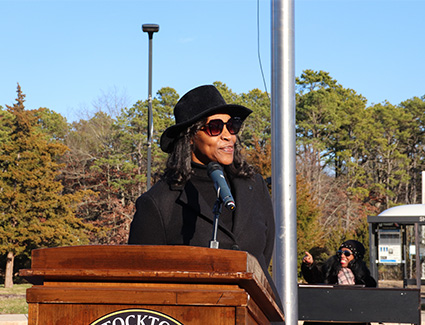 "It's young people like yourselves who have fought to have Black history and culture in curriculums across the country. Young people fought and spoke out against the whitewashing of history."
She explained how the month stemmed from African-American historian Woodson's Negro Education Week, which sought to explore the various contributions and accomplishments of people of African descent.
The lack of education surrounding African-Americans in history – even at historically Black colleges and universities – troubled Woodson as it "limits a people's progress and ability to move forward if you tell them that they are less than or suggest that they and their forefathers did nothing to contribute to this nation we call America."
Allison also acknowledged the fact that even decades after Woodson's book "The Miseducation of the Negro," there are still fights against having Black history taught in the classroom. She claims that this is no mistake on the part of the opposition.
"I urge you to understand that, whenever people try to keep something away from you, that means that it must be something very empowering and important," Allison said. "If your right to vote wasn't important, people wouldn't work so hard to keep you from voting. So, if this knowledge wasn't so powerful and impactful, there wouldn't be those who are still fighting to keep certain books out of libraries."
Her conclusion encouraged students to be inspired – by both Stockton University having this long-standing tradition and by the fact that the reason that Black/Africana Studies exist is because of students like them.
"It's young people like yourselves who have fought to have Black history and culture in curriculums across the country," Allison said. "Young people fought and fought and spoke out against the whitewashing of history. History and the contribution to it are not exclusive to white men."
Allison was introduced by UBSS secretary, Janet Martin, who told the crowd that this celebration was her first as an official executive board member for the student organization, making this a special day for her. She also acknowledged the people, organizations and departments that work to support Black students on campus.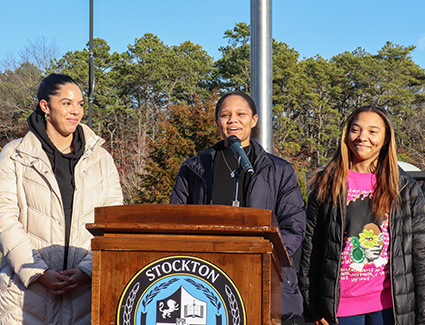 "We know at a PWI (predominately white institution) it can sometimes be difficult to find your people or a safe and brave space," Martin said. "For me, places like UBSS and TogetHER and even the places I work on campus like Residential Life and Admissions, helped me find my people."
Beverly Vaughn, professor of Music, and senior Economics major, Yamirah Williams, serenaded the crowd with a rendition of "Lift Ev'ry Voice and Sing." Following their performance, the Pan-African flag was raised.
UBSS president Anthony "AJ" Brooks gave a concluding statement, encouraging students to keep attending programs for Black History Month.
"We have a lot of programs going on this month," Brooks said. "Besides UBSS, there are programs from ASO (African Student Organization), CSA (Caribbean Student Association) and the Africana Studies program. I'm really thankful that you could all be here, and I hope that we're able to celebrate the people that came before us and each other this month."
This flag-raising was a first for Ian Marshall, the dean for Arts and Humanities; Marshall considered the celebration the "highlight of his day," and echoed Allison's sentiments about the significance of it.
"In light of some national trends that seek to hide African-American history and contributions to this country, this is such an important event," Marshall said. "The entire campus should have been there, but I'm thrilled at the fact that this is such a long-standing tradition here at Stockton."
-Story by Loukaia Taylor
-Photos by Eliza Hunt