GOALS Program Enables Students to Look Toward the Future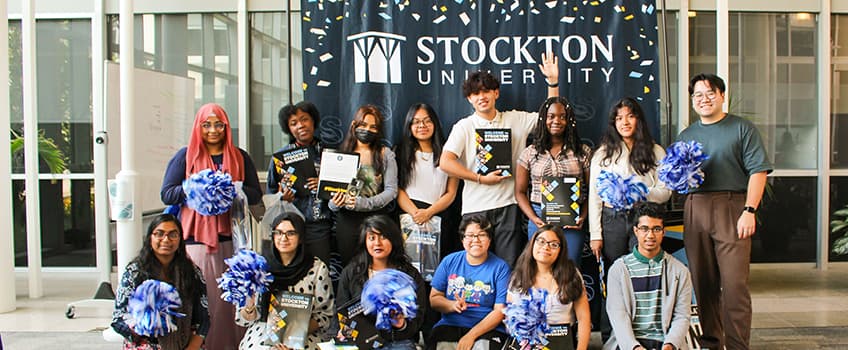 Galloway, N.J. – Happiness and excitement filled the room as rising Atlantic City and Pleasantville high school seniors in the GOALS/GEAR UP program found out if they were accepted to Stockton University through an Instant Decision Day (IDD) program on Tuesday, Aug. 1.
"When I opened my folder, and I saw that it was an acceptance letter, I was really proud of myself," Andres Bayona said. Bayona, a first-generation student originally from Colombia, plans to study Music next fall.
"I just can't wait to tell my parents because this is something that they wouldn't expect from me without their help. I'm a first-generation student, so I did everything by myself and with my friends. We all helped each other out. We got this far and we finally got accepted to our first college. We're just really happy about that."
"I feel really happy inside, even giggling," Shadley Trezil said. Her older brother's experience in Stockton's Educational Opportunity Fund program and her experience being in GOALS since the sixth grade is what made Stockton her top choice once she graduates from high school.
She anticipates joining Stockton's dual-degree, seven-year program with the Rowan School of Osteopathic Medicine and becoming an emergency room physician.
"When I officially go here, I will apply to EOF because (my brother) has had so many opportunities, teachers and mentors, and he's been so lucky so far," Trezil said. "This is my top school because it feels like home. I know this place, my family and community are here and there are amazing people who want to give someone like me so many opportunities to succeed in this world."
According to Rawan Maarouf, an academic/career counselor for GOALS, the purpose of the IDD was to provide students with a head start amongst their peers.
"This is a really unique opportunity that we bring to our students because they haven't started their senior year yet," Maarouf said. "During the summer, they learn how to apply to college, do reference letters and go through that whole process. I think it's really, really cool that they could walk into their senior year with a college acceptance letter."
Even if students decide Stockton isn't the best fit for them, they are still more equipped to apply to colleges and universities than their peers outside of the program.
"This is my first time applying to college, and it was a really simple application, to be honest," said Zarif Ahana, who is interested in chemistry. "I want to apply to Princeton, but Stockton is a great backup for me because it's close by and has a lot of financial aid. It's just really nice how they have so much support for students and how they're giving us all of these opportunities.
"I felt relieved (after getting accepted). I was a little nervous, but it's been nice, and I even got a scholarship, too," said Tanhiat Chowdhury, who is looking into psychology. "I'm planning on coming to Stockton for like two years and then maybe going somewhere else, like an Ivy League or something, to save money."
In addition to receiving their decisions, the students talked with different offices such as Financial Aid, Student Development and the Multicultural Center about on-campus opportunities and listened to a speech by Biology major and student leader Leilani Moreno-Solano.
Maarouf was very intentional about the speakers being people she felt resonated with the students, many of whom are the first in their families to apply to college.
"So, of course, everyone (on campus) knows Leilani. She's the perfect person to come and speak to them as a first-generation Latina," Maarouf shared. "She's in EOF, a student-athlete, in a sorority and just a really great person who resonated with a lot of the students.
"I really want the students to know that they have a whole community of people behind them and that being in college is not this whole scary or isolated experience. You have counselors, friends and a lot of campus partners that are here today who want to support you in continuing your education."
Students in the GOALS/GEAR UP program recently participated in a speed jobbing event, where they learned about different professional and academic fields. Photos by Susan Allen.
---
About GOALS/GEAR UP
The GOALS/GEAR UP Program at Stockton University provides participants with a solid foundation to create a school-to-college pipeline designed to empower and equip students with skills and academic ability to successfully complete postsecondary programs leading to careers in fields in which persons from minority and/or disadvantaged backgrounds are underrepresented.
Latest News Stories
– Story by Loukaia Taylor
– Photos by Lizzie Nealis