Music
Within the Performing Arts program you can pursue a B.A. degree in Music with concentrations in Instrumental and Vocal Music Studies, and a B.A. in Music Education. Minors in Dance Studies, Theatre Studies, and Music Studies are also available.
---
About the Program
The primary goals of the program are to provide depth of cultural and theoretical knowledge, technical development, and performance experience in an environment that promotes artistry and individual creativity. Each concentration begins with a Core foundation followed by a coherent sequence of courses that focuses on developing performance skills.
Program Chair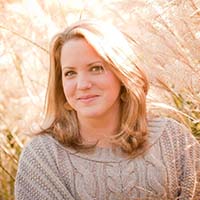 Curriculum
Students who concentrate in Music must be proficient at reading music. Otherwise, either GAH 1242 Fundamentals of Music OR GEN 1651 Beginning Piano or the equivalent is required to enter the program.
Minor in Music
A minor in Music Studies is offered for students who are interested in music but who are majoring in other fields of study. The required course work for the Music Studies minor directs students to deepen their understanding of music and to raise their awareness of music's role in society, both past and present. Additionally, the minor in Music Studies affords students a way to document their experience, talents, and achievements in music. Interested students should contact a Music faculty member for further information.
To view the curriculum, you'll use the web program, Degree Works. This program is accessible even if you are not currently a student with Stockton University.
Current Students
Access your portal for Degree Works, then look for the "what if" option to explore the various paths towards degree completion. Click the button below for instructional viodes on how to use Degree Works:
Prospective First Year or Transfer Students
Use the button below:
How to Use Degree Works Equivalency
At the next page you are prompted with three (3) options.

Select

the one that says "continue without signing in."
Respond to each prompt using the pull-down menu in the center of the page. [Please be patient. It may take a few seconds for the system to process your request. If you see a NO symbol, you need to wait a moment!]
Prompts include:
Enrollment dates (Choose intended semester attending)
Intended level (Choose "undergraduate")
What degree you will pursue? (Choose "Bachelor of Arts")
What is your intended major? (Choose "Studies in the Arts")
What is your intended concentration? (Choose "Vocal Music Studies, "Instrumental Music Studies," or "Performing Arts Music Education")
What is your intended minor? (Choose "none"

or select one

- it is not required). For Language minors, select "Music Studies."
For prospective students, choose "I'm all done" button.
For transfer students,

use the "class" button to see how courses already taken fit into the Stockton degree path.
You will see an overview of the degree you have selected, including all requirements.
At the bottom of the screen, you could save or print the worksheet.
Faculty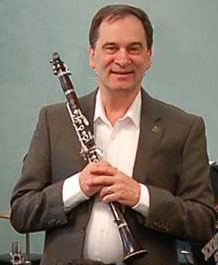 Christopher Di Santo
Associate Professor of Music
Facilities & Venues
Students have available an electronic piano lab, practice rooms, and two dance studios. There is also the Performing Arts Center complex, which houses a 550-seat main theatre, the Experimental Theatre a 75 seat black box theatre, as well as scene and costume shops. Other performance venues include the Alton Auditorium and the Campus Center Theatre.
---
Performing Arts Center
Since its opening in the Fall of 1976, the Stockton Performing Arts Center has sought to provide audiences from throughout the region the opportunity to experience a wide variety of cultural programming by professional touring companies of regional, national and international stature. Seats 550 people.
Campus Center Theater
The Campus Center theatre is a 254 seat recital hall that offers an intimate setting in a state of the art facility to experience the thrill of concerts, theatre performances, films and guest speakers.
Fannie Lou Hamer Event Room
The Fannie Lou Hamer event room is a multi use space located in the Atlantic City Campus.
Fannie Lou Hamer was a major figure in the Civil Rights Movement, fighting for voting rights for African Americans in her home state of Mississippi and nationally. Her phrase "I'm sick and tired of being sick and tired" was a rallying cry for the movement.
On August 22, 1964, Hamer made history by giving testimony at the Democratic National Convention in Atlantic City in opposition to the seating of an all-white Mississippi delegation. One year later, the 1965, the Voting Rights Act was passed.
Alton Auditorium
The Alton auditorium is a 274 seat, tiered lecture hall and performing arts space. Named for Elizabeth B. Alton was a founding member of Stockton's Board of Trustees and an advocate for locating a state college in South Jersey.
Special Opportunities
Performance
At Stockton, performance opportunities are open to all students, regardless of their major, and can be taken for credit.
Some ensembles, such as the Stockton Pops and the Stockton Select Chorale, require an audition. Other ensembles include:
Stockton University Chorus
Stockton Large Classical Ensemble
Stockton Small Classical Ensemble
Stockton Jazz Orchestra
---
Guest Artists
Master classes, workshops and conversations with Guest Artists are offered throughout the academic year. In this program nationally or internationally recognized performing artists or composers are brought in to speak with students about their careers and life in music. Far ranging topics and explorations are encouraged to mirror the artistic process.
---
Clubs and Organizations
In addition, private lessons are available through the Private Applied Music course in both instrumental and vocal music. Stockton is also home to several student-run music ensembles such as Highest Praise Gospel Choir, Stockton Music Union, and the Stockton A Capella Organization, which is comprised of Stockapella, Stockata, and the Stocktones.
Experience Music Days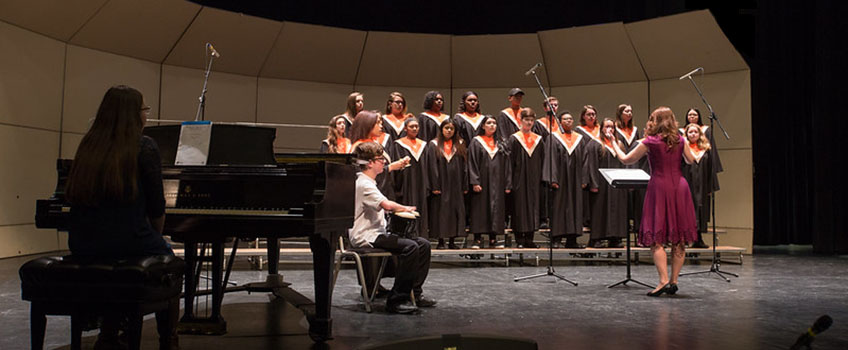 Choral Festival
The High School Choral Day Festival is an exciting, much-anticipated half-day event which brings high school choirs from throughout the South Jersey region and the greater Delaware Valley together to perform for each other on the mainstage of the Stockton Performing Arts Center!! In addition to individual performances, the choirs also receive feedback from outstanding choral clinicians and directors. The festival ends in a rousing joint performance of a pre-selected choral work which is chosen to bring the festival's activities to a pulsating, climatic end! We know you won't want to miss being a part of this incredible High School Choral Day Festival experience!!!
I've been participating in this event for four years. I've always had a passion for music, and I love being around other people who have passion for music. It's really interesting to hear other people's interpretations of music and get to experience other styles.
Jazz Festival
This event was awesome. We got to hear amazing music from amazing musicians, and we got the chance to play in front of an audience
The Stockton Jazz Festival is not a competition but rather a performance festival where bands can have the opportunity to perform for each other, receive feedback from high quality jazz educators and performers on their performance through an interactive clinic following their performance. We are excited to have you visit the Stockton University campus and we wish you all a successful performance and a memorable experience on the stage of the Stockton Performing Arts Center.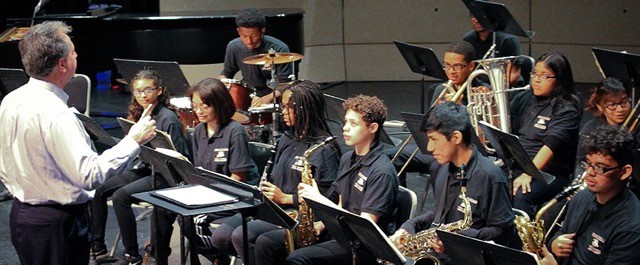 For any questions, please email arhu@stockton.edu or call the Office of Arts & Humanities at (609) 652-4505
Professional Ensembles in Residence
Stockton University is home to two professional ensembles in residence, the Bay Atlantic Symphony, a Classical Orchestra, and the Ed Vezinho/ Jim Ward Big Band, a Jazz Ensemble.
---
Bay Atlantic Symphony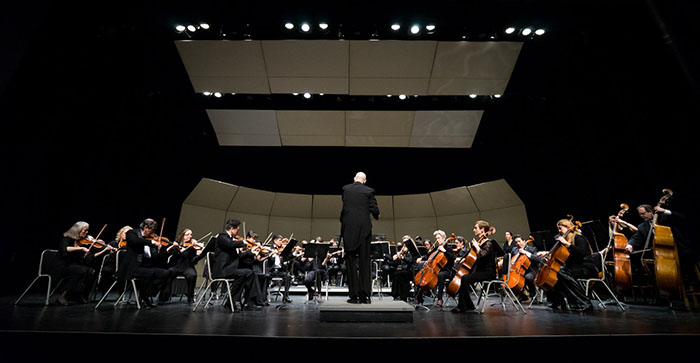 Led by Music Director, Jed Gaylin, the Bay Atlantic Symphony is a per-service orchestra comprised of union musicians. The Symphony performs and reinterprets a wide range of the traditional classical canon: Beethoven, Mozart, Rimsky-Korsakov, Mahler, Bach, Copland, Schubert, and Stravinsky.
Ed Vezinho/ Jim Ward Big Band

The Ed Vezinho/ Jim Ward Big Band is a high energy 16 piece Jazz Ensemble made up of some of the premier jazz artist in the tri-state area. They feature everything from jazz standards to original compositions.