Chemistry
The Chemistry (CHEM) program offerings are designed for students who want to become chemists, for those who would like to use chemistry to understand the behavior of living systems, and for those who wish to apply chemistry to problems in physics, geology, environmental studies or marine science. It is also an appropriate degree program for students pursuing careers in engineering, medicine, dentistry, veterinary medicine or science teaching at the secondary level. The program seeks to provide students an opportunity to acquire a sound foundation in chemistry, and to see its broader applications.
Lectures and laboratory experiments, seminars and independent study in the program are tailored to the background and goals of the individual student as much as possible. As the student progresses, emphasis shifts from relatively structured classroom and laboratory experiences to activities which require increasing independence and initiative on the student's part. Undergraduate research is an integral part of the typical experience in the laboratory for juniors and seniors.
---
Curriculum Worksheets
Fall 2018 - 2019
Fall 2017 - Spring 2018
---
Additional Information
Program Features
All lecture classes taught by Ph.D. level faculty members, not graduate students.
All instruments and equipment in the laboratories are available for undergraduate use
Advanced instrumentation often used in teaching laboratories
All CHEM and BCMB majors complete a senior project

Research done in conjunction with a faculty mentor on campus or as an off-campus internship
Can span multiple semesters for credit of non-credit
Graduating seniors present research at Senior Research Symposium at the end of each semester
---

The Chemistry Society is a Stockton student organization that fosters awareness of issues and concerns in the field of chemistry. This club is affiliated with the American Chemical Society (ACS) and is active in the South Jersey section of the ACS.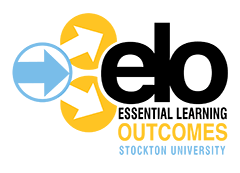 Learn more about the CHEM program ELO's.These essential learning outcomes guide all Stockton University students from first-year through graduation to the intellectual and marketable talents needed to prepare for personal and professional success in the 21st century.
Accreditation: