Conference Encourages Youth to Trust Their Journey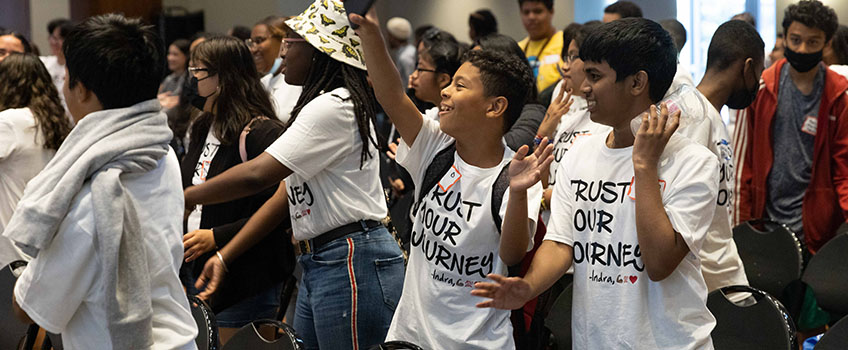 Galloway, N.J.- "What are you all showing up as today: are you a lion, otter, beaver or golden retriever?"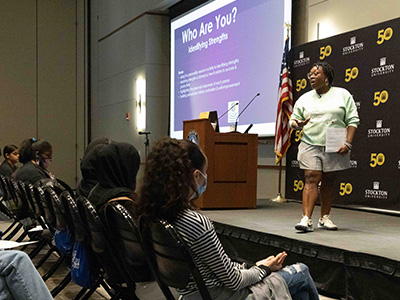 Indra Lyn Owens, the keynote speaker for the third annual GOALS GEAR UP Youth Empowerment Conference, managed to capture the attention of more than 100 students with just one question. The Youth Conference, which included students from both Stockton University's GEAR UP program and Rowan University's equivalent, CHAMPS, included interactive workshops and a campus tour on Thursday, June 30.
As the students pondered the question, Owens went on to explain that the categories aren't just the names of animals, but rather personality types. These personality types determine how one interacts with themselves and the world and, according to Owens, are essential to know when learning how to trust one's journey.
"It's important to know who you are, especially without the influences of other people and social media," Owens said. "Self-knowledge makes you independent of the opinions of others."
Owens compared not knowing and focusing on one's strengths to fighting an uphill battle, using another helpful animal metaphor.
"Fish don't feel bad for not knowing how to climb a tree, right?" Owens asked the crowd. "No, because they aren't climbers. They're swimmers! So, rather than trying to climb the highest tree, it should try to be the fastest swimmer."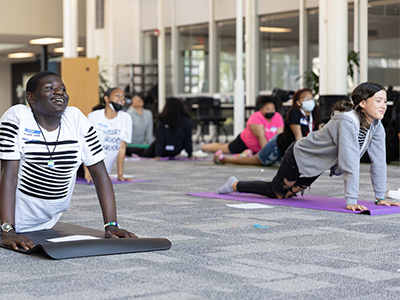 Owens's subsequent workshop where students completed a self-exploration activity helped underscore her point. Students Puspita Paul of Atlantic City High School and Jenniah Garvin of Pleasantville High School had only positive things to say about the workshop and Owens.
"She had us do this personality test and I thought that I was going to be a 'lion' at first," Garvin said. "But when I finished, I scored higher for 'golden retriever.' It was way different than we first thought it was going to be."
"She was just so positive and had a good energy," Paul said. "She was very engaging and nice to talk to."
Other workshops of the day included topics that explored mindfulness and self-care (Lyn N. Atkins of Rowan University), yoga (Destini of Rowan University), career exploration (Alondra Martinez and Rashawn Martin of Atlantic Cape Community College), and art (Kate O'Malley of the Atlantic City Arts Foundation).
Students Jasmin Yarleque, Alayna Solano-Castro (of Pleasantville High School) and Aniyah Hargis of Pennsylvania Avenue School thoroughly enjoyed the conference, particularly the sessions on mindfulness and art. Each student in the mindfulness session was tasked with creating a 'self-care tool kit' full of ways to practice emotional, practical, physical, mental, social and spiritual self-care.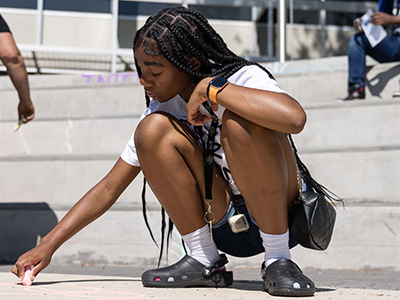 Yarleque and Solano-Castro's kits included activities like lighting a candle, talking with friends and going for a walk. Students participating in the art session were challenged to think about their goals and to draw them in chalk on the K-Wing Circle. Hargis liked the activity and was looking forward to the next session.
"It was nice getting to express myself through art," Hargis said, "I hope the next one is fun too."
GOALS (Goal Oriented Advocates Leaders and Scholars) GEAR UP at Stockton University serves over 180 students in grades 7 through 12 in Atlantic City and Pleasantville Public School Districts. The program aims to prepare students from the Atlantic City and Pleasantville school districts with a solid foundation and create a school-to-college pipeline that empowers and equips students with skills and academic ability to succeed. The program has Academic Year and Summer Enrichment programs.
-Story by Loukaia Taylor
-Photos by Susan Allen