Area Students Set GOALS, GEAR UP for College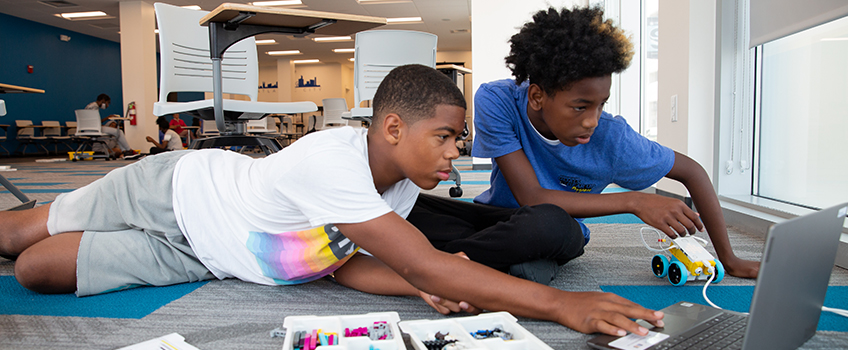 Atlantic City, N.J. – Students in the Stockton University GOALS GEAR UP Summer Enrichment Program did not just learn new skills, they also earned to learn and received a stipend to support their academic progress.
The more than 50 students in grades 7-12 programmed robots, examined a very realistic simulated patient at the Stockton Health Sciences Center, and developed business plans as budding entrepreneurs. They even created a GOALS GEAR UP rap, performed at the closing ceremony by Jeremiah Williams and Rasa Arline-Bethea.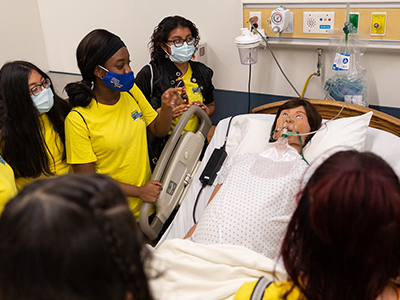 In addition to what they learned, eleven graduating high school seniors and alum of the program who attends Stockton University will receive $1,000 book stipend: Lipon Ahmod, Sabina Chowdhury, Asma Homayra, Zikra Naz, Lisbeth Ramirez-Reyes, Shalon Blake, Jhoselin Canas, Kimberly Cortes-Salazar, Sangida Huda, Azra Mahisa, and Jetzaly Medina.
Another 86 students in the program received $300 stipends to help them prepare for the upcoming school year.
The mission of the Stockton GOALS GEAR UP Program (Goal Oriented Advocates Leaders and Scholars) is to increase the number of under-represented students who are prepared to enter and succeed in college. Stockton's program, housed at the Atlantic City campus, serves over 180 students in grades 7 through 12 from the Atlantic City and Pleasantville Public School Districts.
During the school year, the program meets on Saturday. The Summer Enrichment Program offers additional academic support in math and science, plus field trips and additional college and career counseling.
At the summer closing ceremony students and their teachers showed a full house of parents and guests what they had learned.
Destiny Talley, director of the program, said their goal is not just to assist students academically, but to also teach them to become good people and good citizens.
Students took classes in math and English, and also talked about getting involved in their communities, addressing social issues like teen suicide, and learning yoga and the bachata.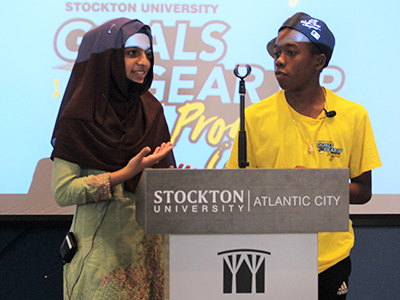 Students at the closing ceremony confidently presented their results. Students Amir Banker and Rabia Naz served as the masters of ceremony. Anisha Dasgupta and Pusita Paul presented their plan for a custom business called Anita's Designs. Sheden Trezil talked about how he originally came to the program to accompany a younger sibling but got drawn in himself by what it was offering.
Analise Maldonado of Atlantic City read from an essay she wrote for her college application about her mother's belief in education.
"I have a mom who believes education could give us the life she could not give us," Maldonado said. A high school senior, she plans to apply to Stockton as an Exercise Science major and eventually get her doctorate in physical therapy.
Talley said she was thrilled with the student presentations, and also by the overflow turnout of parents and supporters, including Atlantic City Mayor Marty Small and his wife, Atlantic City High School Principal Dr. La'Quetta Small, who encouraged the students and parents to take advantage of the GOALS GEAR UP program.
"The great turnout at our closing ceremony is just one example of the support parents have shown their children and our program," Talley said. "We have also had tremendous participation from parents as chaperones for our trips."
The program is now accepting applications for the fall 2021. Saturday Academy is scheduled to begin on Oct. 23 for students in grades 7-12 in the Atlantic City and Pleasantville school districts.
More information is at stockton.edu/GOALS or by calling 609 761-1229.
# # #
Contact:
Diane D'Amico
Director of News and Media Relations
Galloway, N.J. 08205
Diane.DAmico@stockton.edu
609-652-4593
609-412-8069
stockton.edu/media