GEARing UP for Fall: GOALS Ready for More Students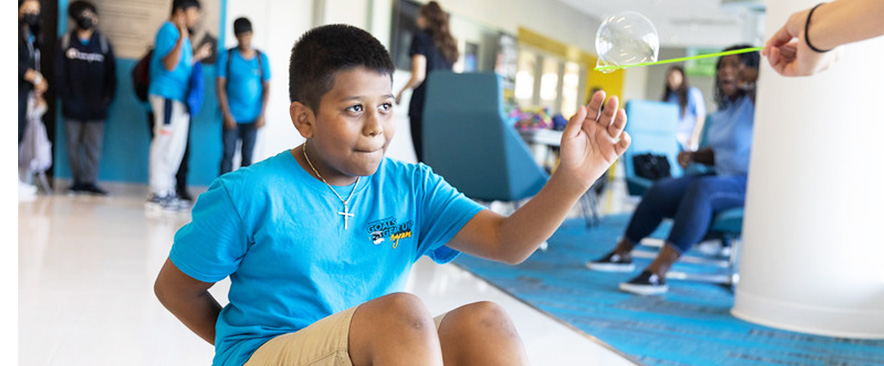 Galloway, N.J. – After a successful summer, the GOALS GEAR UP program at Stockton University is ready for an even better academic year.
Background
GOALS GEAR UP (Goal-Oriented Advocates, Leaders and Scholars – Gaining Early Awareness for Undergraduate Programs) is a program designed to increase the number of low-income students who are prepared to enter and succeed in postsecondary education.
They achieve this through summer and fall programs serving Atlantic City and Pleasantville 7th-12th grade public school students. The program boasts that 100% of its scholars are accepted to and go on to college.
Seeing students learn, grow and gain confidence in their abilities brings us joy."
2022 Summer Academy
This year, the Summer Academy hosted 90 local students and provided programs such as a youth conference, a two-week residential program for rising 11th & 12th graders, and tours of Stockton's Environmental and Health sciences programs. During their tours, students got to participate in hands-on STEM projects and explore the campus from the John F. Scarpa Health Sciences laboratories to the paths of Lake Fred.
Roxana Perez-Nieves, interim director and lead counselor of GOALS GEAR UP, says that this summer has been fulfilling for both her and her teammates in the program.
"Seeing students learn, grow and gain confidence in their abilities brings us joy," Perez-Nieves said. "We made great trusting connections with the students."
2022-23 Saturday Academy
In addition to summer programming, GOALS GEAR UP offers a weekly academic year program for up to 180 students on Saturdays in the fall. The fall program, Saturday Academy, consists of:
mentoring and career counseling
assisting with college applications and financial aid forms
college/university tours within the tri-state area
"We aim to help students holistically and see the whole person," Perez-Nieves said. "There are more than academics, which is why we provide wraparound services and work with a community partner that can offer services we don't have."
The Saturday Academy will launch in a kickoff event on Oct. 22 at the Atlantic City Campus and run through May. Interested students and parents can sign up for the 2022-23 program by visiting the GOALS GEAR UP webpage or emailing them directly (GOALS@Stockton.edu).
-Story by Loukaia Taylor
-Photos by Susan Allen