High Schoolers Prepare to Become First-Generation Leaders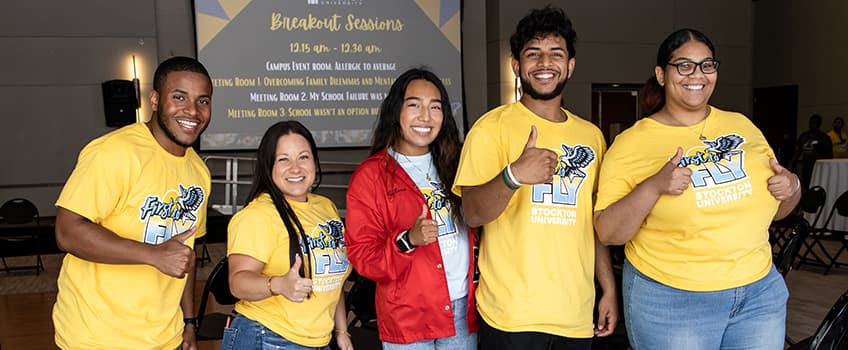 Galloway, N.J. — More than 40 local high school students came to Stockton University's campus for a day of tours, interactive sessions and more for the inaugural First to Fly Leadership Symposium on Saturday, June 24.
Organized by Mathematics alumna Alicia Jenkins, '23, the event was designed for students who would be the first in their families to attend college. During the event, those students were able to explore the campus and discover the people and departments dedicated to supporting student success.
For Jenkins, Stockton's recent expansions, which include the new Multicultural Center on the Galloway campus and Residence Hall in Atlantic City, provide an opportunity for both students and families to explore how the university will continue to support students in the surrounding community.
"Reaching out to prospective first-generation students in this format is important to provide them with an opportunity to see Stockton University as a higher education institution that is designed to cater to the needs of all students," Jenkins said. "There are many endless opportunities for traditional and nontraditional students to gain professional, academic and personal growth."
Breakout sessions – facilitated by faculty, staff and alumni – focused on topics such as academic development, maintaining one's mental health and overcoming failure while on the road to success.
In one session, "We Are Stockton Student Student Panel," Jovin Fernandez, director of the Multicultural Center, asked panelists to describe their Stockton experience in one word. Fun, loving, open, journey, resilience and growth were a few examples.
Social Work major Bryant Edmondson is following in his daughter's footsteps.
"When my daughter first went to college, I didn't have any college experience," Edmondson said. "She graduated first and inspired me. You, too, can set the way for your parents."
Juan Diego Chaparro, a student who migrated from Venezuela, explained why he chose the word growth and how Stockton staff and faculty have supported his university journey.
"All we do is grow — grow as professionals, as decent human beings, as friends, as brothers, as sisters," Chaparro said. "Every single day, there is a new thing for me to look forward to. A lot of professional staff have shown me the power I have, even with the limitations that I have. All they want to see from you is for you to grow and to turn into a better person every single day."
His most powerful words of advice were very simple. "Go to college," he said.
Jenkins hopes the program will continue through Stockton's First Ospreys Retention Initiative, which works to create programming and resources for first-generation college students on campus. She also wants to inspire the next generation of students to seek opportunities to get involved and lead projects such as this one.
"Being that the First Ospreys Club supports current first-generation students, the initiative can act as a bridge to share with high school attendees and families how their lives have been impacted by the various resources provided to first-generation students," Jenkins said. "Also, this event will continue to show the endless opportunities students have in terms of orchestrating impactful events that empower the surrounding community to achieve generational education within their families."
Like Jenkins, Ana Edmondson, assistant vice president for Student Transitions, Access and Retention Programs, believes that programs like this help expose students to the Compass Fund, an initiative providing seed money to student and employee initiatives, and inspire them to create their own projects and develop the leadership skills that employers are seeking from candidates coming out of college.
"In my case, I spearheaded a Compass Fund project that concluded in the spring of 2023, which more than likely influenced Alicia, a student, to apply for Compass funding to sponsor a creative idea that she had in mind," Edmondson said. "She had the opportunity to gain hands-on budget management skills that employers are seeking in candidates. I encourage students to take a leap of faith, work with a professional mentor and apply for Compass funding to support any of their grand ideas."
#CelebrateFirstGen2022
---
More On-Campus Conferences
– Story by Loukaia Taylor and Susan Allen
– Photos by Susan Allen