2020 in Review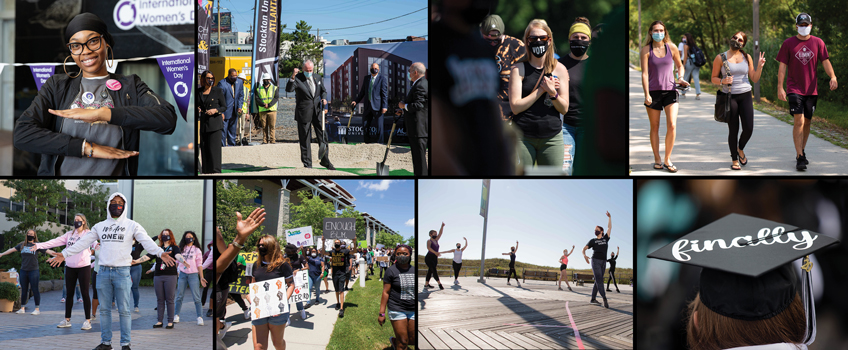 Galloway, N.J. - As Stockton University reflects on 2020, we will remember it as a year where we adapted to challenges with creativity, and supported each other and the community. In spite of the pandemic, and sometimes even because of it, Ospreys continued to soar.
We UNITED (from a safe distance).
As quickly as the pandemic escalated, many Stockton University operations transitioned to home offices across the region and nearly 2,000 courses went online. The Information Technology Services staff swiftly assisted employees who worked from home until they could safely return to a campus that had been revamped with plexiglass, new hand sanitizing stations and precautionary signage implemented by Facilities and Operations staff.
During the spring semester, after most students went home, life on campus continued. Just under 200 students remained in campus housing. Stockton's new K-9, Freya, trained on a quiet campus with Lt. Tracy Stuart. Science faculty offered lessons and tours livestreamed from campus, and staff cared for the creatures and plants in the Vivarium and Greenhouse as essential operations continued.
Off campus, the Stockton community pitched in to help stop the spread, making cloth and 3D printed masks, delivering meals to essential workers and health care professionals, reaching out to the elderly, organizing donations and food drives.
In the fall, as students returned to campus, new outdoor classrooms were utilized and the campus community followed guidance to "Mask up, Back up, Wash up." New students declared "I will" statements during Welcome Week and Themed Living Communities (TLCs) brought students together for campus life activities.
We ADVOCATED.
The Women's Gender and Sexuality Center kicked off the year with an Each for Equal photo campaign on International Women's Day.
On Juneteenth, more than 400 students, faculty, staff, alumni and supporters of the Black Lives Matter movement gathered at Stockton with a March for Justice and a call to have their voices heard.
In September the Board of Trustees unanimously approved a resolution that reinforces its "Commitment to Diversity, Equity, Inclusion and Social Justice at Stockton," and positioned the university to be a leader on these issues.
Social justice conversations continued with the #StocktonVoices social media series and with the Community Conversations and Collective Action series that provided context to understanding systemic racism and promoting action to achieve social justice.
We GREW.
In October, Governor Phil Murphy, along with President Harvey Kesselman and VIPs, broke ground for the Phase II Residence Hall at Stockton University Atlantic City, targeted to open in 2023.
The following month, Kesselman established a Presidential Task Force to explore ways to expand the presence of the School of Business in Atlantic City, provide more internship and employment opportunities for students and develop a series of signature events and programs. Stockton's Board of Trustees chair Raymond Ciccone, a 1979 graduate of Stockton's business program, is leading the task force.
The Board of Trustees approved a new Facilities Master Plan 2020 that provides a longterm vision for University expansion in both Galloway and Atlantic City. Key projects in Galloway include a fourth building to complete the Academic Quad, a new welcome center added to the existing Campus Center, a parking garage, new athletic facilities and housing upgrades. Atlantic City projects include the Phase II Residence Hall, an addition to the Academic Center, a Coastal Resiliency Center and a mixed-used residential/commercial complex.
We CELEBRATED.
In May, the Class of 2020 celebrated virtually with an eCommencement website, featuring recorded speeches and student-designed GIFS that placed caps and confetti on social media photos.
In October, with socially-distanced protocols in place, nearly 1,000 graduates returned to campus to formally receive their diplomas and reconnect with classmates during eight separate ceremonies spaced out over one day. The celebrations were smaller, but filled with joy and a sense of accomplishment - along with decorated face masks, yard signs and custom T-shirts.
We VOTED.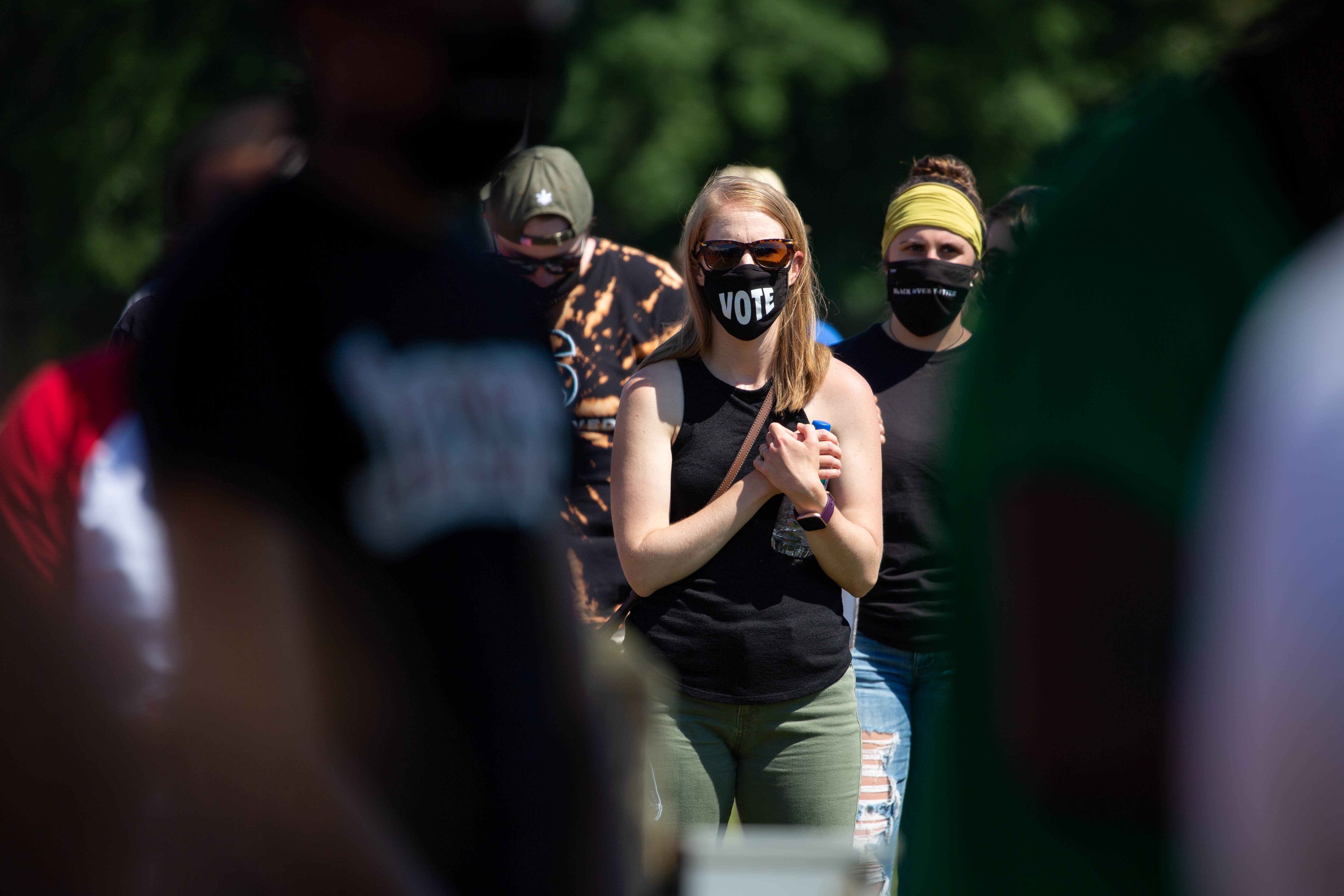 Stockton's Political Engagement Project served as a 2020 election hub and provided resources and guidance on how and where to vote in person and by mail, information on the candidates and how to track election results.
The William J. Hughes Center for Public Policy and NJTV, New Jersey's public television network, co-sponsored a live debate without an audience between 2nd Congressional District candidates, Democrat challenger Amy Kennedy and Republican incumbent Jeff Van Drew.
The Polling Institute released five polls this year on the topics ranging from New Jersey's 2nd Congressional District, perceptions on the seriousness of racism, how pandemic views fall across party lines, food insecurity in Atlantic County and the presidential election.
We are GRATEFUL.

Stockton's 40th Annual Scholarship Benefit Gala, originally set to take place at the Hard Rock Hotel & Casino in May, happened virtually with a playlist featuring New Jersey artists, a YouTube tutorial on how to make an Ospreytini signature cocktail and a bruschetta recipe. Thanks to the support of sponsors and supporters, we raised more than $199,000 for the Benefit Gala Endowed Scholarship Fund and the Student Relief Fund.
The Foundation's third Ospreys Give campaign raised over $95,000 from more than 660 gifts to support Stockton students, programs and initiatives in October.
The annual Golf Classic, held in September at Seaview, raised more than $92,000 to support the Foundation.
Stockton supporters including former Stockton trustee, the late Judge Gerald Weinstein, Carl Archut Jr. '16, Ann and Howard Rosenberg, and Bill and Ginny Gormley made generous contributions that were inspired by loved ones and created new opportunities for students to reach for their goals.
On a more somber note, Stockton mourned the loss of trustee Michael Jacobson, who had served as a trustee for 35 years until his death in October. The Board of Trustees in December named the Campus Center Board of Trustees room in his memory and in grateful recognition of his years of service to the university and its students.
As we end a year like no other, and prepare for the challenges of 2021, we remain grateful for our strong Osprey community and its support.
Reported by Susan Allen