Stockton Receives Gift from Weinstein Estate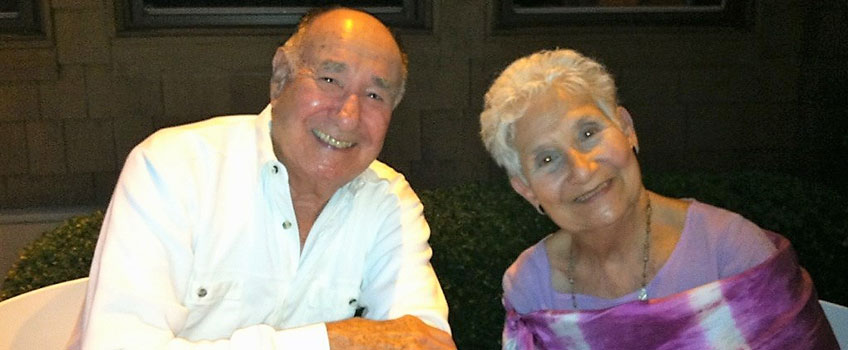 Galloway, N.J. _ Former Stockton University trustee Judge Gerald Weinstein passed away in December, 2019. But through his estate, Stockton students will continue to benefit from his generosity and concern.
A bequest from his estate will continue the legacy of Judge Weinstein, who had previously endowed two funds at Stockton.
In 2008 he established the Judge Gerald and Claire Weinstein Professorship in Jewish Studies, held by Distinguished Professor Yitzak Sharon, who helped start the Holocaust Resource Center. In 2015 he also endowed the Judge Gerald Weinstein Scholarship Fund.
Weinstein's son Julian, who gained his BA at Stockton in the mid-1980s, said he found the experience very rewarding. Having returned from serving with the Israeli Paratroopers, the beautiful campus in the pines and close knit Stockton community was the perfect environment.
"It was a wonderful experience and exactly what I needed to get my career on track," Julian said. "Dad took note of my experience at Stockton and how the college was progressing over the years."
His son James said once Weinstein became interested in Stockton he committed to being involved.
"That's how he was," James said. "He couldn't just get involved in something; at some point he had to lead it," James said.
James said his father was always very involved in public service and philanthropy.
"He served by example," James said.
Weinstein's involvement with Stockton began in the late 1980s as a member of the founding board of what is now the Sara and Sam Schoffer Holocaust Resource Center at Stockton, which opened in 1990.
In 1999 he was appointed to the Stockton Board of Trustees. He served for seven years, including a term as chair from 2005-2006, when the board approved a new Master Plan that would expand and transform the campus.
"He really enjoyed his role as chairman and was proud of it," James said.
Stockton President Harvey Kesselman said the bequest will help even more students obtain a Stockton degree.
"Judge Weinstein was an extraordinary leader whom I admired immensely. His impact at Stockton was significant, and his generosity will continue to benefit students. We thank the family for their incredible support," Kesselman said.
Stockton trustee Leo Schoffer said Weinstein had a major impact on him and Stockton.
"Judge Weinstein was a close friend to my family as well as a mentor and role model to me," Schoffer said. "His leadership and vision played a major role in the creation and growth of the Holocaust Resource Center. He understood the needs of our students and he established a scholarship fund to help them. His meaningful bequest will serve to continue his special legacy at Stockton. The University extends its appreciation to his widow, Claire and his sons James and Julian."
An attorney and judge, Weinstein was a founding member of the firm Horn and Weinstein and later served for 17 years as a New Jersey Superior Court trial judge, including seven years as Presiding Judge of the Civil Division of the Court for Atlantic and Cape May counties.
A native of Atlantic City, he lived in Margate with his wife, Claire.
# # #
Contact:
Diane D'Amico
Director of News and Media Relations
Galloway, N.J. 08205
Diane.D'Amico@stockton.edu
609-652-4593
609-412-8069
stockton.edu/media