Campus Was Quiet for Students Who Stayed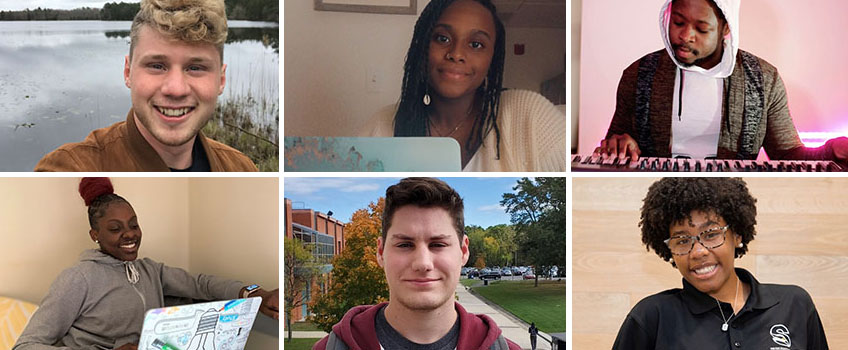 Galloway, N.J. - What was it like being among fewer than 200 students living on a college campus that normally accommodates almost 10,000?
Quiet.
"I opted to stay on campus because Stockton provides me with a space that allows me to focus and complete my work," said Serene Quick, a junior Business Finance major living in Galloway.
Peaceful.
"I enjoy playing piano, and I can practice for hours in peace," said Jowy Cenat, a senior Pre-Occupational Therapy major who is living in the Atlantic City Residential Complex.
Dark.
"The lights are on motion sensors, so it's dark because no one is there," said Makiyah Baptiste, a senior Biology major living in Atlantic City.
Students who were granted permission to stay at Stockton after spring break represent just a fraction of the almost 3,500 residential students who typically live either in Galloway or Atlantic City.
"We know it was an adjustment," said Associate Director for Residential Life Marques Johnson. "It wasn't just not having students there, but also not having access to the library and the lounges and the gym. It's not the same campus, and they came to realize that."
Residential Life arranged some virtual activities, including an online "Zoomba" class and an online celebration of the late musician Prince, with professor of Africana Studies Donnetrice Allison serving as DJ.
Some students met for socially distanced walks on the Boardwalk or on the Lake Fred trails. But overall, what they learned was how to live with themselves.
Six of the students, all of whom had been working as Resident Assistants, shared what it was like to stay behind for the semester after all of their classmates moved home.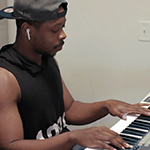 Jowy Cenat, senior, major in Pre-Occcupational Therapy, double minor in Holistic Health and Public Health, living in Atlantic City.
"I'm taking five classes, and I needed to focus. I see a few other students, say hi, try to practice social distancing. I go out to the Boardwalk, ride bikes and practice piano. It reminds me how much I miss people. Being around people is good. But without a doubt I can focus on my classwork. I cook for myself or order pizza. I'll be going back home at the end of the semester, so I am enjoying my last couple of weeks of privacy."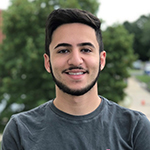 Jay Rehani, senior, major in Accounting, living in Atlantic City
"I've lived in Atlantic City since it opened. I was one of the first RA's in Atlantic City. Now it is isolated. There are no programs, no computer labs, and everyone wears masks. I turned 21 in April and I couldn't celebrate. I'm taking four accounting classes, and I also got a job at a market in Ventnor since I'm not getting paid as an RA. I was going to stay here for the summer and be an RA. I got an internship at an accounting firm in Philadelphia, but that's been delayed, too, until June. Mainly I go to work and do homework, cook, clean, do laundry. Finances are a worry."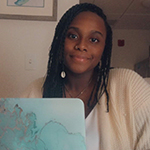 Makiyah Baptiste, senior, major in Biology, living in Atlantic City
"It's been fine, but very quiet. My hall was really loud. I'm friends with another RA so we spend time together. I'll go out to the grocery store, or take a walk to the Pier and back to get some fresh air. It's hard being inside. I was so active. I'm taking four classes, so it keeps me pretty busy. I've been applying for jobs, doing online interviews, but a lot has been cancelled. I'm going to go live with my grandparents (when the semester ends). I'm taking two courses online in the summer so I can finish. I'd like to go to graduate school, study forensic science, be a medical examiner."
Shania Buster, junior, major in Social Work, Galloway campus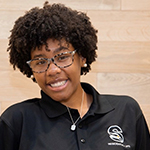 "It's been a huge adjustment but also something that was needed. This is where I feel free the most and get peace of mind after the passing of my father last summer. In other words, this is my happy place.
The pros of staying here is that I have a place to stay and some people around me who keep me grounded and motivate me to do great things while we're all inside. The cons have been me missing my friends. Most of my friends are at home and that disconnect sometimes makes me feel lonely, but then I remember that this all shall pass.
What has surprised me the most is the amount of people who actually decided to stay here. I thought I was the only one here at first. A typical day for me on campus starts off going through my emails and Blackboard because I'm still getting assignments. I'll get up and make a smoothie for breakfast and then I'll workout with some of my friends here for our 30-day workout challenge. I usually just hang around in my apartment and find some homework to do or watch some of my favorite movies. My normal day sounds simple, but it's actually been the best since I'm so used to doing way more in one day during the previous semester. Now, I actually have time for myself and can never make an excuse.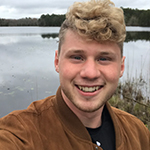 Matt Miller, junior, major in Physics, living in Galloway
"It's really quiet so I can get school work done. But I can't use the labs, even though I'm here. I do have some interaction with friends. We go for walks, FaceTime and do homework together. I still have a meal plan, and Mike, the Campus Center cook, is wonderful. There's a pretty good selection of food even though there aren't many of us here. I'll do my classes, homework, plan for diner, read and watch TV. I take a lot of walks and runs. I had planned to be a summer RA and do an internship at the FAA, but I haven't heard anything more about that. I've liked classes on Zoom. It's a little like being in class and you can ask questions. It's not the same, but it works. The biggest adjustment was being so alone. I am looking forward to going home. Digital interaction is not like really being with people."
Serene Quick, junior, major in Business Finance, Galloway campus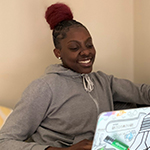 "I opted to stay on campus because Stockton provides me with a space that allows me to focus and complete my work. At home, there are too many distractions. My grades are always my highest priority and I wanted to set myself up for success. My pros while staying on campus have been the support from Res Life, the generosity of the Food Pantry staff, still having campus dining options, and being moved from freshman side to the apartment side. Living in an apartment was the icing on the cake because it's a bigger space, I have a kitchen, a living room and I don't have to leave my space to go to the bathroom. I honestly have no cons besides the obvious: I miss face-to-face classes and being with all of my friends!
The most surprising thing that happened while I stayed on campus was connecting with the Food Pantry. I sadly didn't utilize this resource before now, but I'm so glad I did.
My typical day includes doing homework, watching Netflix, cooking my meals, baking, cleaning, making some fun videos, exercising and resting. I am never bored because there's enough assignments and space for me to stay occupied. I connect with other students through Zoom or regular FaceTime calls. I also get to interact with other students on the track when I go to exercise. We run a mile together and do various exercises while maintaining our distance. I seriously cannot complain, my experience staying on-campus has been great and it has helped me keep my grades high."
# # #
Contact:
Diane D'Amico
Director of News and Media Relations
Galloway, N.J. 08205
Diane.D'Amico@stockton.edu
609-652-4593
609-412-8069
stockton.edu/media