Gormley Gift Supports Music for A.C. Children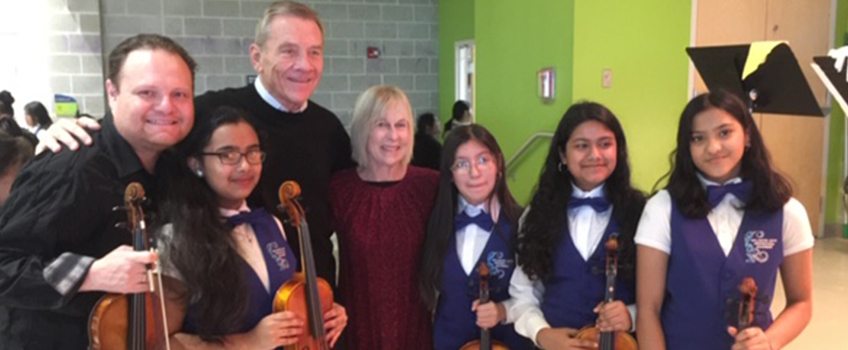 Galloway, N.J. - Students in Atlantic City will have the opportunity to get private music lessons thanks to a generous gift to Stockton University from Bill and Ginny Gormley that will help invigorate music programs for Atlantic City children and the community.
The $25,000 gift will allow music instructors from Stockton and musicians from the Bay-Atlantic Symphony to provide private lessons to students at Sovereign Avenue School in Atlantic City and expand the program to Our Lady Star of the Sea School and the Boys and Girls Club of Atlantic City.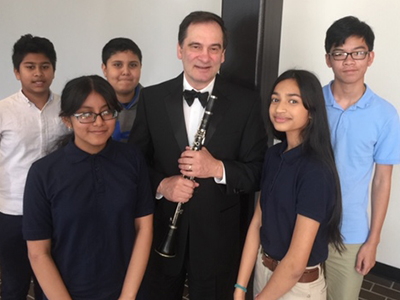 Bill and Ginny Gormley have supported music education in Atlantic City schools for years as founders of the Friends of Music program, which began in 2008 when Ginny suggested to Bill they provide something for others rather than gifts to each other one Christmas. The Gormleys are providing $15,000, and $10,000 will come from Friends of Music.
Bill Gormley said the new and expanded programs are the result of many partners coming together to support music education in Atlantic City. The program at the Boys and Girls Club will expand its STEAM (Science, Technology, Engineering, Arts and Math) initiative. The program at Sovereign will invigorate the Instrumental Music Academy begun there several years ago. Lessons at Our Lady Star of the Sea enhances support for the school.
"A lot of people deserve credit for working to put this together," Bill Gormley said.
Stockton Associate Professor of Music Christopher Di Santo is coordinating the program. The lessons will be dependent on meeting COVID-19 guidelines and Di Santo said he and other musicians will work with the groups in Atlantic City on implementation.
Stockton and the Bay-Atlantic Symphony participated in a grant-funded mentorship program in Atlantic City several years ago at Atlantic City High School and Sovereign Avenue School which operates an Instrumental Music Academy. The Friends of Music continues to support the programs, but other grant funding dwindled. The new funds will help build the program again.
"I'd love to get the program back to where it was five years ago, especially with Stockton's presence in Atlantic City, and then expand from there" Di Santo said. "The Gormleys have always been there with unbelievable support and share in a common vision to provide unique artistic opportunities for the youth in Atlantic City."
Di Santo said the Gormleys told him if he came up with a viable plan, they would obtain funding needed to move forward.
"We are confident that the combined efforts and resources provided by the Gormleys, Stockton and the Bay-Atlantic Symphony will allow this program to grow from being a high-profile, local initiative to becoming a regional and perhaps even national model for community engagement," Di Santo said.
Sovereign Avenue School music teacher David Murray said the partnerships with the Gormleys and Stockton have meant a lot to the music academy program there. There are 16 students in the school orchestra now, but it has been as high as 27.
"To be able to take it further than it is now would be incredible," Murray said. He said he always envisioned having a program that would involve the entire community.
"I want students to feel like they are part of something bigger than themselves," he said. We have to plan for the long term. With Stockton and the Gormleys we could really establish something big."
Stockton Chief Development Officer Daniel Nugent said the Gormleys have been active supporters of Stockton's programs in Atlantic City.
"This gift is a generous example of the Gormleys' desire to help Stockton expand programs into the Atlantic City community," Nugent said."
# # #
Contact:
Diane D'Amico
Director of News and Media Relations
Galloway, N.J. 08205
Diane.D'Amico@stockton.edu
609-652-4593
609-412-8069
stockton.edu/media