How We Are Helping #StopTheSpread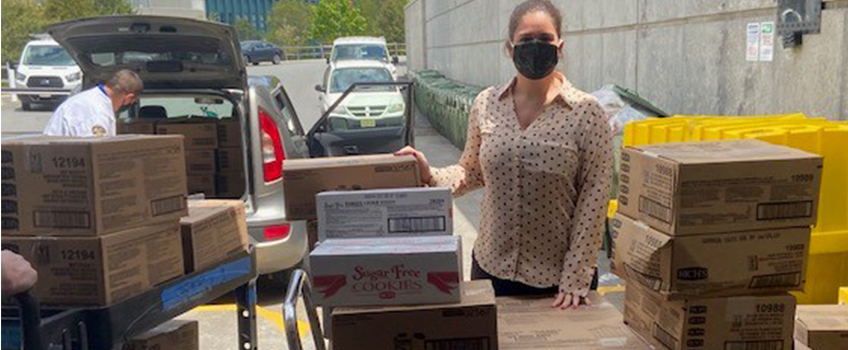 Community service and civic engagement are integral to Stockton's mission. Stockton faculty, staff, students and alumni have taken that mission to heart, reaching out to help others as we all battle the COVID-19 pandemic.
Following are some of their stories. Their efforts make all of us at Stockton proud and show that when the going gets tough, Ospreys soar.
Have a story to share? We want to hear it! If you, or someone you know in the Stockton community, is doing something to help, let us know by emailing Diane D'Amico at diane.damico@stockton.edu or sharing on social media and tagging @stockton_edu or #stocktonu. Don't forget to include a photo!
Galloway Airman goes above and beyond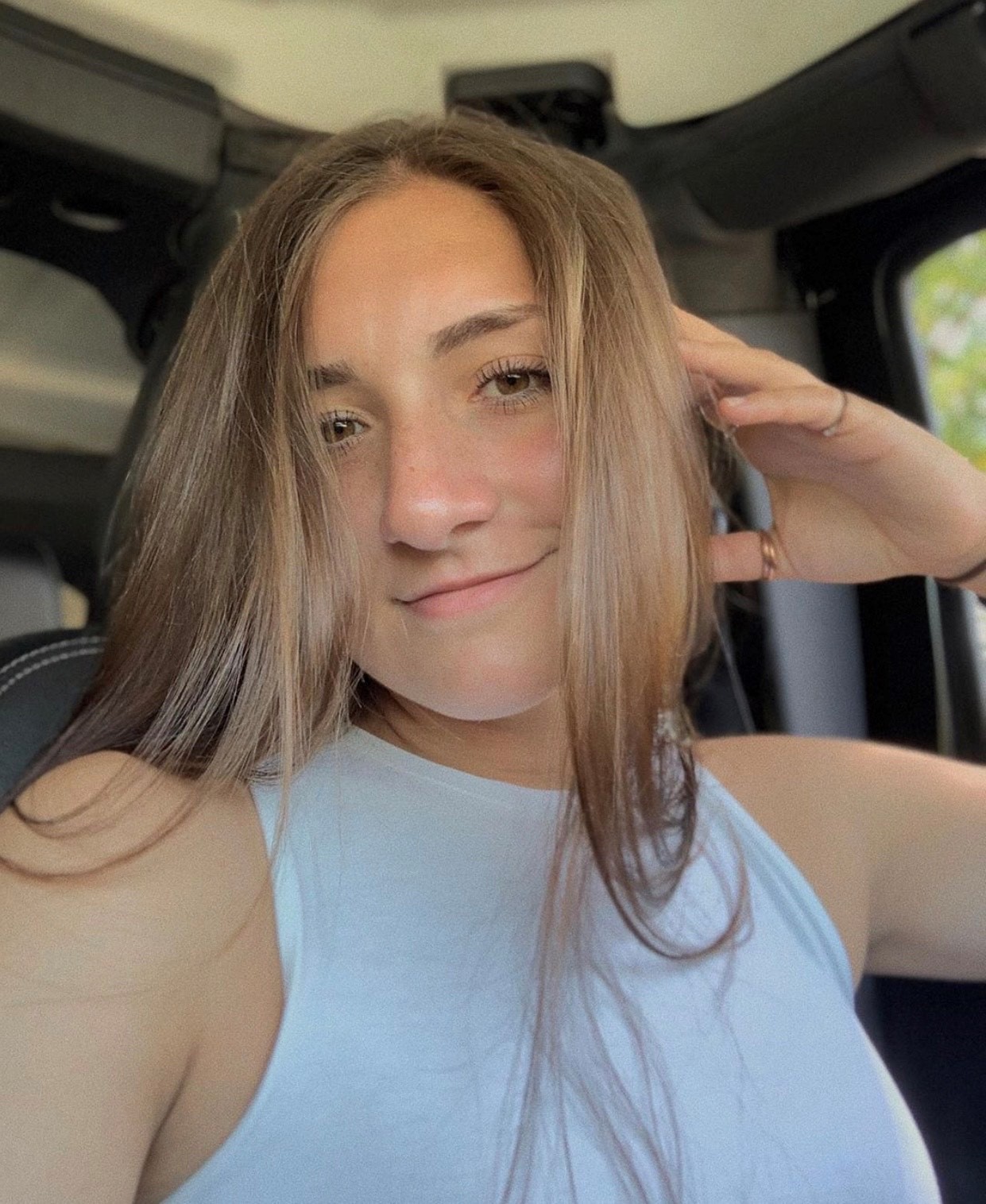 U.S. Air Force/Air National Guard Airman First Class Abby Guercioni of Galloway soared into action when assistance was needed at New Jersey's nursing homes in the wake of COVID-19.
Guercioni, a senior at Stockton, is a Munitions Systems specialist with the 177th Fighter Wing. From May 1-31, she served on Team Vineland with 30 other airmen, helping staff at the Veterans Memorial Home in Vineland with entry control, logistics, maintenance, cleaning and activities.
"I always try to do my absolute best in whatever I do, but knowing that the veterans and staff were putting all of their faith in us always kept me pushing myself to go above and beyond, and do more than what was asked of me," said Guercioni of her deployment.
As part of housekeeping duties, Guercioni disinfected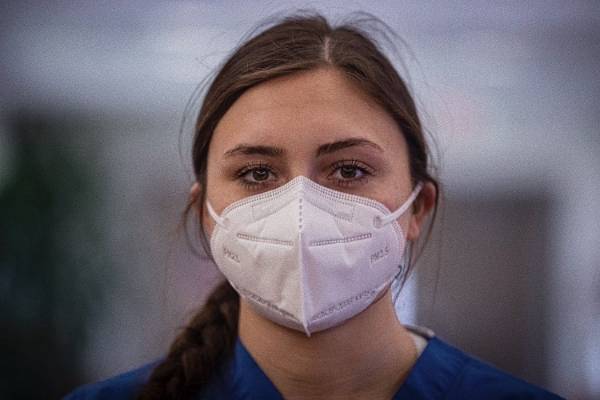 frequently touched surfaces, in addition to sweeping, mopping and ensuring the nursing home was kept clean at all times.
"The most rewarding part of working at the Vineland Veterans Memorial Home was being able to talk to the veterans and listen to their stories when shared. Just knowing I made a difference in their lives and in the place they call home meant the world to me."
Guercioni is studying Communications with a focus in Media Production and Visual Communications with a focus in Graphic Design.
Photo on right by U.S. Air National Guard Master Sgt. Matt Hecht.
Saying a drive-by "hello" and "thanks" at long-term health care facilities
Galloway, N.J. - More than 60 cars lined up at Stockton on June 13 to for a drive-by visit to four long-term care facilities on Jimmie Leeds Road.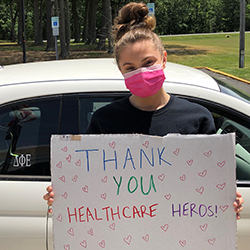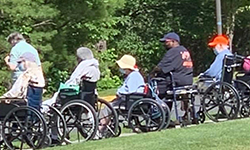 Stockton psychology and gerontology students participated in the event, initiated by Our Children Making Change, a local non-profit that provides service opportunities for children who are too young to participate in traditional volunteer work. The group, founded by Laura Dulac, has raised over $525,000 over the last 12 years.
When OCMC came up with the idea for the car parade, Christine Ferri, Stockton Associate Professor of Psychology and Fellow for the Stockton Center on Successful Aging, thought about facilities near the Galloway campus that regularly host student volunteers and interns.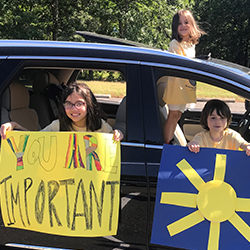 "Since Stockton students cannot currently serve as interns and volunteers at these facilities, we needed to find a new way to maintain that connection between Stockton and the local health organizations," Ferri said.
"The Stockton students and children participating made the residents and health care workers we visited feel loved for sure," said Marcus Bridges, Social Work '22, who participated as part of his Abnormal Psychology class. "The event was so heart-warming that my children and I have now become a part of the wonderful OCMC organization."
"Every resident was smiling and waving, and we were all touched by the human connection across generations," Dulac said.
"Words cannot express how much joy and love your group brought to Royal Suites on Saturday," said Alicia Scaglione from Royal Suites." There was an aura of love and appreciation that swept through Royal Suites and it is because of all of you!"
Food Pantry donations coming in "fast and furious"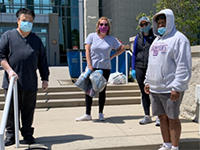 Stockton employees and supporters have come out strong to support the campus Food Pantry. Monica Viani, who with Laura Hughes runs the pantry from the Office of the Dean of Students, said since Craig Stambaugh sent out an email on May 12, the donations have been coming in" fast and furious."
"To date, we have received six mail hampers worth of items ordered off of the Amazon wish list and Walmart, with a hamperful coming in every day," Viani said last week. "At our donation drive on campus on May 21, we filled over five mail hampers with items dropped off by faculty, staff, students and Chartwells." (Photo at left is Venustiano Borremeo, Monica Viani, Laura Hughes, and Jim Gwathney at the May 21 food drive.)
Viani said they have also received monetary donations, which will be deposited into the Stockton Foundation food assistance account.
"We are overwhelmed with the outpouring of support the Stockton community has shown, especially these last few weeks!" Viani said. "We have even been able to suspend our deliveries from the Community Food Bank for the summer, allowing them to be able to serve other agencies."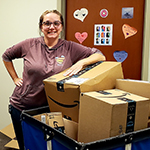 The food pantry is currently assisting the almost 50 students living on campus this summer as well about 30 others who live locally.
"We cannot thank you all enough for the support you have given the Food Pantry, especially in these unprecedented times," Viani said.
SCOSA Developing Plans for 'Little Free Pantries' for Students and Community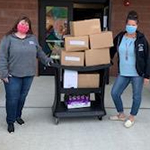 Recently, the Stockton Center on Successful Aging (SCOSA) staff read a N.Y. Times article about food insecurity during COVID-19 and it touched their hearts. SCOSA staffer Gina Maguire contacted Jen McBrien from Stafford Township Recreation Department (which is across the street from Stockton's Manahawkin site). Stafford donated seven boxes of food and a case of Vitamin Water to the Stockton Student Food Pantry. Stafford has a Little Free Pantry, and SCOSA is working with them to address food insecurity in our communities by also developing plans for Little Free Pantries at the Galloway campus and Kramer Hall in Hammonton. The Little Free Pantry movement "is a grassroots, crowd-sourced solution to immediate and local need. Anyone interested in participating an join SCOSA's Zoom discussions at 1 p.m. on June 2, 15 and 30. To register, click HERE or contact Gina.Maguire@stockton.edu for more information.
"SCOSA will be doing our part to minimize food insecurity for our students and community members," Maguire said. The pantries would be available to students and the community. (Pictured at right are Maguire, (left,) and McBrien.)
Stockton Dining Provides Food for Salvation Army, A.C. Rescue Mission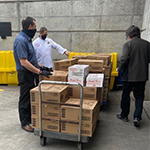 Chartwells Higher Education at Stockton University recently received 170 cases of Rich's Food Products to distribute to the community.
On May 13, Stockton University Dining in partnership with the American Culinary Federation / Professional Chefs Association of South Jersey, distributed 75 of the cases to the Salvation Army and Atlantic City Rescue Mission to be prepared and provided to out of work area residents. The remaining cases will be distributed later this month. Products included pizza dough, cookies, whole grain bread dough, whipped topping and biscuit dough.
AtlantiCare Food Drive at Stockton A.C. Campus
The Stockton Atlantic City campus hosted an AtlantiCare sponsored food drive for over 250 of their employees affected by COVID19. The food drive was held on Friday, May 8, in the Scarpa Academic Center parking lot. Families received bags of non-perishable foods to cover several meals. In addition, Bally's, Caesars and Parker Interior Plantscape donated flats of flowers to those affected.
Hammonton Enlists Stockton's Birchler for Task Force
Christina Birchler, director of the Hammonton instruction site, was tapped to serve on the Hammonton Coronavirus Task Force. The task force includes volunteers from the community serving on subcommittees themed around providing guidance and information to residents in the following categories: Health and Safety, Community Goodwill and Economic Impact.
Birchler is helping to coordinate volunteers to assist with getting residents registered as well as volunteers for food distribution by the St. Vincent DePaul Food Pantry. She has also coordinated efforts to help residents get food for their furry family members by working with nonprofit The Kibble Cupboard.
Ambassadors Reach Out to Prospective Ospreys
With campuses closed for tours and open house events this spring, the Enrollment Management team needed to get creative in its outreach to prospective Ospreys deciding where to continue their education this fall.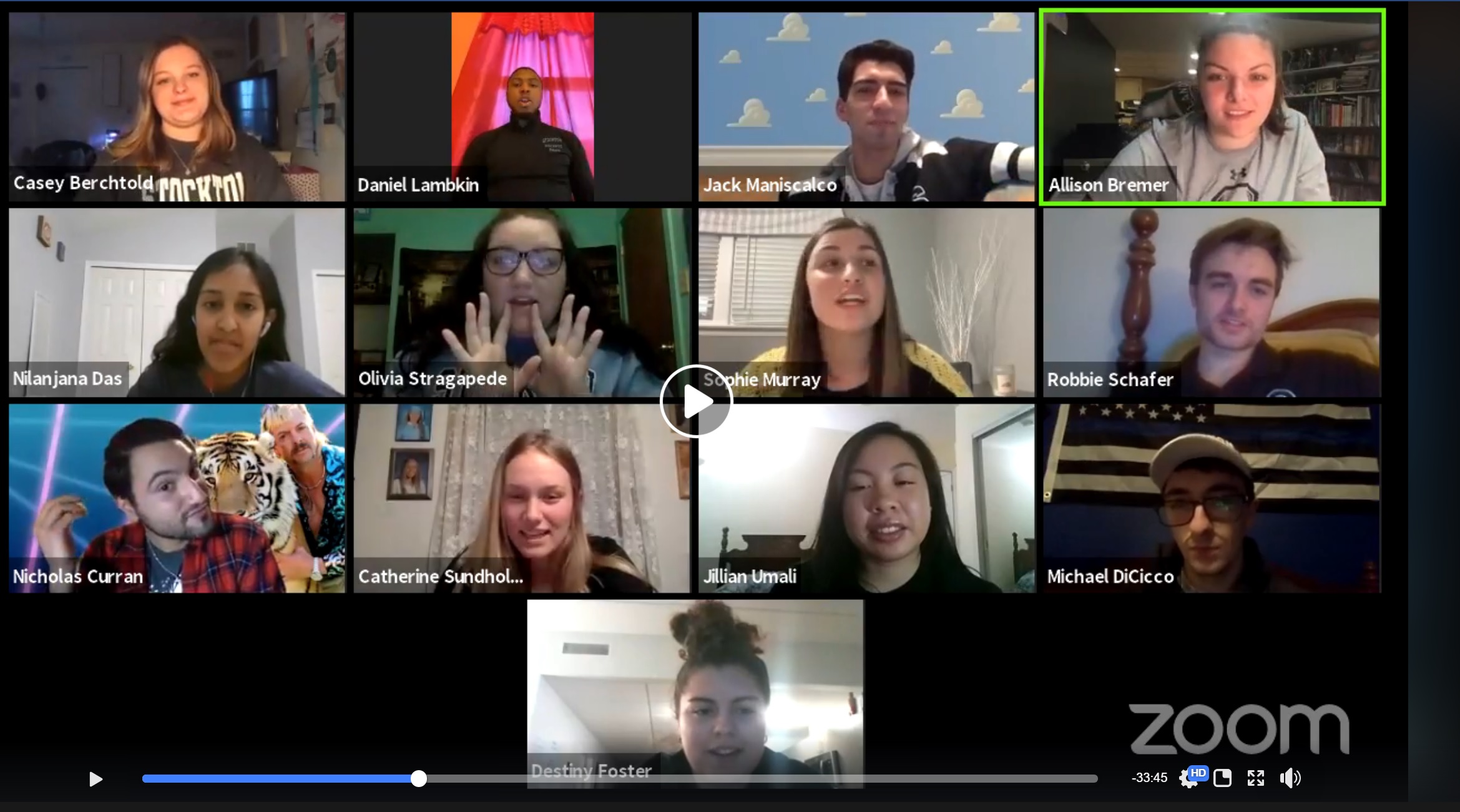 Stockton Admissions Ambassadors went live on Stockton's Facebook page for "Straight Talk with a Stockton Student" the week of April 27 every evening to answer questions ranging from registering for classes, choosing a roommate and where to eat on and off campus. More than a dozen student ambassadors took turns sharing their favorite Stockton moments. Each session reached more than 5,000 people, and the replays are available. Great job Ambassadors and welcome future Ospreys!
Ospreys assist at Atlantic City and Manahawkin food distribution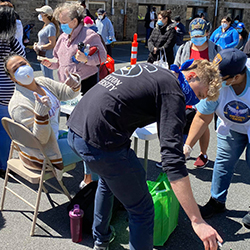 Members of UNIDOS, including employees and alumni, volunteered for the Hispanic Association of Atlantic County's two food distributions in Atlantic City's 4th, 5th, and 6th wards. Those wards neighbor Stockton's A.C. campus and many residents do not qualify for food relief programs. The first distribution was at the Boys and Girls Club and the second one at Our Lady Star of the Sea Church, which serves the Latinx community. The event was supported by the Casino Reinvestment Development Authority. The local Boom Food Market and La Villita Farm Market also provided food vouchers.
Members of the Stockton community who participated include Pedro Santana, Jessica Grullon, Irvin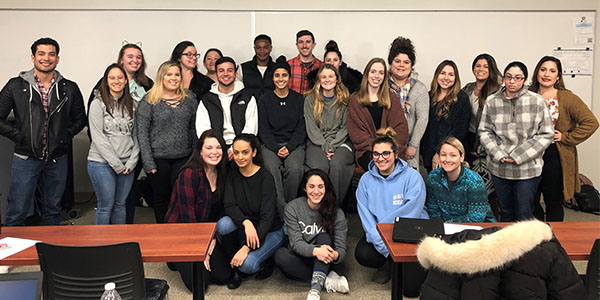 Moreno, Michael Cagno, Marques Johnson, student Matthew Miller and alumni Alejandra Londono and Cristian Moreno.
Students in the Manahawkin Nursing Club, right, collected diapers, baby care and personal care items for a temporary food pantry in Little Egg Harbor Township in Ocean County to assist families in need.
Students continue to offer naturalization classes
Six student fellows from the Stockton Center for Community Engagement have continued to offer remote naturalization classes to area residents. The classes were offered at the Atlantic City campus.
Connor Yackle, Izabelle DelRoss, Kristine Garcia, Lina Garrido, Haley Jones, and Ariana Ramirez coordinate the class through a weekly conference call on Tuesdays from 6:30-7:30 p.m.
Students said there have been challenges, but they wanted to continue to help people who are dedicated to earning their citizenship.
"I think it has been really productive and extremely beneficial to the people who are taking the class because they have to practice their listening skills even more since we are not talking to them face to face," said Garrido, a freshman who plans to major in health sciences.
Yackle, a sophomore business studies major, said not as many people are participating, but quite a few are continuing.
"It is more difficult to do these online classes because when we did it in person you could see the student and we would have memorable moments despite the language barrier," Yackle said. "But I feel the students are still learning."
Jones, Jones, a sophomore psychology major said the participants improve with every class
"I would love to take part in the naturalization class as long as I can because it's amazing to see the progress that the students make from day one," Jones said."I am beyond proud of all of them!"
Employees keep food pantry operating on campus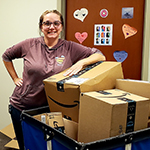 Monica Viani and Laura Hughes from the Office of the Dean of Students, have been operating the food pantry on the main campus from 12:30-3 p.m. Mondays, Wednesdays, and Fridays for students who still live on campus and those who live locally. The pantry in Atlantic City is also open Tuesday and Friday from 9 a.m. to 4 p.m. They maintain social distancing with the students, and supplement donations with trips to stores.
Members of the Stockton community have also continued to support the food bank through on campus contactless drop-offs and an Amazon wish list.
"We cannot thank you all enough for the support you have given the Food Pantry, especially in these unprecedented times, Viani said, sharing a photo of the Amazon deliveries.
Health Science student gets closeup view of pandemic

Health Science student Amanda Onyeyemla transferred to Stockton University and began working as a technician at AtlantiCare in January. Her classes have transitioned online, and she has gone from working with geriatric patients to helping patients with the coronavirus in the Emergency Room and respiratory department.
"I can't lie, it hasn't been a pleasant health care experience," she said. "It's been very challenging in this hard time."
There are late nights of submitting assignments, but there are moments of hope too.
"Every time I come in to work, ShopRite or Wawa has donated something like hoagies, coffee and cold drinks to help us get through the day. The other day, there were cards telling us that we are heroes, and it's stuff like that that gives us the motivation to keep going," she said.
Sew what? Masks, of course
Several members of the Stockton community have used their time at home to brush up (or develop) sewing skills to make masks for medical personnel and others to help #StopTheSpread. Here are a few of them:

First Lady Lynne Kesselman learned a longtime friend and neighbor who is also an AtlantiCare nurse and supervisor was sewing masks, so she joined the effort. So far she has created four dozen masks for AtlantiCare health care professionals and will also be making some for use by students when they visit the Stockton food pantry.
"It's created a sense of community in a time of isolation. And it's fun and helping others," she said. "I think it's just really great that everybody's doing anything and everything that they can to be helpful to those that need it the most right now."
Jen Radwanski, director of Parent and Family Partnerships, recently stitched two dozen masks for Deborah Heart and Lung Center's Emergency Room staff.
"As a professional quilter, I just felt this was something I had to do. I had the supplies and reached out to my colleague Mark Adelung to see if they needed them, and they did," she explained.
Jennifer Wurst '02 is a registered nurse in AtlantiCare's Emergency Room. A few years ago she left the post-surgical unit to challenge herself by joining the ER team. She's been spending her time off behind her sewing machine making masks.
When one of Professor of Physical Therapy M. Alysia Mastrangelo's students, Grace Kim mentioned in class that she was going to make and donate masks, she inspired Mastrangelo and student Gianna Benanti to join the cause, resulting in a collection of colorful fabric masks. They made about 200 for friends, family, and neighbors, local churches and the Atlantic City Rescue Mission.

Graduate student Gavin Rozzi used his technology hobby to vacuum cleaner bags into masks and fitting them with plastic respirators printed from his home with a 3D printer.
"Neighbors and friends are contributing supplies, so this has been a community effort," Rozzi said.
Feeding those who are saving others

Kelly Kern of Galloway is helping bring food to those out on the front lines of the COVID-19 pandemic, while also supporting local businesses.
Kern, assistant to the vice president of Facilities & Operations, has been collecting donations and buying meals from local businesses. As of April 16 she had raised more than $5,000 and delivered more than 900 meals to medical workers and first responders.
To learn more about Kern's initiative, follow her on Instagram.
Staying in Touch

The Stockton Gerontology Club working with advisor Christine Gayda, sent birthday cards to a resident of Seashore Gardens Living Center in Galloway and made "thinking of you" cards for all residents of the center.
The Gerontology Club and Gayda work closely with the Stockton Center on Successful Aging (SCOSA), which has now converted its writing and mindfulness workshops to virtual Zoom meeting.