Ecologist Aaron Stoler Livestreams a Lesson from Lake Fred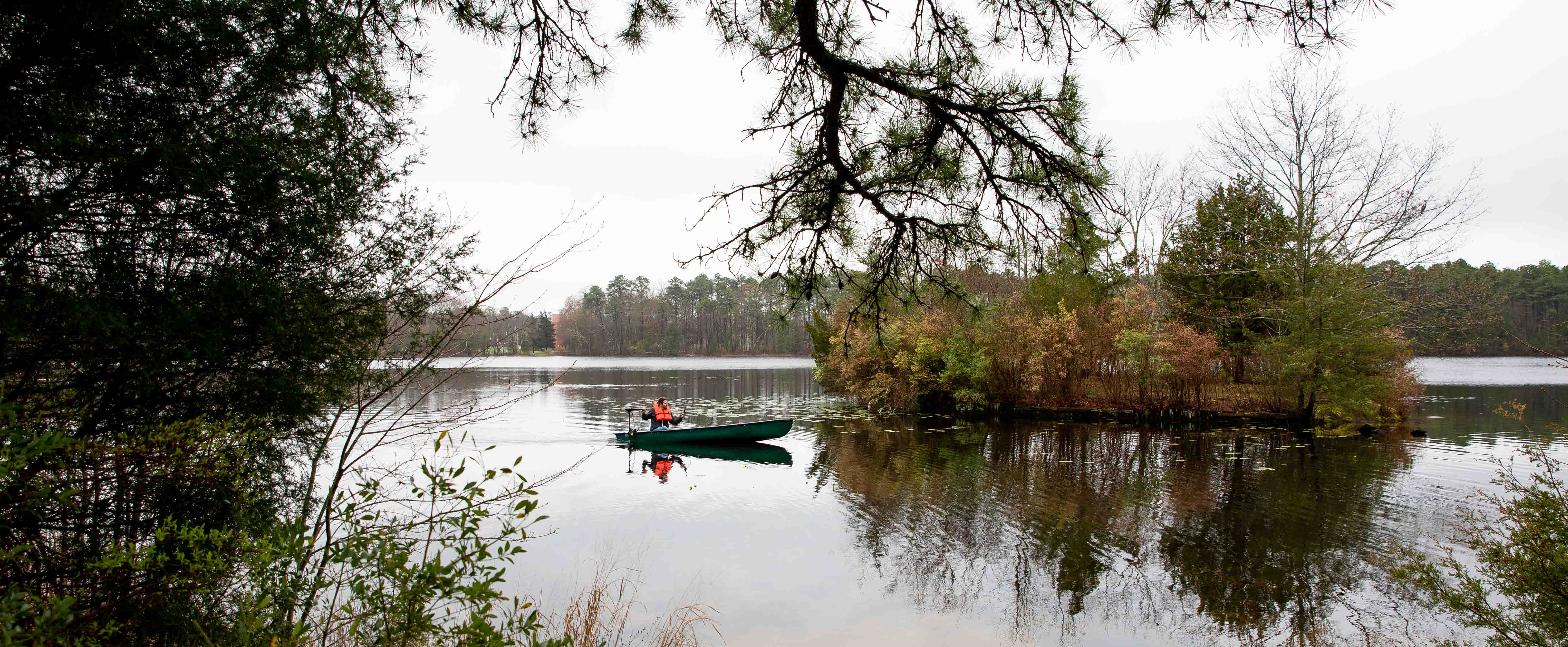 Galloway, N.J. - If Lake Fred had islands, who would live on them?
Students in Aaron Stoler's Ecology class asked that very question while studying Robert MacArthur and E.O. Wilson's theory of island biogeography. They made and deployed five experimental islands to get the answer just prior to classes going virtual.
Stoler, assistant professor of Environmental Science, rode to those islands by canoe to help his class complete their experiment.
Since he couldn't be joined by his students, Stoler decided to bring his phone and stream the canoe ride on Facebook Live. Students along with dozens of interested community members joined him for the lesson.
"Island biogeography is one of the most fundamental theories in ecology and it seeks to explain how ecosystems are colonized from surrounding areas," said Stoler.
If we consider the mainland to be the source population, the closest islands will be colonized first and will have the most number of species when everything reaches equilibrium, he explained.
Another principle of the theory says that larger islands have more space to invite passing biodiversity and are expected to have more species than smaller islands.
"We expect to find birds and insects," said Stoler.
Birds passing overhead might land, and if they excrete seeds, plants can begin to grow. Seeds from wind-pollinated plants such as dandelions can also fall onto the soil and germinate.
The 2-foot by 2-foot islands hold initially seed-free soil that rests on a plastic tarp base floating on pool noodles anchored to the bottom of Lake Fred.
As Stoler launched from the Oasis, an artificial beach in front of the Lodge at Lakeside, he was greeted by swallows skimming the surface for insects--a promising sign of potential island inhabitants.
Upon arrival at the first island, he found a sprinkling of pine needles blown in from the bordering trees. "These pine needles are important because they are what accumulate on islands and eventually start to decompose to make soil. The fact that they are here shows a little bit of the theory," said Stoler.
At island two, there was a spider web. The spider may have hitch-hiked on a bird or drifted in the wind.
Midges, an aquatic insect, built their casings on the pool noodles underneath the island.
Unsurprisingly, the further islands were desolate.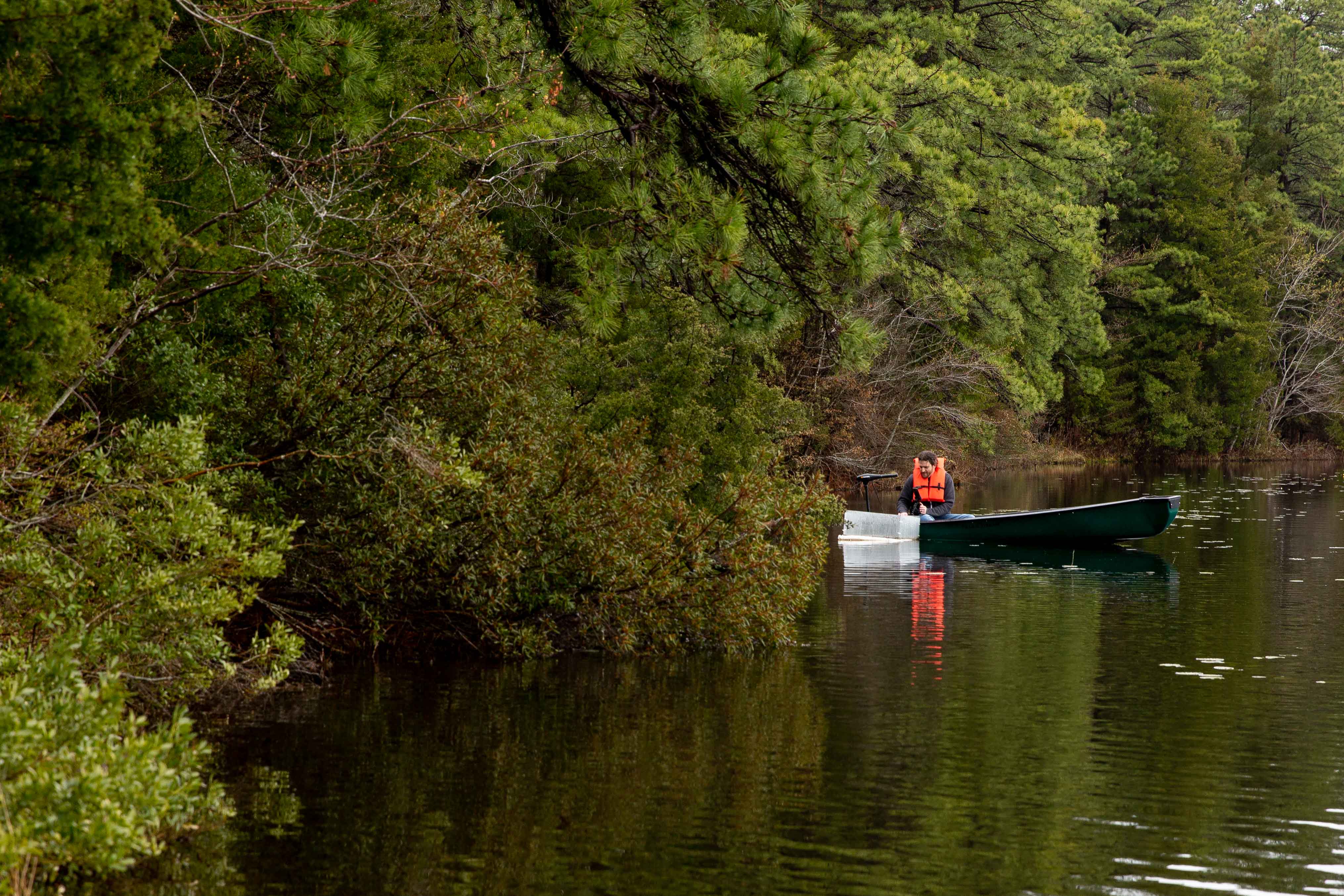 The islands were planted in the lake about a month and a half ago. "Ecology takes time," said Stoler, who plans to keep them out longer to gather more results.
As the days warm and more plants begin to grow, Stoler suspects there may be more to find.
The lesson was followed by a virtual tour of the lake guided by viewer requests for updates on the turtles, frogs, otters and plants. Stoler also visited an arched cedar tree that provides fish habitat in the shallows and the real island on the lake that was busy with goose activity.
Stoler has announced a weekly Facebook Live series called "Streaming with Stoler" that invites the community to join him for ecology lessons in unique Pinelands habitats. The livestreams take place on the School of Natural Sciences and Mathematics's Facebook page on Fridays at 3 p.m. Rain dates are the following Mondays at the same time.
Streaming with Stoler Schedule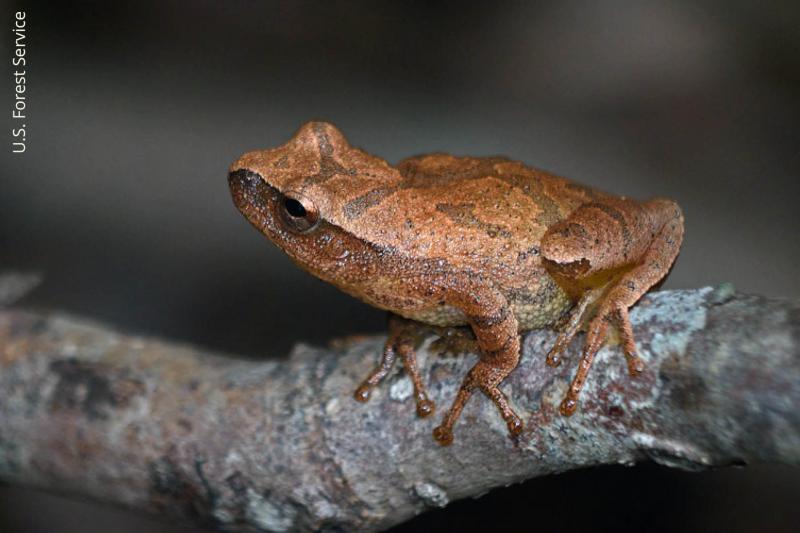 May 1: A Frog's Haven
Join Aaron Stoler as he explores a vernal wetland on Stockton's campus. He'll talk about the ecology of these wetlands and how they are connected with the forest around them.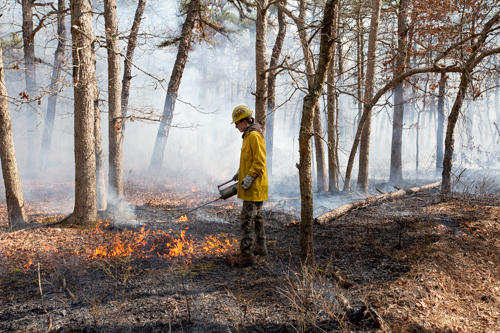 May 8: Burning it Up
Did you know that burning a forest is absolutely essential to keep it healthy? Many forests depend on frequent disturbances to maintain diversity and productivity. In this livestream, Aaron Stoler will take you on a hike through some of Stockton's experimental burn plots. He'll talk about the science behind those experiments, identify some of the plants and talk about the ecology of fire-mediated succession.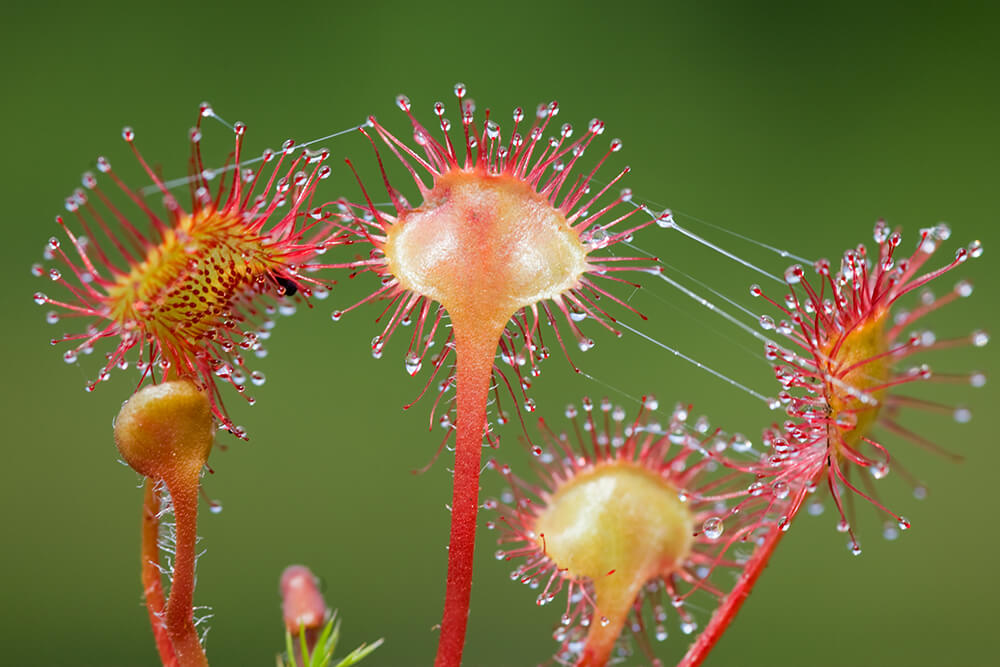 May 15: Carnivorous Plants
One of the most unique features of the Pine Barrens is its incredible abundance of carnivorous plants. The two most common plants are sundews and pitcher plants. In this livestream, Aaron Stoler will take a muddy hike through a swamp in search of sundews. He will talk about the science of swamps and the ecology of carnivorous plants.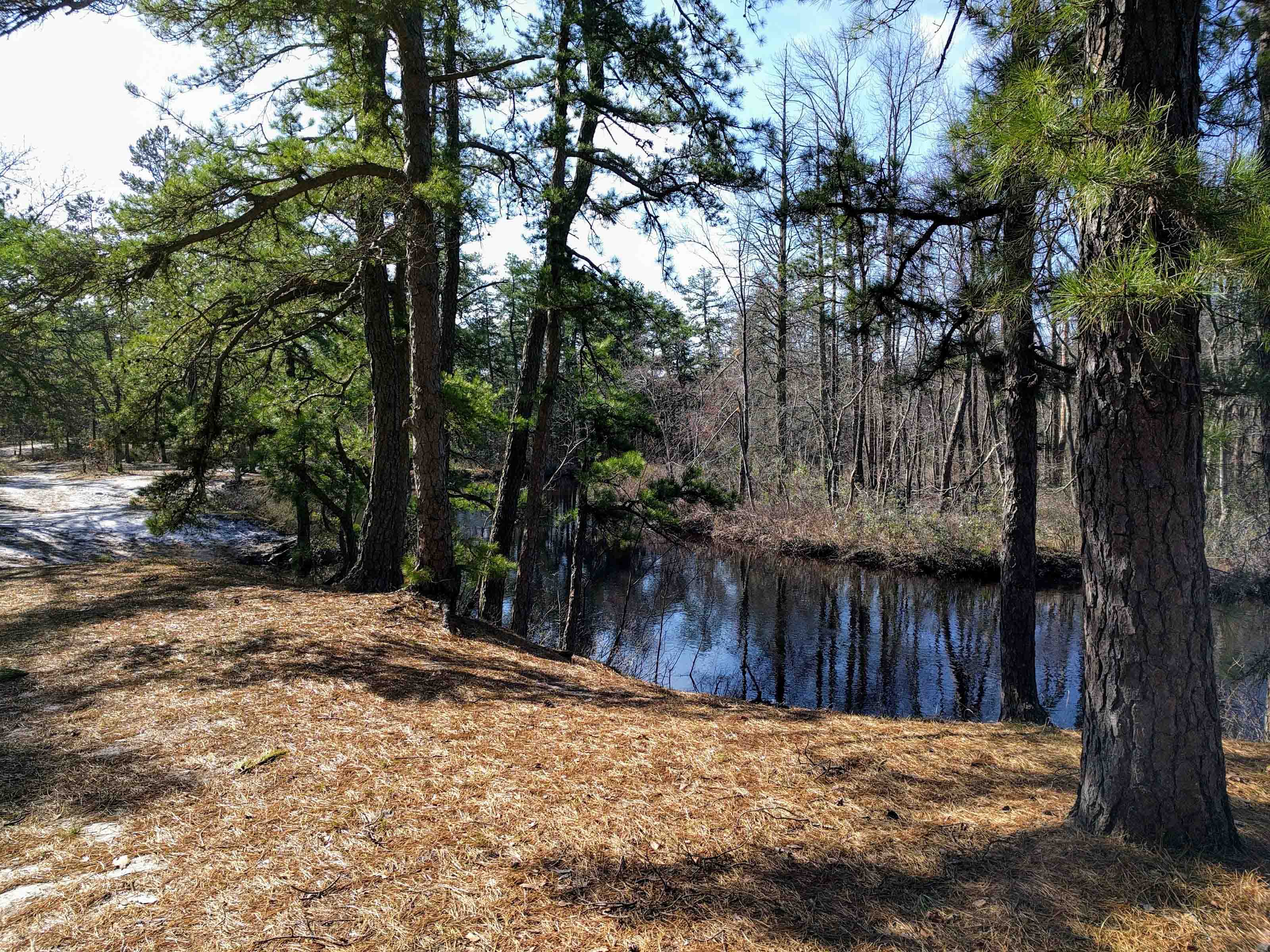 May 22: Canoe Ride up the Mullica
Aaron Stoler will cruise up the Mullica River and point out interesting features of intertidal marshes. He will bring his waders, so he can hop out and give viewers a close-up view as he explores the marsh ecosystems.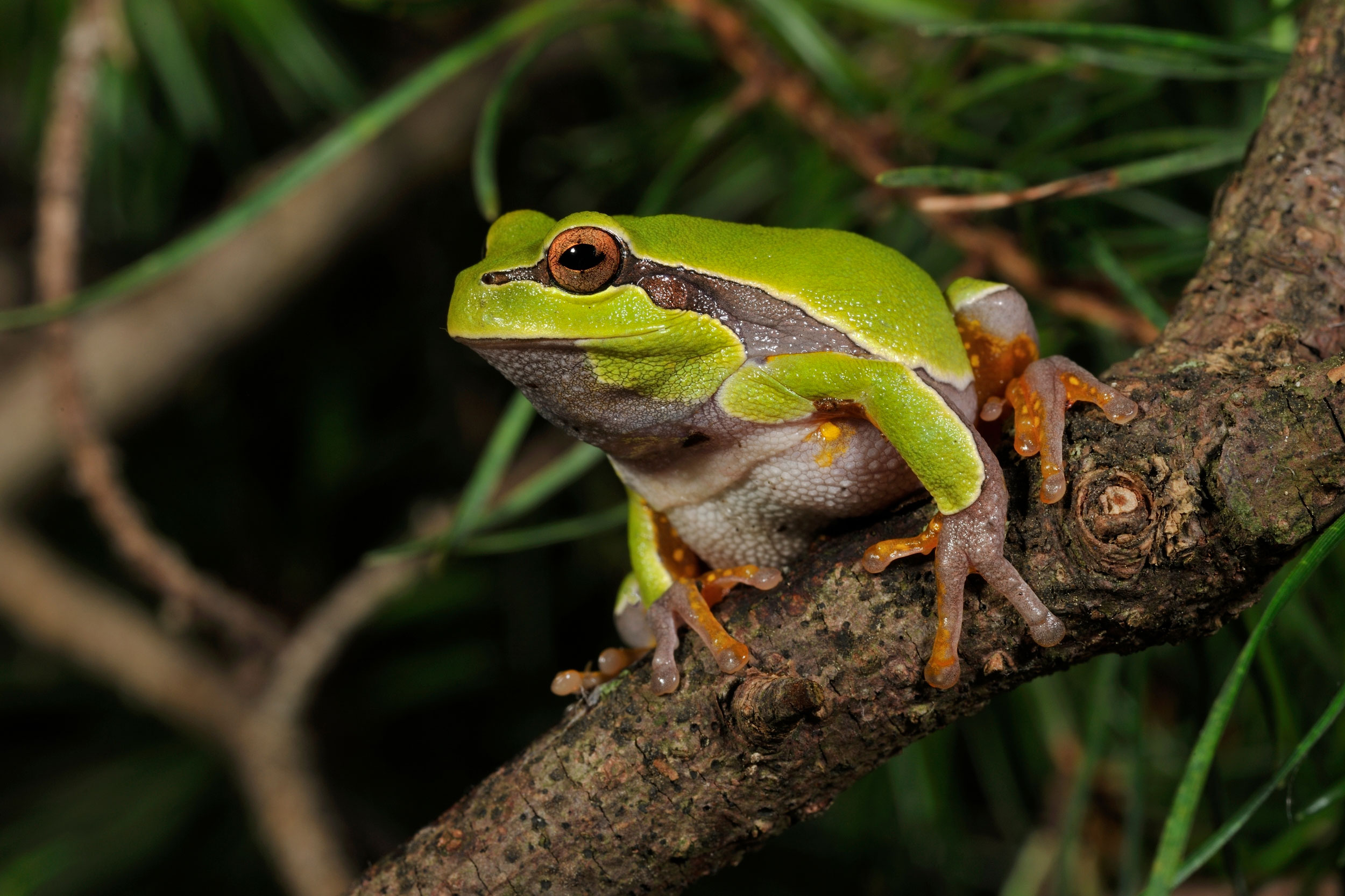 May 29: In Search of the Pine Barrens Tree Frog
Join Aaron Stoler and Greg Fischer, a Stockton graduate student, as they visit wetlands on Stockton's campus in search of the elusive Pine Barrens tree frog. As part of Fischer's graduate project, they will be taking measurements of several wetlands and setting up recorders to listen for the frog.
Reported by Susan Allen