Over 400 Attend Juneteenth March for Justice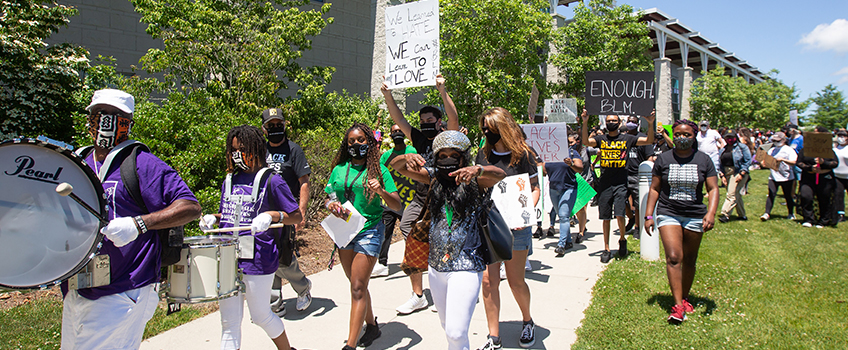 Galloway, N.J. _ More than 400 students, faculty, staff, alumni and supporters of the Black Lives Matter movement gathered at Stockton University on Friday to celebrate Juneteenth with a March for Justice and a call to have their voices heard.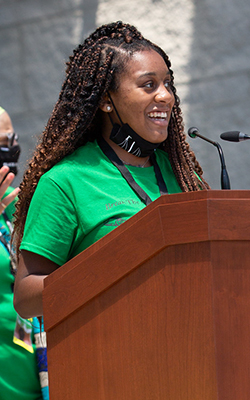 "We are hurting," said senior Danielle Combs, president of the Stockton chapter of the NAACP, who organized the event. "The best way to heal is to voice our concerns."
The three-hour event included speeches, a walk of eight laps around the track and eight minutes and 46 seconds of silence to commemorate the eight minutes George Floyd was held down on the ground by a police officer's knee on his neck until he died.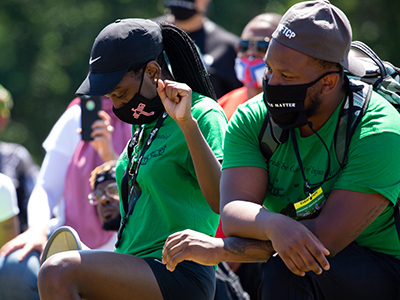 Multiple student groups participated in the march. Senior Andy Prempeh, president of the African Students Society and his members handed out face masks they ordered bearing the words "Black Lives Matter." .
Wristbands bearing the words "Lift Lead Liberate," that were supposed to be distributed at a March conference for students of color that was cancelled by the COVID-19 pandemic, were also repurposed for the event. Professor of Music Beverly Vaughn got the crowd motivated to march and drummers led the marchers from the Campus Center to the athletic field, keeping the beat as the crowd chanted and walked.
The event was both somber and celebratory. Professor of Communications and Africana Studies Donnetrice Allison said it may seem ironic to celebrate June19, or Juneteenth, the day slaves in Texas were finally told they were free, almost two years after the Emancipation Proclamation.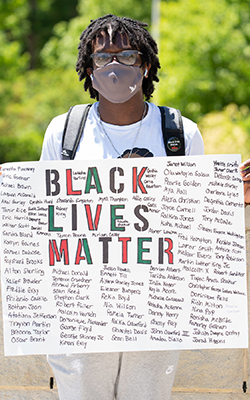 "We decided to celebrate that travesty," she said. "June 19 is our Freedom Day, not the 4th of July."
Allison said she wants the students to know that faculty understand their pain.
"We hear you, we are with you, we are for you, and we love you because we have been you," she said, sharing her story of being the youngest in her family of seven children and the only one to go to college due to help from the others.
She cited other Black faculty and staff at Stockton who have overcome hardship to succeed, saying they all came to Stockton and stayed at Stockton to help others like themselves.
"You deserve to be respected, protected and reflected," Allison said. "Let's march for justice and everything you deserve."
Stockton President Harvey Kesselman welcomed the students and acknowledged that he fits the description of the "old white guys" who typically have the power in society.
"The truth is, my words could never convey or measure up to the truths experienced in Black communities," Kesselman said. "Truths that I've never had to bear, but I damn sure need to recognize. We have failed you, and for this, I am truly sorry."
Amaiya Roundtree, president of Unified Black Students Society said she has been rendered almost speechless by all that has been happening.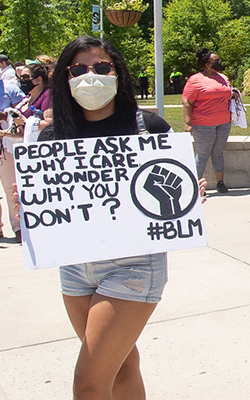 "I am speechless because I have a mouthful to say," she said, citing all the emotions she has been feeling from hurt and anger to being tired, anxious and heartbroken.
Guest speaker the Rev. James Coaxum III invoked the famous words of civil rights activist Fannie Lou Hamer, who said at the 1968 Democratic Convention in Atlantic City that "I am sick and tired of being sick and tired."

"We are all tired," he said, "but we are also ready to move forward. We still have a little fight left in us. We will fight ignorance with education. We will fight apathy with inspiration. We will fight hate with love, our enemies with class, and lies with the truth. We have moved a little bit, but we haven't gone far enough. We have to fight so every black boy can say 'I will not be limited, held up, boxed in, or shut out."
Mock Trial vice president Siena McCabe encouraged those attending to call out people who use derogatory and racist terms, or treat others with disrespect.
"The next time you hear someone use the n-word," call them out," she said. "Don't let this be the last protest you attend."
Student Shannon Glover said he should not have to fear for his life when driving by police.
"This movement is bigger than just us," he said. "It's about treating everyone with respect. We deserve better. We may only be 11% of the students on this campus but we will be the loudest 11%."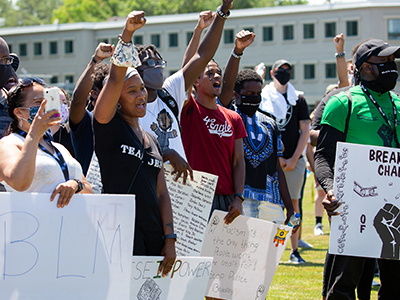 Student Senator Samuel Payamps spoke in both Spanish and English and said the Senate's role is to be the voice of the students.
"This is our fight, too," he said. "It doesn't stop here. Don't quiet down. This is a moment to bring us together."
Adam Pickens, vice president of the Pi Xi Chapter of Alpha Phi Alpha said he is usually a quiet guy.
"But it is at times like this when being quiet will hurt you the most," he said. "You don't have to love us, but just respect us, accept us. You love our music and our culture, why not us? Hear us out and maybe you'll feel our pain."
A few members of the march spoke, asking marchers to vote in upcoming elections, support bill HR40 to provide reparations for slavery, and support for a series of demands to defund the police department. There was also disappointment at racist social media posts and a desire that Stockton do more to punish students who express racist ideas.
Combs ended the program with a poem she wrote called "I Can't Breathe" in which she wondered why the color of her skin makes people afraid.
"This has to start with us," she said. She said she was overwhelmed at the turnout at the event.
"I almost cried to see the support," she said.
View a gallery of photos from the event on flickr.
# # #
Contact:
Diane D'Amico
Director of News and Media Relations
Galloway, N.J. 08205
Diane.D'Amico@stockton.edu
609-652-4593
609-412-8069
stockton.edu/media