Lavender Graduation Encourages Community, Mentorship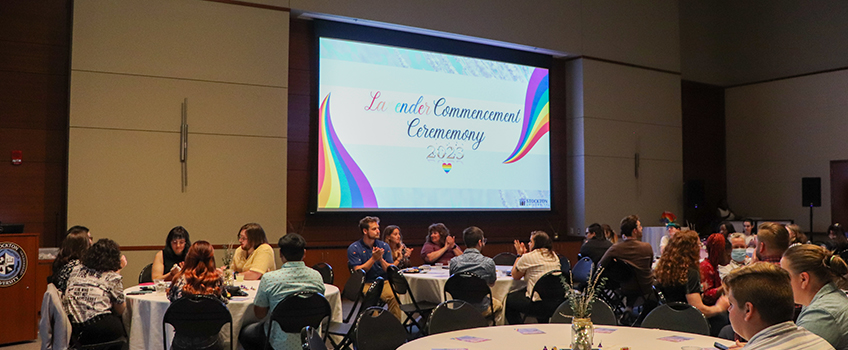 Galloway, N.J. – The Michael Jacobson Board of Trustees Room was transformed into a bright and colorful display of LGBTQ+ pride for May 8's Lavender Graduation Ceremony.
The annual ceremony that honors the achievements of LGBTQ+ students has reached its sixth year on Stockton University's campus. According to Laurie Dutton, director of the Women's Gender & Sexuality Center, the ceremony is a nationwide initiative with roots in the University of Michigan. She shared some background on the ceremony with the audience during her welcome remarks.
"The Lavender Graduation ceremony was created by Dr. Ronni Sanlo, a Jewish lesbian who was denied the opportunity to attend the graduations of her biological children because of her sexual orientation," Dutton said. "It was through this experience that she came to understand the pain felt by her own students. Encouraged by the Dean of Students at the University of Michigan, Dr. Sanlo designed the first Lavender Graduation ceremony back in 1995, and it began at the University of Michigan with three graduates. By 2001, there were over 45 Lavender Graduation ceremonies at colleges and universities nationwide. Now, there are hundreds, including Stockton University."
Dutton then introduced Susan Davenport, executive vice president and chief of staff, who said events like these are significant, especially in today's climate.
"I'm so grateful to the organizers who have made this happen for realizing how important it is for us to take the time to recognize you and your accomplishments, especially in this time when identity-focused graduations are under siege nationally, along with all other DEI (diversity, equity and inclusion) initiatives," Davenport said. "So, I want to just let you know that our commitment remains firm: to be allies, not just in words, but in deed. I challenge us all as a community to hold ourselves accountable for that commitment. I think we need to say out loud that we are committed and that we will continue to be committed to events like this and to our DEI initiatives."
And as we move forward in our lives, I want to remind everyone here...You are part of a vibrant and diverse community that is constantly growing and evolving... I want to encourage all of you to continue to be your authentic selves, to express your identity and to use your experiences to create positive change in this world."
After a beautiful rendition of "Stand By Me" by Economics major and president of the Coalition for Women's Rights, Yamirah Williams, there were four guest speakers with speeches that had a common thread: the importance of both having and giving back to one's community.
Ellis Bonds, the coordinator for Inclusive and Social Justice Education for the Office of Residential Life, referenced his Pentecostal upbringing and how coming to Stockton changed his life for the better and inspired him to help other students like him.
"I started college in 2011 through the EOF program, and it was the first time that I was able to say that I was gay and like, it didn't really matter to anybody, right? And so, I was part of so many things in college and got to do so many things, and all of that kind of prepared me for where I am now. I'm able to serve students in this capacity by doing social justice work and education," Bonds said.
"And I'm sure that I know that it's prepared you to do the same thing. Don't be afraid to reach back out to get back to Stockton in any way you can, even if it isn't financially. That's not always something that we can do. But even if you can come back and do something like this and speak or you can just show up at a program or be involved as an alumni or whatever club you are part of on campus. Make sure that you're doing that to give back to the next generation of Ospreys who are going to come in and need to find their place and find their home."
Laura Shaw , counselor within Counseling and Psychological Services in the Wellness Center, echoed his sentiments with a quote by Oprah Winfrey.
"'Home and family should be a place where you can be our most complete self. Where you are accepted and appreciated, seen and valued, even in moments of disagreement, it should be your soft place to fall. The place where you're reminded that no matter what happens to you or around you in the face of your deepest challenges, you were still loved,'" Shaw started.
"So, the reason why I picked that quote was that, unfortunately, even though that's what home and family should be, most of our students do not have that. That leaves them feeling pretty isolated, sometimes ridiculed, and sometimes abandoned by their family. In the midst of helping to create the clothing swap, Transcendence and another group that was started literally in the middle of COVID called Ace Space, the students have been able to create what I would call a family and home. I'm just the vehicle to get them there."
Learn More About Stockton's LGBTQ+ and Allied Student Organizations
Anthony Dissen, an instructor in Heath Science, said that the biggest indicator for a long and healthy life had less to do with physical fitness, but rather strong social bonds. He encouraged students to seek opportunities for both mentorship and becoming mentors.
"People who speak to other people, engage with other people and even those who just make chitchat with the person making them coffee have been found to live happier, longer, healthier lives because we are social creatures that are meant to support and care for one another," Dissen said.
"So, find opportunities to be a mentor. You do not need to wait for permission; this is something that you can bring upon yourself. Find opportunities to keep learning and to be mentored by other people in the world, especially other members of our community, so that we are able to create the kinds of connections that make us all happier, healthier and long-lived people."
There wasn't a dry eye in the room when Van Nhi Ho reflected on starting her position as a graduate coordinator for LGBTQ+ initiatives within the WGSC. She said her experience in the center was only possible through being her authentic self, so she encouraged the graduating students to do the same.
"Teresa and Laurie don't know this, but when I first applied, they were the first professional faculty members I ever came out to. They asked me a very simple question: What can you do for the WGSC and what can you bring to this community? And coming out was something I never made a routine of. It was never something I was asked of, but I felt so safe and so at home to do it with my coworkers," Ho shared.
"And as we move forward in our lives, I want to remind everyone here, just like our other speakers, that you are never alone. You are part of a vibrant and diverse community that is constantly growing and evolving," Ho said. You will always have the support and encouragement of Stockton, the WGSC and allies who stand in solidarity. I want to encourage all of you to continue to be your authentic selves, to express your identity and to use your experiences to create positive change in this world."
Certificates and pins were then distributed to students by Haley Baum, assistant vice president for Student Advocacy, Belonging and Campus Standards & Dean of Students, Jovin Fernandez, director of the Multicultural Center, and Shaw. Some of the students even had their significant others, family members and friends participate in the pinning ceremony.
After another musical selection, "Edge of Glory," by Williams, the program was concluded with a call-and-response poem by Marques Johnson, associate Dean of Students. The poem celebrated the graduates' achievements and reaffirmed their and their guests' commitment to making the world a better place for all.
"I wrote this poem with a coworker of mine a few years ago, and we wrote it during a time when there was a lot happening within our community, but it still resonates today, and we wrote it in this way because it's an African tradition which invites others in the conversation. What we know about the world in which we live is that the struggle continues. And though the struggle continues, what we also know is that so can hope. So can love and so can compassion," Johnson said.
"And so, I want to echo the sentiments of my colleague Dr. Dissen, who said that he wants us to remember mentorship. When we think about inviting people to the conversation, we think about paying it forward. So, we want you to remember that just as folks have extended their hands, arms and hearts to you, you continue to do that for those around you because that is what will move the community and all communities forward."
The Women's, Gender & Sexuality Center empowers students who identify as women and all genders who identify as LGBTQIA+, victims of power-based personal violence and community allies. The WGSC will accomplish this by promoting equality and justice, ensuring access to opportunities, and providing services through education and advocacy.
– Story and photos by Loukaia Taylor