Plaque Unveiled for Michael Jacobson Room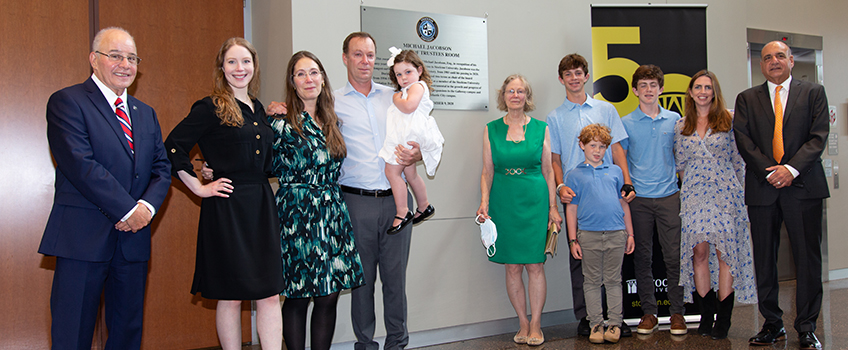 Galloway, N.J. – The Stockton University Board of Trustees on Wednesday formally recognized the naming of the trustees' meeting room in the Campus Center in memory of former trustee Michael Jacobson.
Jacobson's widow Sarah and a large group of family members attended the unveiling of a plaque installed outside of the Board of Trustees room.
"This is a fitting tribute," said President Harvey Kesselman. "When you look around the Stockton campus, there isn't much that Michael was not a part of."
A resident of Margate, Jacobson was first appointed to the Stockton board in 1985 and served actively for 35 years, including two terms as chair, until his death in October at the age of 77.
During Michael's more than three decades, Stockton's enrollment almost doubled. He was on the board when the Sports Center was built and he led the board that approved the $104 million bond issue that helped fund Housing V, the Campus Center, and the Unified Science Center. He supported our Academic Quad expansion and the construction of the Atlantic City campus.
Kesselman said trusteeship is about planning for the future, and Jacobson was a model trustee. He said he knows Stockton business sometimes took Jacobson away from home, but his wife, Sarah and family members understood his love for, dedication to the university.
"Michael will always be a part of the university he helped build," Kesselman said.
Sarah Jacobson said naming the board meeting room was a fitting tribute to her husband.
"Michael would be honored to have his legacy cemented on Stockton's walls," Sarah Jacobson said. "He loved Stockton. From all 14 of his immediate family members and descendants, we are touched and grateful to Stockton University and the Board of Trustees for recognizing Michael's 35 years of service and dedication to Stockton and its communities."
In other business, the board approved officers for a second year in 2021-22: Chair Raymond Ciccone, Vice Chair Andrew Dolce, Secretary Nelida Valentin and Ex-Officio Leo B. Schoffer.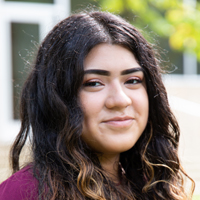 The board welcomed new alternate student trustee, Liliana Morales of Bridgeton, a social work major, and thanked outgoing student trustee Tyler Rodriguez for his service.
Margaret "Peg" Slusser, who retired as the Dean of the School of Health Sciences, was presented with the Health Services Award by new Dean Brent Arnold, who said she was nominated by her colleagues for her contributions to the university and its students.
"She is a leader who made important decisions that benefitted students and the community," Arnold said, noting Slusser was the founding coordinator of the B.S. in Health Sciences, now one of the largest undergraduate majors at Stockton.
The board also accepted a state grant of $77,444 for body cameras for the Stockton Police, and approved a new director of the Military and Veterans Success Center, Michael Barany.
# # #
Contact:
Diane D'Amico
Director of News and Media Relations
Galloway, N.J. 08205
Diane.DAmico@stockton.edu
609-652-4593
609-412-8069
stockton.edu/media