Stockton Hosts Lavender Graduation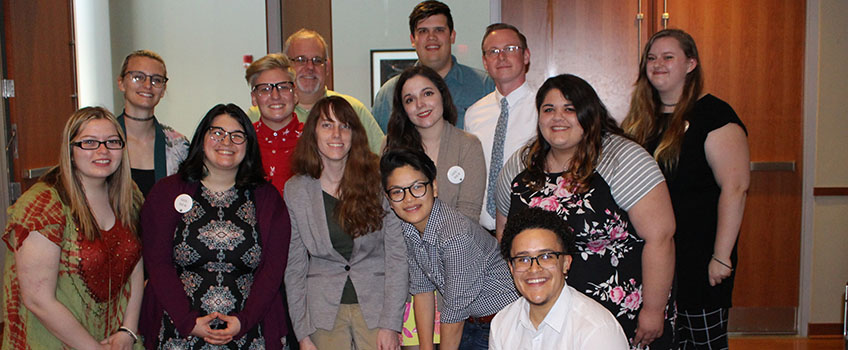 Galloway, N.J. - Stockton University held its first Lavender Graduation and Pinning Ceremony May 7 to recognize 18 graduating LGBTQIA+ students.
The celebratory event was organized by the Women's, Gender & Sexuality Center and the Office of Residential Life. Each graduate received a certificate and a pin with the Stockton logo, surrounded by a rainbow.
"Lavender Graduations are held across the country, to honor graduates who identify as lesbian, gay, bisexual, transgender, questioning, intersexual, asexual and/or allies. We wanted to honor their accomplishments and contributions to Stockton, in an intimate pinning ceremony, surrounded by the people who have loved them unconditionally," said Laurie Dutton, director of the Women's, Gender & Sexuality Center.
Dutton, along with Dr. Haley Baum, associate director of Residential Life, Dr. Christopher Catching, vice president for Student Affairs, and Patricia Kelly, associate director of Residence Education, delivered remarks. Student Jason Rehani provided a musical selection.
Graduating senior Jude Navas shared his story about coming out as transgender and the support he received from his parents and his Stockton family.
"No identity has a checklist or criteria that you have to be. Only you know who you are and no one else can decide that for you," he said. "I see you, I respect you. You are valid and you are loved."
Junior Morganne Schafle received the inaugural Laurel Hester Spirit Award, for her advocacy work last summer with Stockton's transgender community. Schafle has been president of the student club that Laurel Hester co-founded, for the past two years.
View photos of the Lavender Graduation on Flickr and watch our Instagram story of the event.
# # #
Contact:
Stacey Clapp
Director of Digital Engagement
Galloway, N.J. 08205
Stacey.Clapp@stockton.edu
stockton.edu/media