Rainbow Flag Raised for LGBTQ+ History Month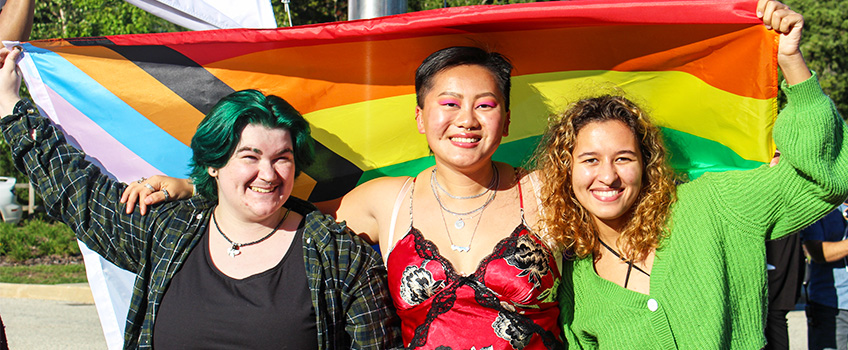 Galloway, N.J. — Swaying peacefully in the wind, right across from its Latino neighbor, flies the LGBTQ+ pride flag following speeches in the Arts and Sciences Circle on Thursday.
The flag almost didn't make it to its intended destination. Heavy rain and remnants of a recent hurricane caused the event to be postponed from the first day of October to Oct. 6.
But clear skies and positive vibes were present among those witnessing the flag raising. The ceremony, which kicks off a month of events in celebration of LGBTQ+ History Month, opened with remarks from Dalia Moamed and Mo Keane from the student organization Queer/Trans People of Color Society (QTPOCS).
Both emphasized the significance of remembering and acknowledging the efforts of LGBTQ+ individuals of color, including Marsha P. Johnson and Sylvia Rivera, who are credited with being an integral part of the Stonewall Riots in 1969.
Recognizing the experiences of queer people of color and active efforts from allies and community members alike is incredibly needed for the liberation of all BIPOC individuals."
"The LGBTQ community would not be who we are today with the rights and privileges that we proudly bear without the continuous hard work and efforts of the Black, Indigenous and People of Color (BIPOC) in our community," QTPOCS president Moamed said. "They have worked alongside the unhoused, cared for those with AIDS and HIV, demanded equal treatment in the eyes of the government and so much more. They have done the absolute grunt work in fighting for their right to simply exist, let alone celebrate our existence and the community."
"It is essential to recognize and actively work against the whitewashing of queer history," Keane, QTPOCS's public relations chair, said. "LGBTQ history is intrinsically linked to queer people of color, and it would be obtuse to think or act otherwise. We must recognize the trials and triumphs of the community at large."
Pride Alliance president River Hammell spoke on their experience coming from a small town in Deptford where they felt confused about their identity, to experiencing Stockton's small but mighty LGBTQ+ community.
"It was a bit of culture shock: I showed up and, all of sudden, I was surrounded by positivity and people who sat with me, spoke with me, felt with me and understood what I was going through," Hammell said. "When I showed up, I had barely heard the phrase 'nonbinary' and now, I am living my life as a proud trans-masculine, nonbinary person and that would have never happened without the community I have here at Stockton."
New Jersey Assemblyman Don Guardian, the first openly gay Republican legislator in state history, spoke about how far Stockton has come and how it has remained a pillar of progress throughout the years.
What happens here at Stockton and what we do as a community is just as important moving forward as legislation and other things, so do not underestimate how much power you have as an individual."
"You all should be very proud: Fifty years ago in the '70s, Stockton became the first college in New Jersey to have (the Gay People's Union)," Guardian said. "There were a lot of people who thought it was wrong and certainly none of the other colleges in New Jersey did anything to support it, but Stockton really started the trend back then."
Kyle Zack, campus experience and events coordinator for Admissions, brought levity to the event as buses and shuttles made their pick-ups and drop-offs around the crowd.
"Here's a fun little anecdote: when I first started here at Stockton, six years ago, I came on that bus," Zack said as he pointed to the NJ Transit bus stop behind him. "But guess what flag was on that pole? A pride flag. I have now come full circle, speaking at the event where the flag is being raised."
Zack also let the crowd know how visible the LGBTQ+ community is at Stockton, saying students are "surrounded by people, family and friends that know your journey and who know what it is like to be a queer person. There are queer members of staff and faculty in positions of policy making; they're in the room so that we're not forgotten here at Stockton."
As the flag was raised, student Kamarii Clerge sang an a cappella rendition of Christina Aguilera's song "Beautiful." A small reception followed the ceremony.
LGBTQ history is intrinsically linked to queer people of color, and it would be obtuse to think or act otherwise. We must recognize the trials and triumphs of the community at large."
LGBTQ+ History Month is traditionally celebrated in October. While Pride Month in June commemorates the 1969 Stonewall Riots, October's celebrations are meant to educate everyone about the prominent figures of LGBTQ+ history, such as Laurel Hester and Kevin Cathcart, the students who founded Stockton's Pride Alliance in 1975. The original charter for the Gay People's Union is proudly displayed in the Women's Gender and Sexuality Center.
After graduating from Stockton, Hester went on to become an Ocean County police officer who fought (and won) to have her pension benefits legally transferred to her partner after being diagnosed with terminal cancer. Hester passed away in 2006, three weeks after the pension transfer was approved. Her story is told in a documentary and feature film, both named "Freeheld."
Cathcart became the executive director of Lambda Legal, which helped fight for gay rights cases before the U.S. Supreme Court. Cathcart now serves on the Board of Directors for the National Immigration Law Center, which defends the rights of low-income immigrants through legal services.
Their contributions, along with many others who fought for equality, are recognized during this month.
"While it is incredibly important to speak on the larger picture of things, it's also incredibly important to recognize how small actions and communities can be just as influential," Hammell said. "What happens here at Stockton and what we do as a community is just as important moving forward as legislation and other things, so do not underestimate how much power you have as an individual."
"We must think of the body of students who are deserving of more representation and protection," Moamed said. "Recognizing the experiences of queer people of color and active efforts from allies and community members alike is incredibly needed for the liberation of all BIPOC individuals."
-Story by Loukaia Taylor
-Photos by Eliza Hunt
---
---