Mo Love, Less Hate: A Celebration of PRIDE at Stockton
By Yesenia Pacheco, '22
It was a crisp October morning during LGBTQ+ History Month when a proud group of Stockton University community members watched the raising of the rainbow flag, a symbol of pride, solidarity and resilience to members of the community and their allies.
Despite inclement weather and a postponement, the ceremony hosted by student organizations Pride Alliance and the Queer and Trans People of Color Society (QTPOCS) persevered, a metaphor for the persistence of the LGBTQ+ movement at Stockton and beyond.
Among those who spoke at the event was Mo Keane, the co-founder and public relations representative of QTPOCS, an affinity space that seeks to elevate, empower and honor the experiences of queer people of color through increasing diverse representation within the pride community at Stockton. Mo uses their voice to help amplify other voices that have been silenced for too long.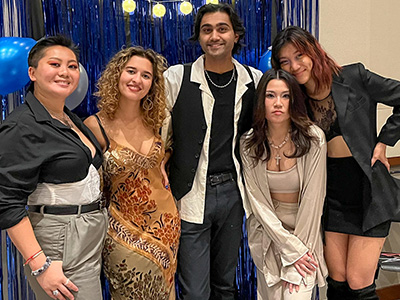 "I have recognized that my existence is resistance to the status quo," they shared. "I am not afraid to make waves if it means liberation for my community."
Mo believes that the LGBTQ+ community and intersectionality go hand and hand: queer people of color have fought alongside and helped to gain some of the rights of the LGBTQ+ community. Therefore, LGBTQ+ history is directly linked to the countless queer people of color.
"My queerness never has and will never be mutually exclusive with my ethnic identity as Chinese," they emphasized.
Keane also has taken their own initiative in addressing the oppression against the LGBTQ+ community by serving as a Rape Crisis Advocate with Saint Peter's Health Partners based in New York. In this role, they provide in-person advocacy to victims of sexual violence in need of support. Regarding the Criminal Justice major's own experience and lack of diversity regarding rape crisis advocators, they stated, "I wanted to become the person that was needed for them."
I want people to know that queer people of color are here at Stockton, and we aren't going anywhere."
Keane expressed how important it was to conduct research regarding addressing important social issues. Recently, they applied for the Board of Trustees Fellowship for Distinguished Students to research the impacts of relationship legitimacy on perceptions of interpersonal violence within same-sex or non-heterosexual relationships. Through their research, they address the misconception that legalizing same-sex marriage has created a solution for all equity gaps within the LGBTQ+ community; although progress in achieving equal rights has been made, plenty of work still needs to be done to achieve equality for all.
They addressed how many institutions stay silent regarding the marginalization of the LGBTQ+ community but expressed pride in attending an institution like Stockton that actively provides a platform for their LGBTQ+ community. According to them, "it is important to continue to foster self-expression and identity for all students, especially in higher education."
When asked to offer advice for how faculty and staff can support, Keane identified two significant concepts: humility and active-allyship.
Humility helps to create respect for each other. It allows us to be open-minded on topics we may need help understanding or identifying with. Mo expressed that "with ignorance, nothing productive will happen, increasing the barriers faced by the LGBTQ+ community."
Increased active-allyship among Stockton's community also helps encourage collaborative work towards equitable goals for the LGBTQ+ community. For example, Stockton's Student Senate event, "I'm Not Homophobic," focused on allyship with the queer community and increased awareness surrounding queer culture.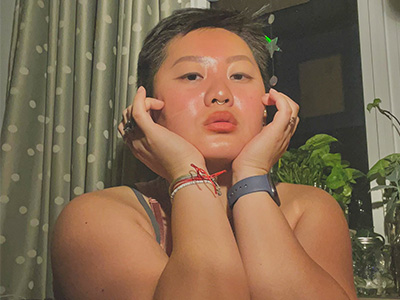 Other examples include more LGBTQ+-centered events, such as the weekly support group for transgender students "Transcendence" and Clothing Swaps ran by Laura Shaw, assist. director of Counseling Services, and the Office of Continuing Studies' Walking Tour Series, which has a route that highlights Atlantic City's former "gay-borhood," now known as the Orange Loop.
The responsibility to help increase awareness, resources and services for the LGBTQ+ community does not only fall on one group here at Stockton; Keane explained the importance of those with privileges serving as agents of change for the LGBTQ+ community and pushing the agenda.
Creating spaces that allow for healthy discussions about how to best support this population provides a space for Stockton's community to listen and advocate efficiently. Stockton has been doing great at ensuring that the pride community has a voice, but there is always room for growth.
"I want people to know that queer people of color are here at Stockton, and we aren't going anywhere," they said.
Yesenia Pacheco is an alumna with a degree in Social Work. In addition to writing for the Celebrate Diversity Digest in Spring 2022, Pacheco is a 2020 recipient of the Board of Trustees Award for Distinguished Students, member of First Ospreys and an active member of the Stockton community.
---
---