Stockton Embraces Equity for International Women's Day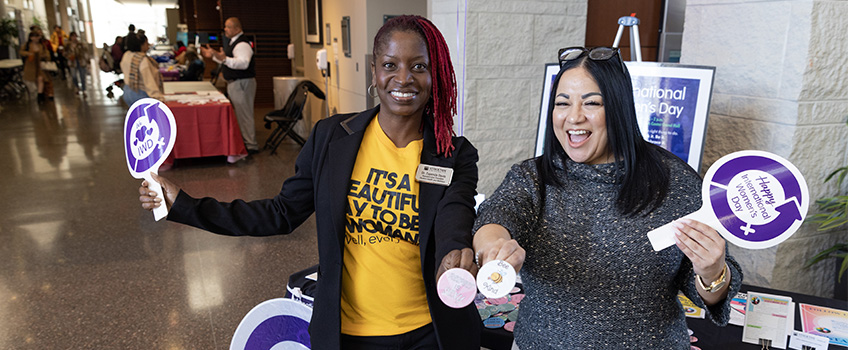 Galloway, N.J. – As Beyoncé, Demi Lovato and The Pussycat Dolls blared from the speakers, students, staff and faculty took a moment to check out the tables, food and purple decorations lining the Campus Center Grand Hall on Wednesday, March 8.
For this year's annual International Women's Day celebration, Stockton University's Women's, Gender and Sexuality Center (WGSC) hosted a casual, drop-in mixer for students to peruse in-between classes.
Once in the Grand Hall, the community was encouraged to think about and shout out women who inspire them, enjoy the famous gender wage gap cupcakes (80 cents for women and non-binary students and $1 for men) and learn more about different organizations on campus like the Queer and Trans People of Color Society and the Coalition for Women's Rights, also known as Women's Co.
Women's Co.'s president, Economics major Yamirah Williams, and vice president, Business major Nimrah Jahan, were ecstatic about both the celebration and the opportunity to raise awareness for their upcoming programs.
"Even though we're a primarily feminist organization and we focus on women's issues, we still love to support and stand in solidarity with all disadvantaged and marginalized communities," Williams said. "We also hope that students recognize the importance of celebrating women of all backgrounds – BIPOC women, queer women, women with disabilities, all women."
"I just hope that today brings more attention to the Coalition and I hope that we have a lot more sign-ups because we have a lot of really cool programs coming up," Jahan said. Those programs include a march against rape culture at the end of the month and a self-defense training class for April's Sexual Assault Awareness Month; details for both are forthcoming.
In addition to student organizations and on-campus departments like Career Education Development and Military & Veteran Services were external organizations like Spencer's/Spirit Halloween and Sherwin-Williams.
Both companies had a two-fold mission: recruiting Stockton students and simultaneously highlighting the women currently leading in their organizations.
"We support all of the different Stockton students on campus, and we want to get our face and name out there so that they know we're right in their backyard," said Shayna Lowenstein, talent acquisition manager of Spencer's/Spirit. "We have a lot of great opportunities for after graduation and during school."
"We hope to open (students') eyes to the paint industry which, for a very long time, was very male-dominated," Donna D'Alterio, district sales manager of Sherwin-Williams, said. "We want to show them a face and a story about the roles that we're all in order to set an example for young women who could potentially enter the industry."
When students weren't chatting and learning from the women at the Sherwin-Williams table, they were taking fun photos with props and getting Skittles and M&Ms in miniature paint jars as keepsakes from the event.
"Today's kind of about bringing the color to this event and having people take a piece of that with them home," D'Alterio said as students loaded up their jars with candy.
Laurie Dutton, director of the WGSC, hopes that students will take the message of the day with them and continue embracing equity.
"What a great day it was to embrace equity and celebrate all Stockton women," Dutton shared. "We really wanted to educate this year – as well as celebrate – and I hope that students took away a call to action. IWD is a one-day experience, but it can also be the starting point for advocating on the issues that we care about most, like wage equity and women's health."
– Story by Loukaia Taylor
– Photos by Susan Allen and Riley Lorenz