Latino Visitation Day Reaches New Heights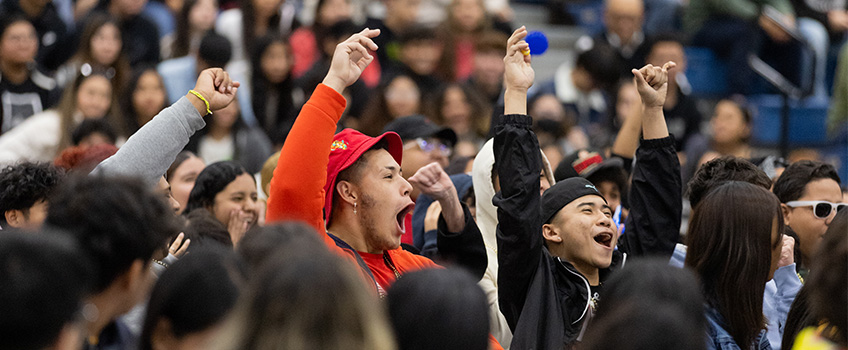 Galloway, N.J.- More than 800 students from all over New Jersey participated in the largest Latino Visitation Day on Nov. 17.
Students from 24 high schools around the state attended the program, which included an Admissions presentation, campus tours and an opportunity to meet with current students.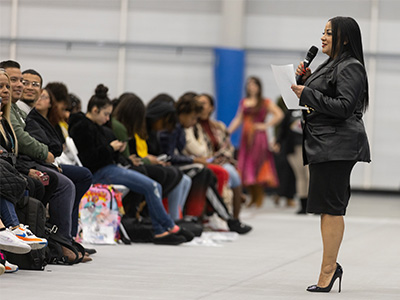 Heather Medina, the first Latina director of Admissions in Stockton University's history, shared the day's journey from an idea by the student organization Los Latinos Unidos to what it is now, and its purpose.
"Why does this program exist?" Medina asked the crowd. "Because you all are changemakers. You are the folks that we want to see come through our doors and we want to make this possible for you. Querer es poder! If you want it, you can achieve it and you can attain it!"
Hearing Medina inspired Nancy Cruz-Chavez, a junior from Cumberland Regional High School interested in both the Nursing and Business fields.
"She's inspiring to so many because many don't have the privilege to go to college," Cruz-Chavez said. "It's a privilege for us to come here and to see what college is like and how it's welcoming."
Jessica Grullon, associate director of Admissions, attended Latino Visitation Day as an Egg Harbor Township High School student in the early 2000s and said that being a part of organizing the program's growth was a full-circle moment for her.
"It's just so crazy to see," Grullon said before pointing to a teacher in the crowd. "I can see my old high school and even my favorite teacher, Mr. Obed Perez, here today."
Students Pedro Durann from Pennsauken High School and Faith Clark from Cumberland Regional High School both said that the experience was well worth the trip.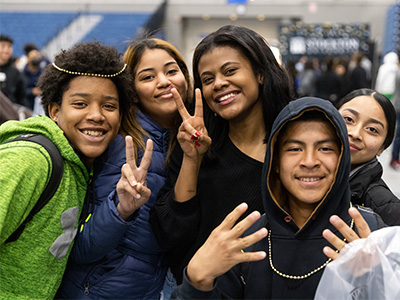 PHS student Britney Reyes (center) is planning on becoming an Osprey soon!
"We got to see a lot of new things and what college is like. For my first (college) tour, this was really good," Durann, a future Business student, said.
"It was fun. I liked the atmosphere and it felt really fancy," Clark shared. She's currently debating applying for the Theatre or Criminal Justice program in the future. "When we came here, there was nothing but good vibes; we weren't expecting dancing. It's been a really nice experience."
In addition to learning how to apply to Stockton and how the university ranks 7th in the nation in Hispanic/Minority graduation rates, students toured the campus with Admissions Ambassadors and met a variety of support services and student organizations that tabled the event. Among them were the Educational Opportunity Fund, Career Education and Development, the African Student Organization and the First Ospreys Club.
Students Estefani Rodriguez-Benitez from Cumberland Regional and Britney Reyes from Pleasantville High School already anticipate coming back to Stockton as students.
"My major (will be) Criminal Justice," Rodriguez-Benitez shared. "I really like the atmosphere of the school, so I will most definitely be applying."
"I really want to study here, I love Stockton for real," Reyes said. "I don't know what I want to major in (yet), but I want to do something involving medicine."
Participating High Schools
Leap Academy University Charter School; Wildwood High School; Foundation Collegiate Academy; Dr. Charles E Brimm Medical Arts High School; Lower Cape May Regional High School; Creative Arts; Camden Big Picture Learning Academy; Bridgeton High School; Cumberland Regional High School; Oakcrest High School; Pleasantville High School; Pennsauken High School; Egg Harbor Township High School; DCF Regional School - Cumberland & Cape May; Atlantic City High School; Hammonton High School; Absegami High School; Camden Academy Charter High School; Mainland Regional High School; and Upward Bound/ Eastside High School.
-Story by Loukaia Taylor
-Photos by Susan Allen