Senior Alicia Jenkins named Fifth Staller Writing Tutor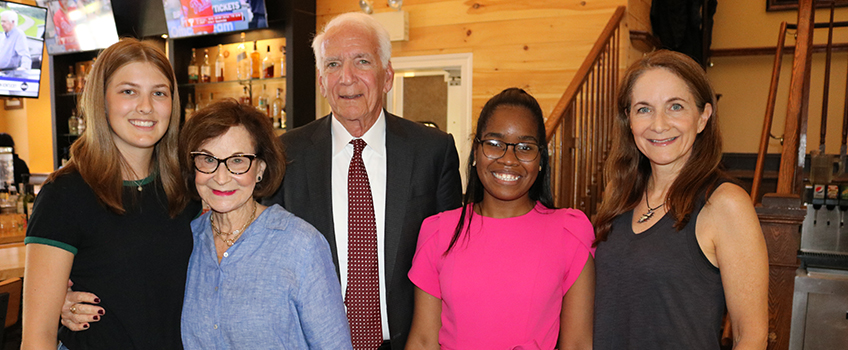 Galloway, N.J. — Writing didn't always come easy to Alicia Jenkins.
The Stockton University senior had to work hard on her writing when she attended Absegami High School. That's why being named the latest winner of the Paul D. Staller '97 Writing Center Tutor Award is so special for the Galloway native.
The monetary award comes from the Paul D. Staller '97 Writing Center Endowed Fund. Billie and Alan Staller, of Atlantic City, established the fund in memory of their son, Paul, a 1997 Stockton graduate with a degree in Communications Studies. Paul, who died in 2014 while working as a comedy writer in Los Angeles, worked as a tutor at the Stockton Writing Center. The Stallers set up the fund in 2016.
"My son could tell great stories," Billie Staller said. "That's what he did best. He was a tutor and a brilliant kid."
Jenkins, a Mathematics major with a concentration in Education, becomes the fifth student to become a recipient of the award. Writing Center Coordinator Eddie Horan said she's the perfect choice, despite her being a Mathematics major.
"She is almost impossibly patient," Horan said. "She's just a good person who meets students where they are. She can really tune in to what a student needs from her and give it to them, without judgment."
Jenkins became involved with the Writing Center as a first-year student after she was recommended by a professor. She said she didn't really think she was good at writing until the end of high school.
"I see myself in some of these students that may doubt themselves," Jenkins said. "Maybe they are scared to go to tutoring. They feel like they are less than other students because they are asking for help. But I was there once."
Alan Staller said Paul had a terrific sense of humor, and he was able to help students improve their writing "but in a funny way." And he sees a lot of those same characteristics in Jenkins.
"She has kind of the same personality, not as caustic, as my son," Alan Staller said with a laugh. "She's welcoming, helpful and wants to do a good job. I think she enjoys what she does. She's following in my son's footsteps as someone who enjoyed the people he worked with."
"She is sympathetic and understanding without being judgmental, and that's what you need from a writing tutor," Billie Staller said. "You need (a tutor) not to make fun of what you are writing, but help you assess it and make it better."
Jenkins' name will be added to a plaque outside of the Writing Center next to a small biography of Paul.
"I feel like it's my way to give back for all the times that people have helped me," Jenkins said. "For me to give any knowledge that can help somebody, make their day, make them smile, make them feel better than how they came in. That is my goal."
Contributions to the Paul D. Staller '97 Writing Center Endowed Fund can be made through the Stockton Foundation's website.
- Story by Mark Melhorn