First Ospreys
COVID-19 UPDATES FROM First Ospreys

Please be advised that First Ospreys staff are working remotely as of March 19, 2020. In accordance with the March 16, 2020 Executive Order from Governor Murphy, the University has implemented a remote working protocol during the Coronavirus (COVID-19) crisis. As a result, some services may be limited, and e-mail will be the best way to communicate with our staff. Complete updates on Stockton University's response to COVID-19 can be found here: https://stockton.edu/emergency-management/coronavirus.html. Our contact information is:
| | |
| --- | --- |
| Dr. Angel Hernandez, Co-Chair, First Ospreys | Dr. Nordia Johnson, Co-Chair, First Ospreys |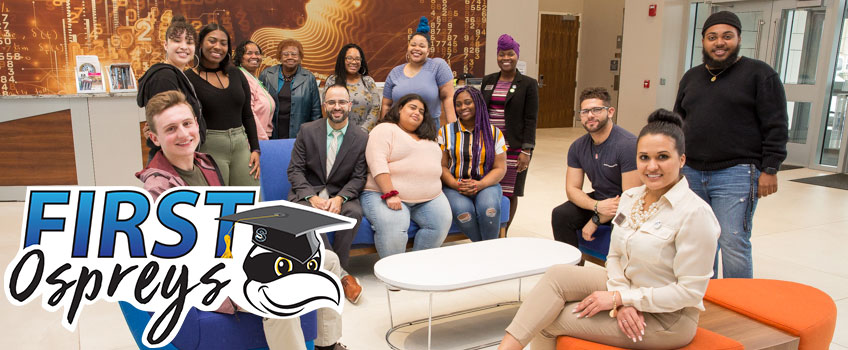 Mission
First Ospreys is a retention initiative that supports and celebrates first-generation students to ensure successful completion of their undergraduate studies. We aim to connect students to existing programs and resources and promote a sense of belonging within the Stockton community. We are committed to raising awareness about the experience, knowledge, and value that first-generation students bring to campus.
What is a first-generation college student?
First-generation students are those whose parents or guardians have not obtained a four-year college degree.
What We Do:
Gain an understanding of the needs of first-generation students using rigorous data collection and analysis techniques.
Develop and implement data-driven programming and interventions to strategically address the identified needs of first-generation students.
Continuously assess provided programming and interventions to ensure high quality service delivery.
---