Conference Emphasizes Importance of Teachers of Color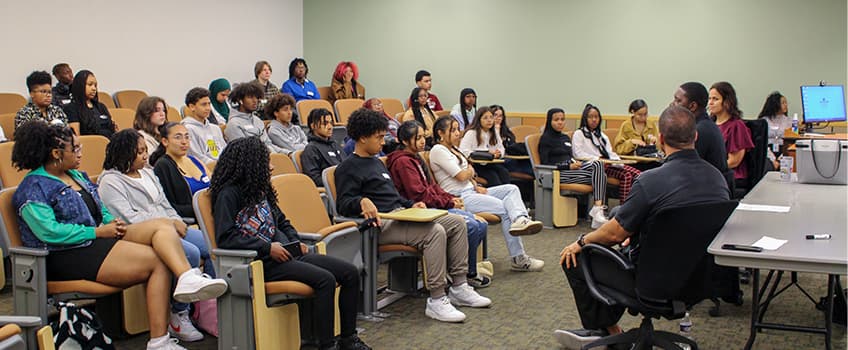 Galloway, N.J. — A recent study found that over 50 schools in New Jersey don't employ a single teacher of color, even though, according to the New Jersey Education Association (NJEA), students of color make up over 50% of state schools.
In response to the wide disparity, faculty members Stacey Culleny and Meg White of the School of Education created an all-day conference for high school students to promote the field of education.
The Future Teachers of Color Conference came to fruition May 17 with more than 200 local students in attendance.
"As we saw today, there's such value in students being able to relate to their educators, both on a professional level and on a personal level," Culleny said. "And we can tell students every day that they can be anything that they want to be, but they need to see those models and to have somebody to mentor and give them guidance. We're really hoping that this will help not only ease the current teacher shortage in general but more importantly, also represent our K-12 student population correctly with teachers of color."
White remembered seeing a student walk into one of the sessions and immediately point out one of the many multicultural posters adorning the walls. On them were various philosophers, artists and authors of color, and lessons in Math and English from different parts of the world, including India. The Indian student smiled as he told White about the poster and what he liked about it which affirmed White's goal of centering the experiences of people of color in education for this conference.
"That's what we're trying to do here, right? It's all about representation," White said. "Like for him to come in and feel this way after seeing a poster… I almost got a little teary over that."
The conference included breakout sessions where students learned about the significance of teacher-student relationships from two-time Stockton alumna (and current doctoral candidate for the Ed.D. program) Brenda Brathwaite of the Atlantic City School District and the power of coaching, advising and mentoring by Cynthia Sanchez-Munoz, Tim Watson and Randy Dean of Cedar Creek High School.
In one such session, "Why I'm Joining the Education Field," students were introduced to senior Education major Ariana Ramirez and Stockton Mathematics graduate Alicia Jenkins. Jenkins began the presentation with an unexpected statement.
"Aliens are real."
The ninth and 10th graders in West Quad's Lecture Hall all turned toward the front of the room where Jenkins stood. Her arms were outstretched, and her hands pointed to two signs on the wall with the words "Agree" and "Disagree" typed on them.
"Y'all heard me: aliens are real. Which side are you on — agree or disagree?"
The students laughed at their presenters and cracked jokes as they moved to the walls with their corresponding opinions.
The statements then took a turn.
"My teachers look like me."

"My culture is appreciated and celebrated in the classroom."

"I want to become a teacher and become the person I didn't have in school."
Only feet shuffling and hushed whispers filled the room as students contemplated Jenkins' game. Then, the deeper conversations around teacher diversity began.
Ramirez and Jenkins hope their session will inspire and inform students.
"I've had two specific teachers who have really changed my life within and outside of school, and I really want to be that specific teacher for not just one student, but for the majority of my students," Ramirez said. "If I can just impact their lives in any sort of way, to me, it will be fulfilling. Everyone says teaching is not an easy job, but it's the most rewarding job of all."
"I'm going to be talking about equity and equality, such as making sure we consider the wholeness of a student and making sure future teachers are aware they have to meet students where they're at," Jenkins said. "It's not always going to be flowery days and amazing times but knowing your why will keep you grounded as a teacher. That delayed gratification will come later on, and you will see the rewards and fruits of your labor as a teacher."
Bella Gonzalez, a freshman at Mainland Regional High School, enjoyed the interactivity of the sessions.
"I kind of like (the idea of) teaching students how to do certain things or converse with others," Gonzalez said. "I'm taking this all in and realizing that my future is closer than it actually feels like."
In addition to learning how Stockton students found their purpose in the Education field, the high schoolers had the opportunity to meet Stockton School of Education faculty members and tour the campus with Admissions Ambassadors.
Prior to the breakout sessions, students listened to three leaders within the field of education: Devan Blackwell, education specialist for the Atlantic County Superintendent's Office; and the NJEA's Fatimah Hayes and Petal Robertson. All of the guest speakers encouraged the students to not only reflect on the impact of teachers who empathize with and understand their students but also think about how they themselves can have the same impact.
"I had a (math) tutor for many years that was a teacher," Blackwell shared. "Every Sunday, I was with Ms. Rhonda Fitzgerald at her house in Venice Park at the kitchen table. We would eat, and we would do my homework. Teachers had such an impact on my life and my career, so I encourage you to think about all the people who helped you, encouraged or inspired you to make your lives better, and I'm sure it goes back to your teachers."
Like the speakers, Atlantic City High School sophomore Michelle Castro-Vazquez was inspired by her positive experiences with her history teacher, Rhaymen Altagracia, who encouraged her to come to Stockton for the conference.
"He really brought out my love in history with the way he interacts with the class and really talks to us. He not only, teaches us, but he's also connecting with us as a family," Castro-Vazquez said, beaming. "And after experiencing that, I want to be that person for somebody, which is what you know, interested me in becoming a teacher."
Participating high schools included: Absegami, Atlantic City, Cedar Creek, Mainland Regional, Middle Township, Oakcrest, Ocean City, Pleasantville and Wildwood.
– Story by Loukaia Taylor
– Photos by Loukaia Taylor and Mark Melhorn