Engagement

As a community builder and partner in public service, Stockton is committed to the development of southern New Jersey through scholarship and creative activity, civic engagement and active stewardship.
These efforts are supported by a variety of entities, including the Stockton Center for Community Engagement and Service-Learning, Stockton Center on Successful Aging, the Lloyd D. Levenson Institute of Gaming, Hospitality & Tourism and the William J. Hughes Center for Public Policy.
Alumni Support First-Generation Students at Networking Reception
Stockton alumni gave their time and financial support to first-generation students at Stockton University during the inaugural First-Gen Week at Stockton Nov 7-15, 2019.
A First Ospreys Recognition reception on Nov. 12 brought more than 75 first-generation students, alumni, faculty and staff, to the Fannie Lou Hamer Room at the Stockton Atlantic City John F. Scarpa Academic Center for an evening of networking.
The event raised $4,450 for scholarships for first-generation students, $2,000 of which will fund a scholarship in memory of a former first-generation Stockton student.
"As a first-generation student myself, I understand the importance of creating a support system for first-generation students," said President Harvey Kesselman, who was in the first class to attend Stockton in 1971. "We want our first-generation students not only to succeed but to thrive and excel and we are proud to celebrate you tonight."
First Ospreys is a retention initiative providing social, academic and professional support to first-generation students to help them navigate their college experience. Co-chairs are Angel Hernandez, associate director of the Educational Opportunity Fund Program, and Nordia Johnson, coordinator of Student Transition Programs, who were first-generation college students themselves.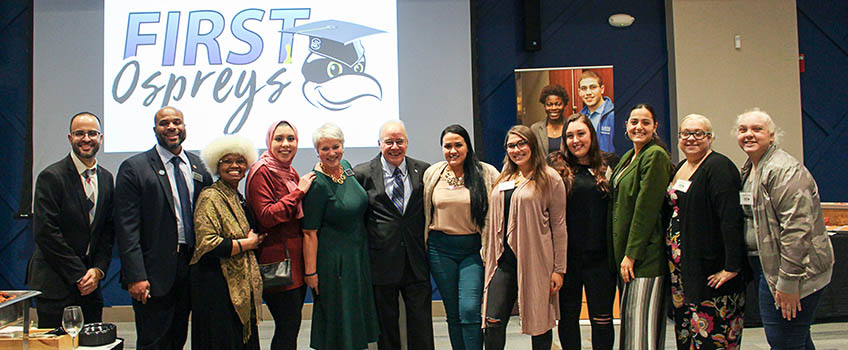 ---
LoBiondo Exhibit Highlights Congressman's Career
Stockton University student Michael Ortiz of Millville is majoring in social work and is interested in how public policy is developed.
He said his work on an exhibit of how retired U.S. Rep Frank LoBiondo developed overwhelming bipartisan support for a Bulletproof Vest Grant law was a real-life lesson in effective governing.
"To see how he worked to get the job done was inspirational," Ortiz said at the opening of a new exhibit at Stockton dedicated to LoBiondo's career.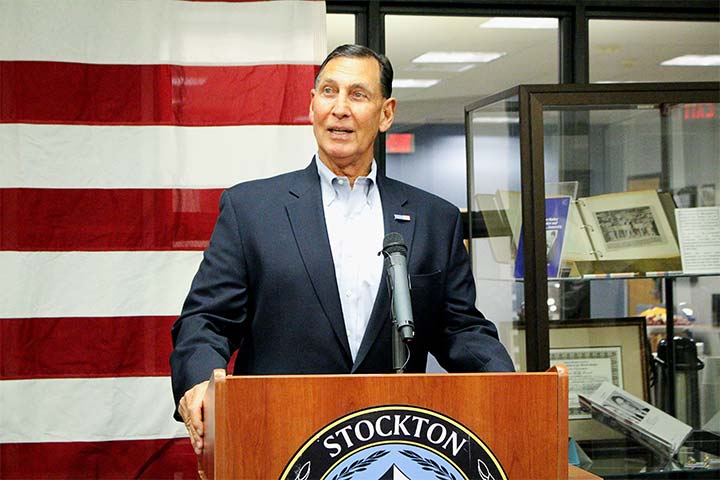 The exhibit, "The LoBiondo Legacy: Highlights from a Lifetime of Service to South Jersey" opened on Dec. 9 in the lower level of the Richard E. Bjork Library.
The exhibit, using items from the collection LoBiondo gifted to Stockton, highlights 10 themes from his 35-year career in public service: Background, Aviation, John's Law, Bulletproof Vest Grants, Intelligence, 9/11, Coast Guard, Environment, Challenge Coins and Relationships in Congress.
Stockton President Harvey Kesselman called LoBiondo a statesman, and said the exhibit and collection "help preserve the work of a man who deserves the remembrance. He served the common good and knew how to work across the aisle. He helped shape communities across South Jersey. We are honored to have been chosen by him to house his collection."
The exhibit was prepared by 32 students in Assistant Professor of Political Science Claire Abernathy's "President and Congress" class.
---
Stockton Earns Carnegie Community Engagement Classification
Stockton University has again been selected to receive the Carnegie Foundation for the Advancement of Teaching's Classification for Community Engagement.
The Carnegie Foundation recognizes Stockton as among the institutions "making significant strides in finding ways to engage with community partners, building on community assets, and addressing a wide array of community challenges."
The classification is based on documentation and data collection provided by the University demonstrating its ongoing investment in community engagement.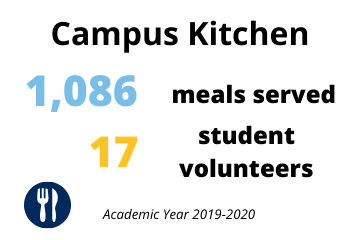 In its notification letter, the evaluation team noted Stockton's alignment of its mission, culture, resources and practices to support "dynamic and noteworthy community engagement." The letter said Stockton provided "descriptive, coherent and compelling evidence of exemplary practices of institutionalized community engagement."
Stockton's efforts represent collaborations among the faculty, staff, students, and community partners throughout southern New Jersey that include long-term partnerships and academic research projects across the Institution.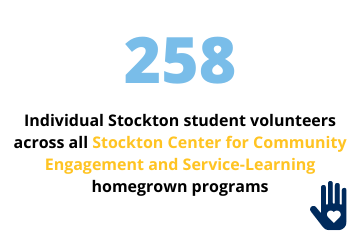 Merydawilda Colon, executive director of the Stockton Center for Community Engagement, said the approval process is rigorous. Stockton is expected to document and evaluate its engagement efforts and continue to improve Institutional practices to maintain the classification, which is effective for five years.
---
Over 400 Attend Juneteenth March for Justice
More than 400 students, faculty, staff, alumni and supporters of the Black Lives Matter movement gathered at Stockton University on Friday to celebrate Juneteenth with a March for Justice and a call to have their voices heard.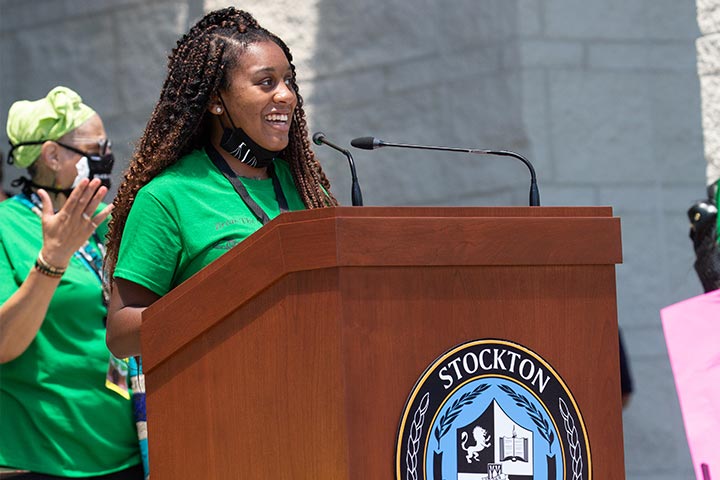 "We are hurting," said senior Danielle Combs (pictured), president of the Stockton chapter of the NAACP, who organized the event. "The best way to heal is to voice our concerns."
The three-hour event included speeches, a walk of eight laps around the track and eight minutes and 46 seconds of silence to commemorate the eight minutes George Floyd was held down on the ground by a police officer's knee on his neck until he died.
Multiple student groups participated in the march. Senior Andy Prempeh, president of the African Students Society and his members handed out face masks they ordered bearing the words "Black Lives Matter."
The event was both somber and celebratory. Donnetrice Allison, professor of Communications and Africana Studies and Director of Strategic Initiatives, said it may seem ironic to celebrate June19, or Juneteenth, the day slaves in Texas were finally told they were free, almost two years after the Emancipation Proclamation.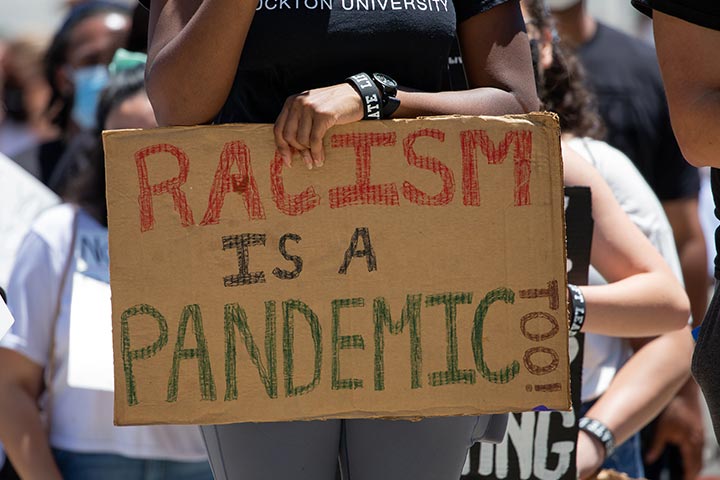 "We decided to celebrate that travesty," she said. "June 19 is our Freedom Day, not the 4th of July."
Allison said she wants the students to know that faculty understand their pain.
"We hear you, we are with you, we are for you, and we love you because we have been you," she said, sharing her story of being the youngest in her family of seven children and the only one to go to college due to help from the others.
She cited other Black faculty and staff at Stockton who have overcome hardship to succeed, saying they all came to Stockton and stayed at Stockton to help others like themselves.
View more photos on Flickr.
---
Julie Coker Receives $100,000 from Justin Bieber
Recent Stockton University graduate Julie Coker '20 has the best autograph from Justin Bieber – his signature on the bottom of a giant $100,000 check, which he presented to her live on MTV on Feb. 7 to honor her work on mental health awareness with Active Minds.
Bieber was interested in helping someone involved with mental health. He and his team chose Coker for her work with Active Minds, a nonprofit supporting mental health awareness and education to young adults. Coker is president of the Stockton chapter and also serves on the national Active Minds Student Advisory Committee.
While Coker was in shock, the award is no surprise to those who know her and have worked with her on the multitude of Active Minds events held all year at Stockton.
"Julie is one of the all-time great Stockton students," said Nathan Morell, assistant director of Counseling Services and advisor for Active Minds. "She really hit the ground running and by her second year here was president of Active Minds. She works tirelessly year-round, even during the summer."
How We Are Helping #StopTheSpread
Kelly Kern of Galloway helped bring food to those out on the front lines of the COVID-19 pandemic, while also supporting local businesses.
Kern, assistant to the vice president of Facilities & Operations, has been collecting donations and buying meals from local businesses. As of April 16 she had raised more than $5,000 and delivered more than 900 meals to medical workers and first responders.
Monica Viani and Laura Hughes from the Office of the Dean of Students, operated the food pantry on the main campus during the pandemic for students who were still living on campus and those who live locally. The pantry in Atlantic City was also open. They maintained social distance with the students, and supplemented donations with trips to stores.
Members of the Stockton community have also continued to support the food bank through on campus contactless drop-offs and an Amazon wish list.
With campuses closed for tours and open house events this spring, the Enrollment Management team needed to get creative in its outreach to prospective Ospreys deciding where to continue their education this fall.
Stockton Admissions Ambassadors went live on Stockton's Facebook page for "Straight Talk with a Stockton Student" the week of April 27 every evening to answer questions ranging from registering for classes, choosing a roommate and where to eat on and off campus. More than a dozen student ambassadors took turns sharing their favorite Stockton moments. Each session reached more than 5,000 people, and the replays are available.
Gavin Rozzi, a graduate student studying Data Science, used his 3D printer to turn vacuum cleaner bags into masks with plastic respirators for health care workers. "Neighbors and friends are contributing supplies, so this has been a community effort," he said. Rozzi was inspired to help after learning that workers on the front lines of the pandemic were facing a shortage of personal protective equipment.
Stockton psychology and gerontology students participated in a drive-by visit to four long-term care facilities on Jimmie Leeds Road in June. The event was initiated by Our Children Making Change, a local non-profit. "The Stockton students and children participating made the residents and health care workers we visited feel loved for sure," said Marcus Bridgers, a social work major who participated as part of his Abnormal Psychology class. "The event was so heart-warming that my children and I have now become a part of the wonderful OCMC organization."