Spotlight On: Monica Viani and Laura Hughes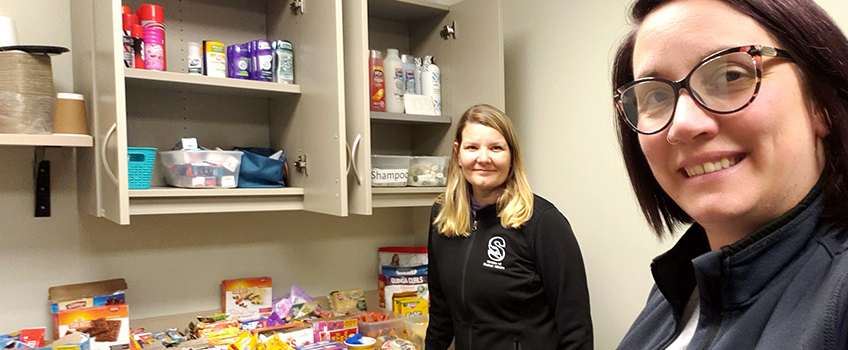 Galloway, N.J. – The COVID-19 pandemic has cancelled classes and activities on campus, but two Stockton University employees are still making sure the Stockton food pantry remains open to help students.
Monica Viani and Laura Hughes from the Office of the Dean of Students, have been operating the pantry on main campus from 12:30-3 p.m. Mondays, Wednesdays, and Fridays for students who still live on campus and those who live locally. The pantry in Atlantic City is also open Tuesday and Friday from 9 a.m.-4 p.m.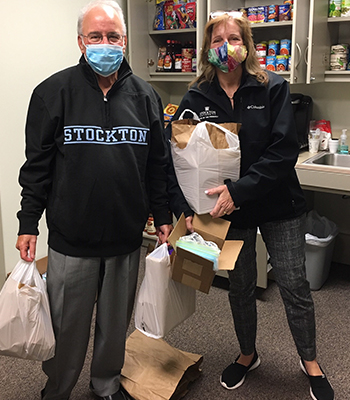 This year there are 175 students enrolled in Stockton's Food Assistance Program. Viani said 33 are still using the food pantry, including 17 students who enrolled since March 23.
"We were proactive when the pandemic first came about and managed to get quite a bit of inventory from Dollar Tree and Sam's Club," Viani said. "We have still been able to get our orders from the Community Food Bank and have supplemented with pick up orders from BJs for essentials such as shelf stable milk and bread."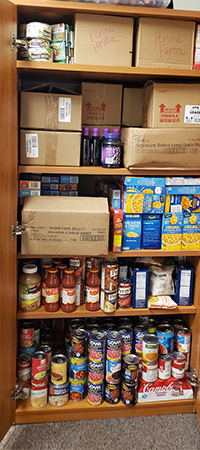 The food pantry also collected a generous donation from Chris Famularo and Chartwells that they received through a partnership with the non-profit group MATTER, including cereals, granola bars, fruit pouches and nut-free butters.
Student Serene Quick, who is living on campus, said the food pantry has been a huge help.
"Monica was the first lady to reach out to us and provide us with everything we needed once we moved," Quick said. "She knew some people were moving from locations with no kitchens and provided us with pot sets! I am still in shock because I would've never expected that. It made me appreciate all the work the staff puts into Stockton students even more."
To keep everyone safe the food pantry follows the mask and social distancing guidelines promoted by the state. Recently Stockton first lady Lynne Kesselman, who has been making masks for medical personnel, dropped off two dozen masks along with some food items she and president Harvey Kesselman donated.
Viani and Hughes also sanitize all cabinets and counters with disinfectant wipes and spray. They only allow one student in the pantry at a time and before another student can come in, they sanitize everything again. When the pantry closes, the counters and cabinets get wiped down and restocked.
Chairs where students can wait in line are set six feet apart in the front office and the Camus Center hallway.
Vouchers for the Campus Center food court are also still available to eligible students, which allows them up to $10 worth of food.
Reported by Katelyn Emick
# # #
Contact:
Diane D'Amico
Director of News and Media Relations
Galloway, N.J. 08205
Diane.D'Amico@stockton.edu
609-652-4593
609-412-8069
stockton.edu/media