Sustainability

As Stockton's Sustainability program continues to grow, so does Stockton's commitment to prepare students to become entrepreneurs and critical thinkers.

Students Lead Project to Refurbish Observatory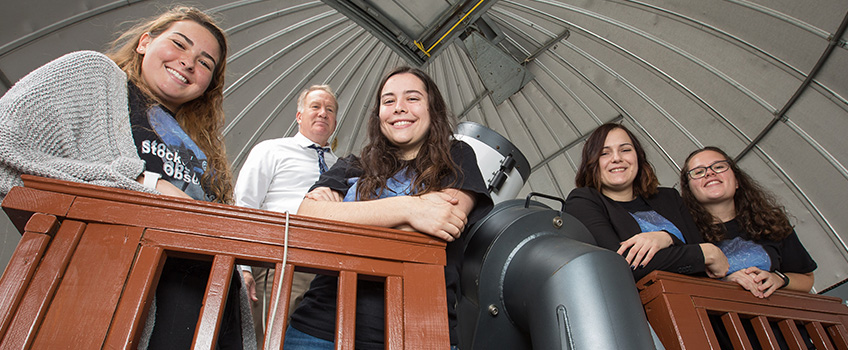 The first thing Stockton students saw when they opened the doors to the Harold E. Taylor Observatory were pieces from the telescope on the floor and spiders.
"There were soooo many spiders," said sophomore Courtney Weber of Jefferson Township, one of a group of seven physics majors who spent much of 2019 repairing and restoring the observatory, which has been closed for more than 15 years.
The project began with one student, Mariam Saad, asking Associate Professor of Physics Joseph Trout why the observatory was closed, and what might be done to reopen it.
Saad began the work with Trout, and when she graduated in 2018, Briena Feltner, Courtney Weber, Colleen Lindenau, Tara Jacobsen and Gracie Buondonno continued, using funds donated by the Stout family in memory of their son, Timothy, an amateur astronomer, and three Stockton Research Experience for Undergrads grants.
The students worked with Trout to replace the Hall effect transducer and the telescope's circuit board, as well as performing the more mundane tasks of cleaning and painting to prepare of the reopening.
Trout said the project gave the students a real-world problem to solve as well as potential research topics. Students are using the telescope to do an independent research study on interstellar light curves.
An opening reception was held for the observatory on Nov. 6, 2019.
---
Art & Science Collide to Reduce Bird Strikes
A flock of birds has taken flight in artistic form across the K-Wing breezeway on Stockton University's Galloway campus to warn migrating birds to steer clear of the windows.
The vinyl mural now raises awareness with its message, "Art should be striking. Not birds," along with an explanation of how the art saves birds by eliminating reflections. These reflections of sky and forest on glass become indistinguishable from buildings and clear skies and lead to birds colliding with windows.
The art spans the K-Wing breezeway, located between Lake Fred and the Campus Center. This expanse is an especially dangerous spot because it is a large double-sided window space adjacent to prime bird habitat in the Pinelands National Reserve.
The solution was a collaborative effort between Stockton's School of Natural Sciences & Mathematics, University Relations & Marketing, the Division of Facilities & Operations and the Biodiversity Committee with funding provided by the President's Office.
---
Students See the Future of Wind Energy in N.J.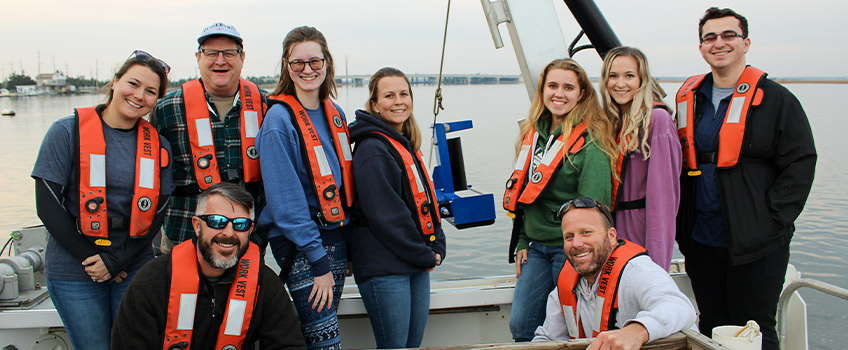 About a dozen students boarded the Stockton research boat Petrel on Nov. 19 to learn hydrography – the science of surveying bodies of water. The trip was sponsored through a partnership with Ørsted U.S. Offshore Wind, which won state approval to build a wind farm off the Atlantic City coast and is now collaborating with Stockton to support research, academic programs and events at the university.
Students spent more than three hours learning how to use the sonar equipment, which uses sound frequencies to track activity under the sea. The students also got to operate a CastAway, a tool hydrographers use to measure sound velocity, which is required for the sonar to map the seafloor. Both tools can be used to track habitats, follow schools of fish and more.
---
Project Taps a Sweet New Resource on Stockton Campus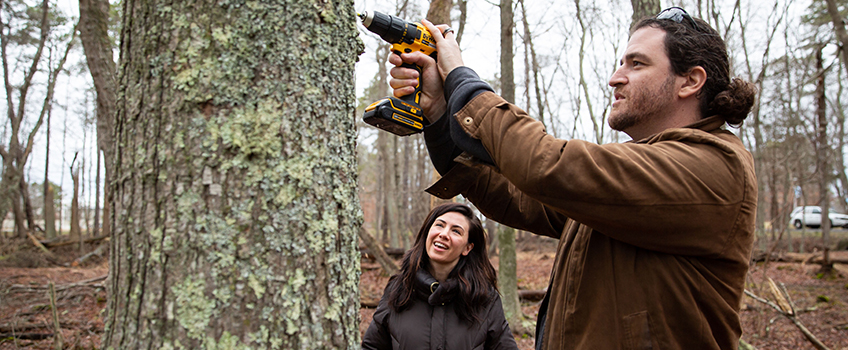 A team of Stockton faculty members were awarded a three-year United States Department of Agriculture grant to promote maple sugaring in the South Jersey region through research and community outreach.
The Stockton grant involves using modern technologies such as reverse osmosis, and vacuum assist pumps to implement an extensive sapping system on Stockton's 1,600-acre main campus. Initial sample tapping began in February on red maples, which have a lower sugar content than sugar maples, but are plentiful in South Jersey.
In addition, the grant is establishing a community outreach program of traditional sapping methods on individual properties in the South Jersey area.
The project team is looking for area residents who have access to multiple red maple trees and are willing to invest the time to collect and process the sap into syrup, starting this winter. The trees should be at least 12-inches in diameter.
---
Creatures 'Quarantine' in Comfort at Stockton Campus
There were few people on Stockton University's campus during the state-mandated quarantine, but the close to 500 terrapins are still multiplying and lizards are eating their protein to stay fit for the time when they could run on the treadmills again in the Unified Science Center 2.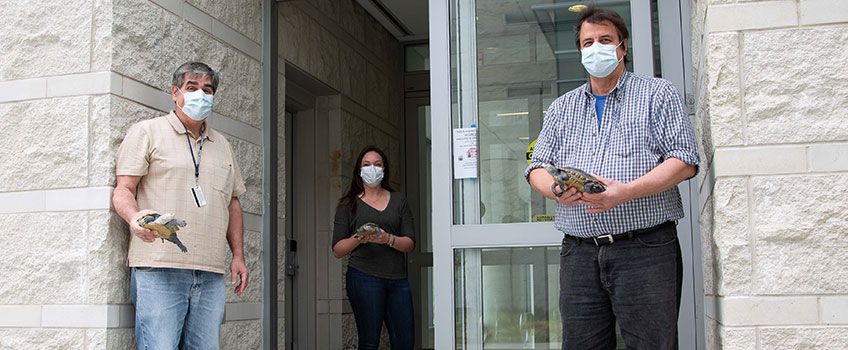 While most of Stockton's staff were operating out of home offices, those who care for the animals and plants in the vivarium and greenhouse still came to campus to make sure the creatures stayed healthy.