Learning

Stockton University's value of excellence in teaching and dedication to learning guides our drive to offer a high quality, innovative education. We strive to enhance the student learning experience across our more than 160 areas of study.
Stockton Students, Faculty Get Creative with Virtual Learning
Forging Online Connections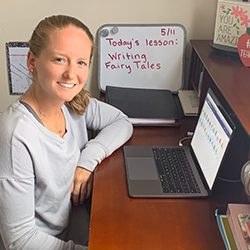 Student teaching and classroom clinical experiences became a very different experience for Stockton University students, who had expected to spend the spring and early summer semesters at area schools, inside a classroom with a teacher. Instead, midway through the spring semester they found themselves teaching from home. But that did not stop them from learning as they, along with their mentor teacher and students, learned to adapt to online instruction and make the most of it. Associate Professor of Education Susan Cydis's students, like Danielle Naoum pictured right, typically take a class on literacy while also working with children grades K-2 in Pleasantville schools. Cydis received a $1,500 grant award from Dollar General and used the funds to purchase popular children's books, which 31 Stockton students in the Literacy Development read out loud on the web-based platform Padlet.com.
Streaming STEM
Stockton University scientists working in the field this summer brought the field to followers, thanks to Facebook Live. Aaron Stoler, assistant professor of Environmental Science, explored Stockton's Pinelands campus with his muck boots and a smartphone, teaching ecology lessons on Facebook Live. His series, called Streaming with Stoler, visited the campus farm, greenhouse and Aquifer Thermal Energy Storage (ATES) system in June with guest experts.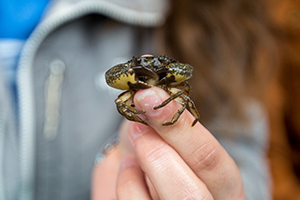 Marine Science professors highlighted some of their field sites and survey methods over the month of June in a weekly LIVE Lab Days series on Facebook Live. Viewers got a taste of what it's like to be a marine scientist at Stockton University.
Matthew "Rocky" Severs, associate professor of Geology, showed how it rocks to be a geologist in New Jersey. His livestreams took viewers back in time via the fossil record and to mineral collecting localities where he explored how minerals are helping to advance technologies and infrastructure.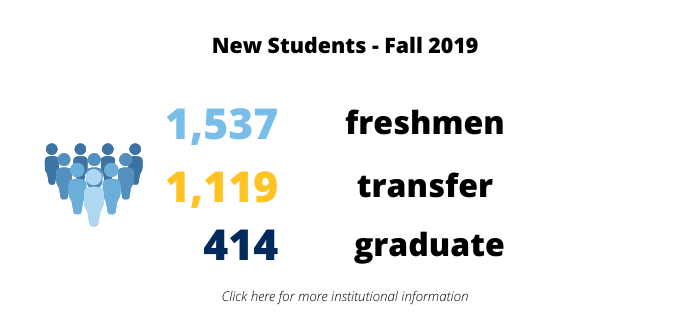 Playing a New Tune
Three Instrumental Music majors completed their senior projects from home in video format. Robert Fell, Natalie Doucette (pictured) and Joseph McLaughlin performed as if their living rooms were standing room only to share the culmination of their college careers.
Christopher Di Santo, associate professor of Music, couldn't be more proud of their perseverance. "They have all distinguished themselves and excelled in so many ways and on so many levels academically and musically. I know they will reflect the value of their Stockton education and experiences in everything they do moving forward," he said.
Young Professionals Excel Digitally
More than 30 students who spent the semester learning about the power of creating a successful event presented an event of their own May 5 when the first cohort of students in Stockton University's new Event Design Management program received their Young Professional certificates in an online ceremony and presentation.
The course incorporates the curriculum of the Event Design Collective Young Professional program. Stockton is the only university on the East Coast offering this certification, and is one of three such programs in the United States.
Teams of students presented the case studies for the five events they organized to faculty and the founders of the Event Design Collective, Ruud Janssen and Roel Frissen, both of whom were impressed with the students' work.
---
eCommencement Celebrates Class of 2020
The confetti fell on the Class of 2020 at Stockton University on Friday, May 15, but it did so virtually, as the class celebrated eCommencement online at home, sharing their day on social media rather than at Boardwalk Hall.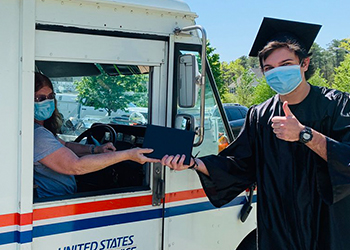 The website went live at noon, when Commencement would have begun at Boardwalk Hall, and within the first two hours had 6,000 unique pageviews. That number grew to 11,500 through the weekend. Families also interacted on Stockton's Facebook page, where eCommencement reached 37,000 and had 15,000 video views.
"We would love to congratulate each and every one of you, to present your degrees in person, to shake your hands," said President Harvey Kesselman in his video address. "But as you know, the current global health crisis has presented considerable challenges to our time-honored traditions of commencement."
Kesselman recognized two students who have reached out to help during the COVID-19 crisis. Graduate student Gavin Rozzi of Lacey Township printed 3-D masks for essential workers and Social Work major Ashley Berenato of Hammonton led a project by the Gerontology Club to make cards for residents in nursing homes who could not have visitors.
Stockton Board of Trustees Chairman Leo Schoffer congratulated the graduates and noted that every generation has been faced with challenges. He thanked them for their dedication in rising to the challenge of completing their degrees.
New Jersey Secretary of Higher Education Zakiya Smith-Ellis was scheduled to be the keynote speaker at Boardwalk Hall. Instead, she led the congratulatory shout-out video honoring the students. Others on the video included New Jersey Senator Cory Booker, Student Senate President Ariana DeFillipo, Athletic Director Kevin McHugh, Vice President for Student Affairs Christopher Catching and many faculty members and staff.
The Class of 2020 will be honored in formal commencement ceremonies on Friday, October 23.
---
Holocaust Center Launches Interactive Biography
Pleasantville High School senior Ernest Howard knew he was looking at a taped video of Holocaust survivor Edward Mosberg, 94, of Parsippany, N.J.
But when Mosberg answered his question about what food was served in the Mauthausen Concentration Camp, Howard admits he was amazed.
"I felt like he was looking right at me while he was talking," Howard said during a demonstration of the Dimensions in Testimony Interactive Biography Program on Feb. 12 at the Sara and Sam Schoffer Holocaust Resource Center at Stockton University.
As Holocaust survivors age, and fewer remain to tell their stories, the University of Southern California Shoah Foundation is using modern technology to create interactive biographies of survivors.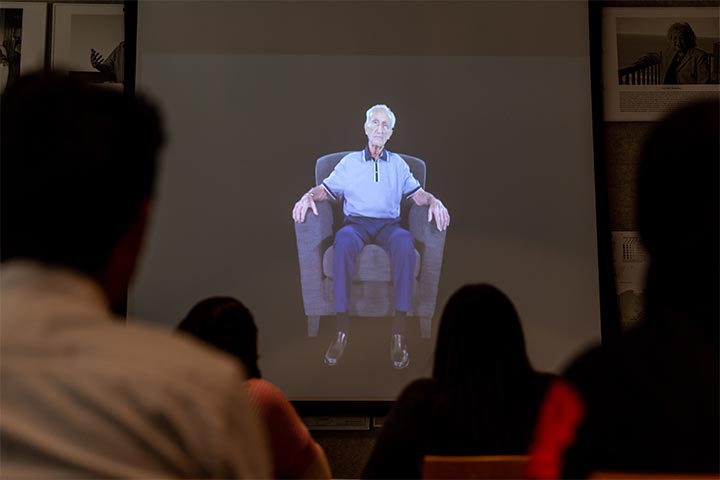 The Dimensions in Testimony program is already used by museums. Stockton's Holocaust Center was chosen as the national site to beta test a model that can be used by schools.
Area middle and high schools will have the opportunity to bring students in grades five through 12 to meet and learn from Mosberg.
Stockton will host the program for three years. Some 30 area high schools already participate in a dual credit Holocaust and Genocide class with Stockton, and those classes will also be invited to visit and interview Mosberg.
The program is free and open to any school. The target audience is students in grades five through 12. Holocaust Center Executive Director Gail Rosenthal said they do ask that teachers do a pre-workshop with students to learn about Mosberg and prepare questions, then a post-event lesson on what they have learned.
---
Stockton Rises to 7th in 2020 U.S. News Rankings
Stockton University has again improved its ranking among Regional Universities in the North, placing 7th among public universities in the 2020 U.S. News and World Report Best College rankings released on Sept. 9, 2019.
The University rose from 9th in 2019 to 7th in 2020. Stockton is also ranked 32nd among the 170 public and private universities in the North region, up from 41st in 2018 and 35th in 2019.
Stockton is also included on the list of 2020 Best Value Schools, which considers quality and cost, and as a Best Undergraduate Teaching School, which recognizes schools where faculty and administrators are committed to teaching undergraduate students in a high-quality manner.
The university is also included among the "A+ Schools for B Students" and "Best Colleges for Veterans."
Stockton President Harvey Kesselman said Stockton's continued rise in the rankings is a tribute to the faculty, staff and students who make up the Stockton community. This year Stockton expanded its Student Success Scholars Program office and its Military and Veteran Services office and lounge. The new Atlantic City campus, which opened in Fall 2018, is providing more opportunities for student learning and internships in the city.