Global Perspectives

Stockton is committed to developing global citizens by providing students, faculty and staff with exposure to diverse cultural perspectives.
Holocaust Rescuers Exhibit Tells Ullman Family Story
A new Holocaust Rescuers Exhibition, dedicated to non-Jewish families who risked their lives to protect Jews during the Holocaust in Amsterdam, has opened at the Sara and Sam Schoffer Holocaust Resource Center at Stockton University.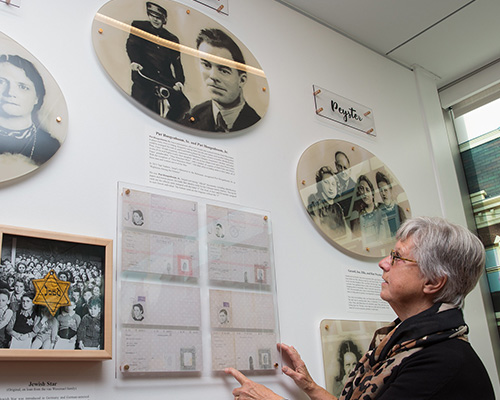 Titled "The Extraordinary Heroism of Ordinary People," the interactive exhibition tells the history of the Holocaust in the Netherlands through the story of Leo Ullman and his family, who were saved through the heroic acts of non-Jewish families who hid them and provided them with forged documents.
"This exhibition tells of those who took enormous risks to save lives," Stockton President Harvey Kesselman said at the dedication Oct. 28 attended by more than 400 people. "During those times, resistance and rescue meant a commitment to human life."
The exhibition was funded by a generous gift from Leo S. and Katherine M. Ullman. Leo was just three years old when his family went into hiding in an attic, turning the noisy, rambunctious youngster over to the Schimmel family, who would raise him as their own child for 796 days.
The event also included the naming of the Holocaust Center's main room for Gail Rosenthal, who has served as director for some 30 years. The center's classroom features photos of survivors, and Stockton Board of Trustees chairman Leo Schoffer, who helped develop the center named for his parents, said survivors appreciate the respect Rosenthal gives them.
---
Exchange Students Breakdown Cultural Barriers through Storytelling; Navigate Pandemic Challenges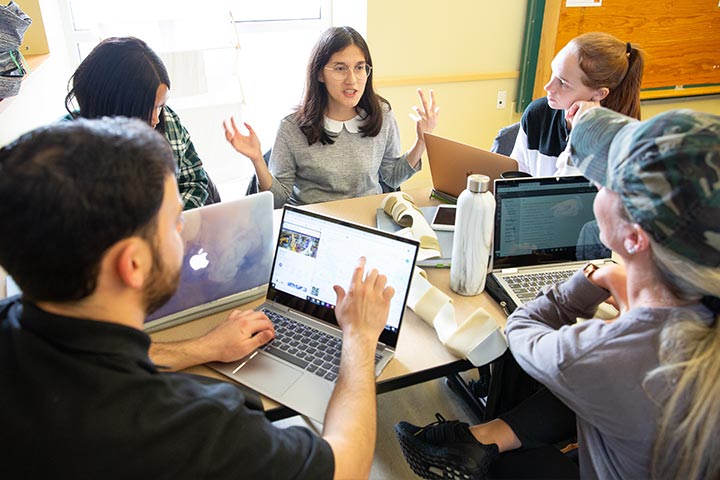 Immigration. Assimilation. Culture. Human rights. These words are especially relevant. But what do they mean to the people they impact directly, and how do we listen better to their stories? Four exchange students from Colombia spent time breaking down barriers at Stockton University doing just that. Telling the story - their stories and the stories of others.
In September 2019, Partners of the Americas announced that Stockton, in partnership with Universidad Del Rosario, was one of the 13 winning teams in the latest Innovation Fund grant competition sponsored by Colombia's Department of Science, Technology, and Innovation (COLCIENCIAS) and the U.S. Department of State. This grant brought Colombian Journalism students Laura Lopez Pineda, Nicolas Morales Penuela, Melissa Ruiz Mahecha and Ivan Villalba Guavita to Stockton, where they are working with Mariana Smith, assistant professor of Visual Arts at Stockton, Dr. Fátima Martínez (Journalism, Human Sciences School, Universidad del Rosario) and other Stockton faculty in many ways.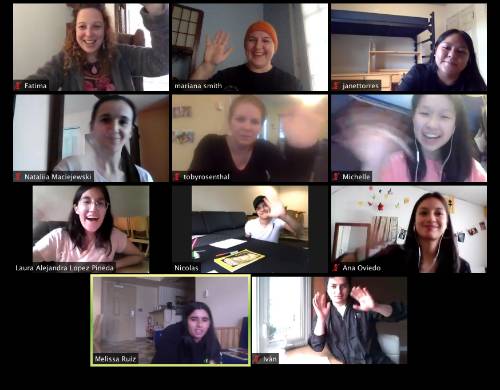 The students' projects combined service-learning, community-based research and creative-research strategies to identify local, national and transnational implications of human migration as a global megatrend, and to expand their understanding of and empathy for various populations.
International exchange students abroad and on campus faced challenges amidst the pandemic, but demonstrated ambitious and creative approaches to still evolve and complete their assignments, using software like Zoom to meet.
---
Students Learn and Teach in Taiwan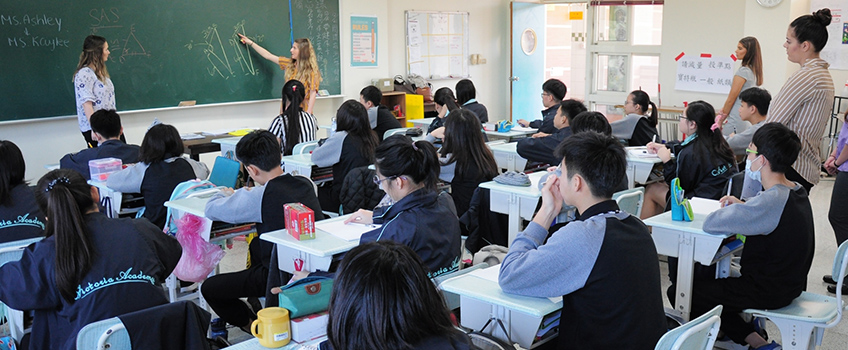 The principles of mathematics may be universal, but how and when they are taught can be very different.
Twelve students and faculty from the School of Education and School of Natural Sciences and Mathematics got the opportunity to see both the similarities and differences in math education in Taiwan during a trip in December to the country through a partnership with National Chiayi University.
One immediate difference is that all students are required to learn a second language, and those in the classes students visited at the K-12 Victoria Academy spoke English and used it in multiple classes.
Associate Professor of Education Norma Boakes, who coordinates Stockton's Teacher Education Program, said the Taiwan people put a lot of emphasis on the importance of education.
"The trip definitely influenced me to introduce new ways of teaching into my own classroom," said Courtney King from Howell. "I learned about different classroom management skills as well as the Taiwan culture."
Overall, in reflections written about their experience, students noted that while there were differences, the students were still children, who sometimes needed a bit of a reminder to pay attention.
While in Taiwan, Stockton President Harvey Kesselman signed agreements with National Chiayi University and National Taichung University of Education that will promote exchange programs for students and faculty.
---
Hellenic Studies Welcomes Archbishop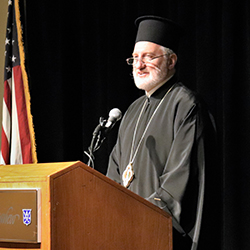 His Eminence Elpidophoros of America, Greek Orthodox Archdiocese of America, gave up his university teaching position when he accepted his new role in the church. But his love of learning and rapport with people was evident during a visit to Stockton University on March 5, where he met with students participating in Hellenic Studies programs and spoke to a crowd of more than 150 in an evening lecture at Seaview, a Dolce Hotel.
"I loved teaching," he told the students during a meeting in the Constantelos Hellenic Collection and Reading Room in the Bjork library. "I learned from my students, and now I have a role in the church that fills my heart. It is good to have new things in your life."
His Eminence is the third archbishop of the Greek Orthodox Diocese to visit Stockton. He was the keynote speaker for the 2020 Rev. Dr. Demetrios J. Constantelos Memorial Lecture, organized by the Dean C. & Zoë S. Pappas Interdisciplinary Center for Hellenic Studies at Stockton. The event is held in memory of one of Stockton's founding professors, whose legacy continues to inspire students, faculty, staff and supporters at Stockton.
The Pappas Center and the Friends of Hellenic Studies continue to support the University through academic events, and scholarships that support students who want to pursue Hellenic Studies in Greece.
---
Students Continued to Offer Naturalization Classes
Six student fellows from the Stockton Center for Community Engagement have continued to offer remote naturalization classes to area residents. The classes were offered at the Atlantic City campus.
Connor Yackle, Izabelle DelRoss, Kristine Garcia, Lina Garrido, Haley Jones, and Ariana Ramirez coordinated the class through a weekly conference call on Tuesdays.
Students said there have been challenges, but they wanted to continue to help people who are dedicated to earning their citizenship.
"I think it has been really productive and extremely beneficial to the people who are taking the class because they have to practice their listening skills even more since we are not talking to them face to face," said Garrido, a freshman who plans to major in health sciences.
Yackle, a sophomore business studies major, said not as many people are participating, but quite a few are continuing.
"It is more difficult to do these online classes because when we did it in person you could see the student and we would have memorable moments despite the language barrier," Yackle said. "But I feel the students are still learning."
Jones, a sophomore psychology major said the participants improve with every class
"I would love to take part in the naturalization class as long as I can because it's amazing to see the progress that the students make from day one," Jones said. "I am beyond proud of all of them!"