Alumni Support First-Gen Students at Networking Reception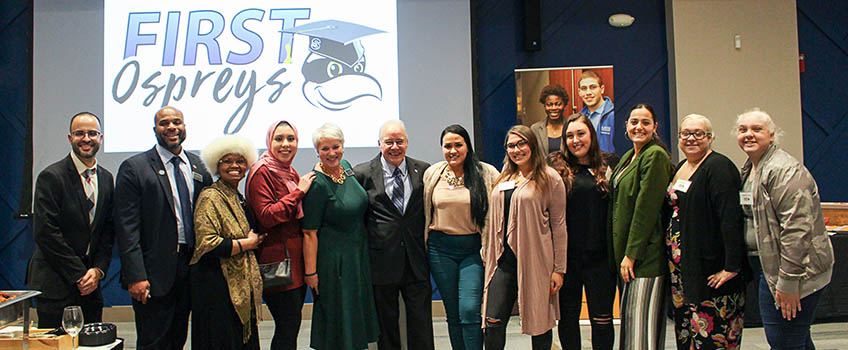 Galloway, N.J. - Stockton alumni gave their time and financial support to first-generation students at Stockton University during the inaugural First-Gen Week at Stockton Nov 7-15.
A First Ospreys Recognition reception on Nov. 12 brought more than 75 first-generation students, alumni, faculty and staff, to the Fannie Lou Hamer Room at the Stockton Atlantic City Academic Center for an evening of networking.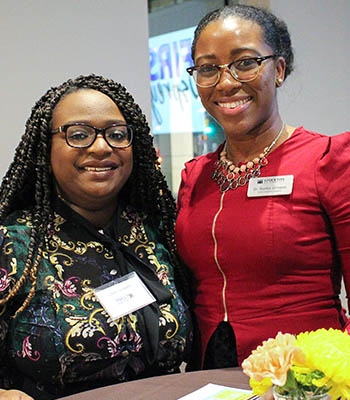 The event raised $4,450 for scholarships for first-generation students, $2,000 of which will fund a scholarship in memory of a former first-generation Stockton student.
"As a first-generation student myself, I understand the importance of creating a support system for first-generation students," said President Harvey Kesselman, who was in the first class to attend Stockton in 1971. "We want our first-generation students not only to succeed but to thrive and excel and we are proud to celebrate you tonight."
First Ospreys is a retention initiative providing social, academic and professional support to first-generation students to help them navigate their college experience. Co-chairs are Associate Director of the Educational Opportunity Fund Program Dr. Angel Hernandez and Coordinator of Student Transition Programs Dr. Nordia Johnson, who were first-generation college students themselves.
Nearly 57 percent of Stockton students are first-generation, meaning their parents or guardians do not have a college degree.
Johnson said her experience trying to succeed as a first-generation student influenced her involvement in First Ospreys.
"I think my purpose is to make sure other students now don't have such a difficult experience," Johnson said.
Kesselman said Stockton is a great place to be a first-generation student.
"We care about you and offer so many programs for you to take advantage of, so please get everything you can out of this University and don't be afraid to take chances," he said.
First-Gen week also featured programs on career development, graduate school, financial aid, mental health, and a talent show.
- Reported by Allie Sandberg
# # #
Contact:
Diane D'Amico
Director of News and Media Relations
Galloway, N.J. 08205
Diane.D'Amico@stockton.edu
609-652-4593
609-412-8069
stockton.edu/media