LoBiondo Exhibit Highlights Congressman's Career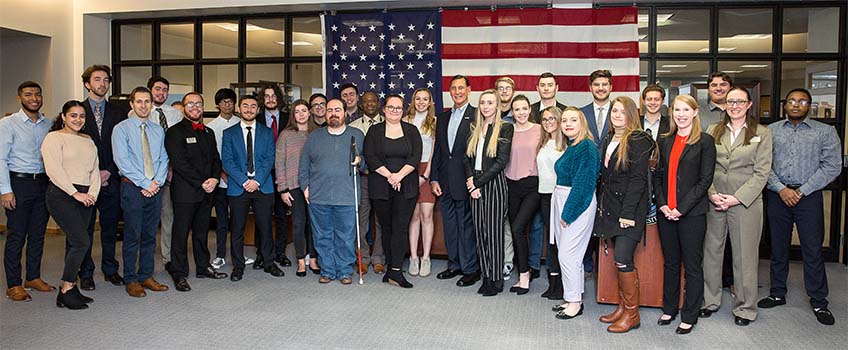 Galloway, N.J. - Stockton University student Michael Ortiz of Millville is majoring in social work and is interested in how public policy is developed.
He said his work on an exhibit of how retired U.S. Rep Frank LoBiondo developed overwhelming bipartisan support for a Bulletproof Vest Grant law was a real-life lesson in effective governing.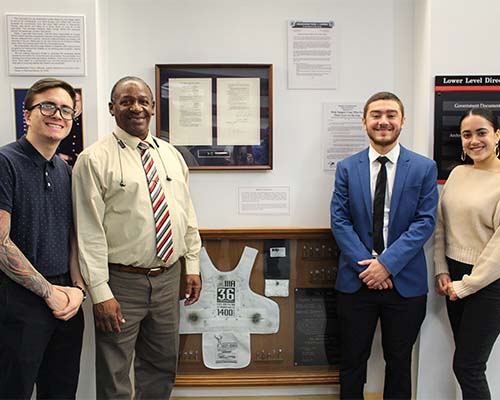 "To see how he worked to get the job done was inspirational," Ortiz said at the opening of a new exhibit at Stockton dedicated to LoBiondo's career.
The exhibit, "The LoBiondo Legacy: Highlights from a Lifetime of Service to South Jersey" opened on Dec. 9 in the lower level of the Richard E. Bjork Library.
The exhibit, using items from the collection LoBiondo gifted to Stockton, highlights 10 themes from his 35-year career in public service: Background, Aviation, John's Law, Bulletproof Vest Grants, Intelligence, 9/11, Coast Guard, Environment, Challenge Coins and Relationships in Congress.
"You've done an outstanding job," LoBiondo told the students at a reception, "and you've brought back a lot of memories."
LoBiondo, who spent 24 years in Congress, said he remembers when he was afraid to run for state Assembly because he was sure "a kid from a farm in Rosenhayn," would get laughed at.
But, when he realized no one was going to just hand him a career in politics, he committed to giving it his best.
"I had to go get it and take the bumps that come with it," he said, thanking his family for putting up with his long hours and absences, and his staff for keeping him organized.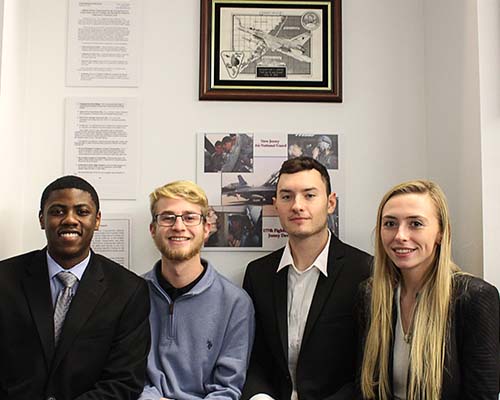 The exhibit was prepared by 32 students in Assistant Professor of Political Science Claire Abernathy's "President and Congress" class. LoBiondo met with the class in October.
"Our goal is for students to understand how the political system works in practice," Abernathy said. "This collection is a new resource for Stockton that we have just begun to tap."
Stockton President Harvey Kesselman called LoBiondo a statesman, and said the exhibit and collection "help preserve the work of a man who deserves the remembrance. He served the common good and knew how to work across the aisle. He helped shape communities across South Jersey. We are honored to have been chosen by him to house his collection."
Student Taylor Ketcham of Toms River said she hopes one day to work in museum operations and working on the exhibit with Stockton Special Collections librarian Heather Perez was a valuable experience.
Hunter Butkus of Long Valley worked on the Aviation display and said he was impressed with how dedicated LoBiondo was to the work of the FAA William J. Hughes Technical Center.
"He was very passionate about the committees he was on," Butkus said.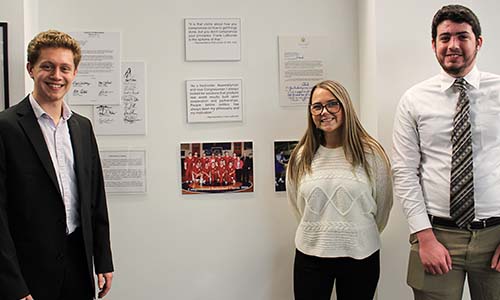 Criminal Justice major Cordell Irving of Woodbridge said he learned how sensitive LoBiondo was to serving his local community.
"He could work with both sides, but he was always a local guy for South Jersey," he said.
Political science major Anthony Farfalla from Toms River said the exhibit on LoBiondo's relationships in Congress show his bipartisanship and ability to work with others.
"His record really stood out,"Farfalla said. "He understood what was important, and what was at stake."
The display includes quotes from LoBiondo, comments from others about him, and a couple of photos of him playing basketball with colleagues.
"We wanted to show he was also able to have fun," Farfalla said.
The exhibit, which is open to the public, includes LoBiondo's desk and a flag that flew over the Capitol building in Washington. Stockton is the exclusive home of the Frank A. LoBiondo Congressional Papers. Stockton Special Collections Librarian Heather Perez said only about 20 percent of the materials Stockton received are on display and more will be loaned or gifted in the future. The exhibit will be updated occasionally over time. The materials are also available for classes and research.
Contact:
Diane D'Amico
Director of News and Media Relations
Galloway, N.J. 08205
Diane.D'Amico@stockton.edu
609-652-4593
609-412-8069
stockton.edu/media