Stockton Earns Carnegie Community Engagement Classification
Galloway, N.J. _ Stockton University has again been selected to receive the Carnegie Foundation for the Advancement of Teaching's Classification for Community Engagement.
The Carnegie Foundation recognizes Stockton as among the institutions "making significant strides in finding ways to engage with community partners, building on community assets, and addressing a wide array of community challenges."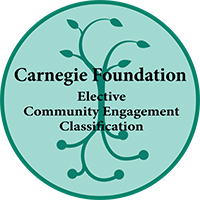 The classification is based on documentation and data collection provided by the university demonstrating its ongoing investment in community engagement.
"To remain relevant, institutions of higher education must continuously challenge themselves to stretch beyond traditional definitions of education," President Harvey Kesselman said. "Stockton recognizes that it is training the next generation of citizens in our classrooms, in our programs, and in our neighborhoods. It is an incredible responsibility and I am so proud to have Stockton be a part of the successes we will all share as a community in the months and years to come."
In its notification letter, the evaluation team noted Stockton's alignment of its mission, culture, resources and practices to support "dynamic and noteworthy community engagement." The letter said Stockton provided "descriptive, coherent and compelling evidence of exemplary practices of institutionalized community engagement."
Stockton's efforts represent collaborations among the faculty, staff, students, and community partners throughout southern New Jersey that include long-term partnerships and academic research projects across the Institution.
Merydawilda Colon, executive director of the Stockton Center for Community Engagement, said the approval process is rigorous. Stockton is expected to document and evaluate its engagement efforts and continue to improve Institutional practices to maintain the classification, which is effective for five years.
"We must use the lessons learned in the Carnegie application process to inform our engagement activities giving the faculty, staff, students, and community partners a voice in guiding the progress toward transformational change," Colón said. More information and examples of Stockton engagement are at stockton.edu/engagement.
Contact:
Diane D'Amico
Director of News and Media Relations
Galloway, N.J. 08205
Diane.D'Amico@stockton.edu
609-652-4593
609-412-8069
stockton.edu/media