Scholarly Activities

White Dives into Minds of Serial Killers at Conference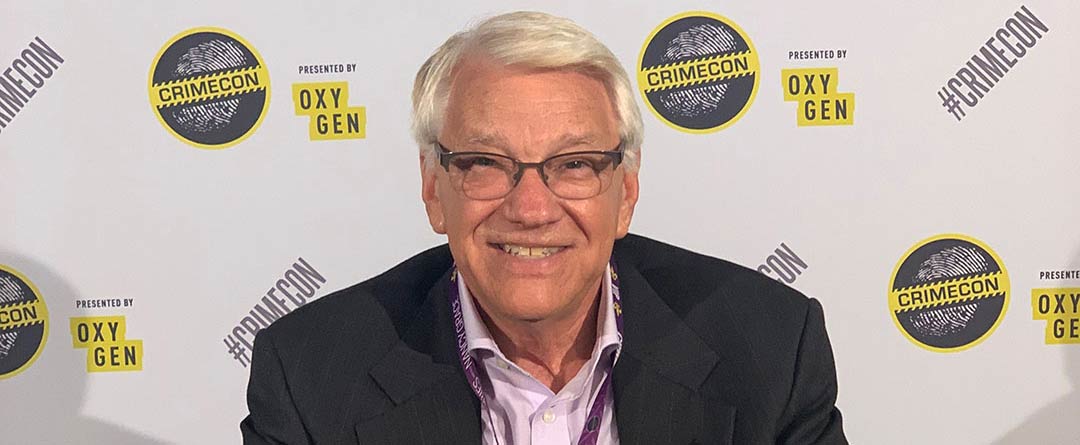 Stories of serial killers, while terrifying, also spark intrigue and fascination. John White, professor of Psychology at Stockton University who is also a former Investigator Sergeant for the Dallas Police Department, has been telling that narrative through research with students since he began his teaching career at Stockton in 1992.
Specifically, Stockton graduates Matthew Gentile '05, Krystyn Margeotes '13, Jake Lipman '16, Kerry Black '18 and Meghan Privitello '19 served as lead coordinators in compiling a serial killer database with White. The graduates helped guide fellow students in gathering the research which is a continuous work in progress. White has contributed material from the database to the writers and technical advisor of the famous crime drama "Criminal Minds," as well as the documentary series, "Killer Profile," which aired on the Biography Channel and Lifetime Network.
"One of the producers of Criminal Minds asked me to join him at the 2018 CrimeCon that was held in Nashville, Tennessee," White said. "Of course, our subject was serial killers. We received excellent reviews and the organizers of CrimeCon asked me to give a solo presentation at CrimeCon 2019 in New Orleans, which I did."
White had over 400 people attend his program at Crimecon 2019 which was held last June. CrimeCon is a true crime organization sponsored by the Oxygen Channel.
---
Chirenje, Hallagan, Internship Program Receive National Recognition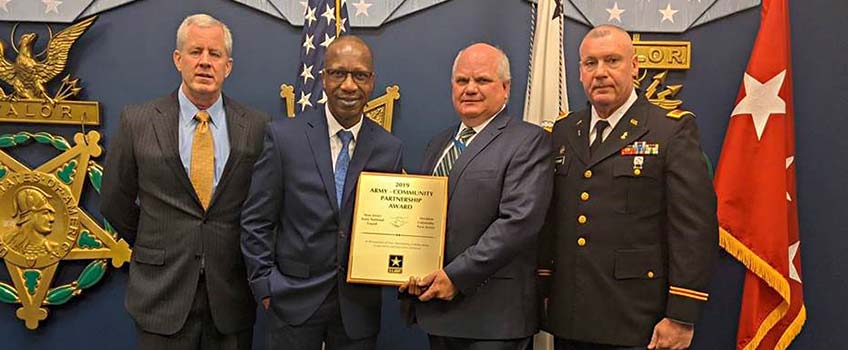 The New Jersey Army National Guard (NJARNG) and Stockton University were recognized at the 2019 Army Community Partnership Awards in December for their partnership to establish an internship program focused on improving operational and mission readiness in the Sustainability, Real Property, Facilities Management, and Environmental Programs. These partnerships ensure that NJARNG Soldiers train in state-of-the-art, energy-efficient, hygienic facilities.
The Stockton University Environmental Internship Program, SUEIP, is led by Tait Chirenje, professor of Environmental Science, as the faculty Project PI and John Hallagan, program advisor to the School of Natural Sciences and Mathematics, as the Project/Intern Advisor. The program consists of three environmental specialists who are based at the New Jersey Department of Military and Veterans Affairs (NJDMAVA) Lawrenceville facility and a team of eight paid student interns as well as three student volunteer interns.
"This award highlights the Pentagon's recognition of the unique, mutually beneficial partnership that Stockton has established with the NJDMAVA. We help the Army meet its numerous compliance requirements in an economically viable and sustainable fashion while we train and give our students real world field experience in sampling, analysis, project management and report writing," said Chirenje. "The fact that only a few teams are honored every year, and Stockton's partnership was recognized this year shows the leadership role we are playing in these partnerships."
---
Reid-Merritt Presents at National Seminar on Social Injustice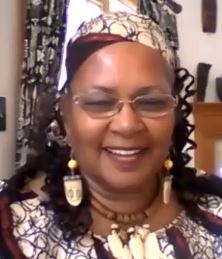 Pat Reid-Merritt, distinguished professor of Africana Studies and Social Work, participated in the online seminar, "Race, Racism, and Anti-Racism: Redefining the Social Contract" on June 30.
The seminar, hosted by Temple University, featured a panel of some 20 national scholars and drew an impressive 1,200 registrants. When Molefi Asante, chair of the Graduate Department of Africology and African American Studies at Temple, asked Reid-Merritt to be one of those scholars, she said she was excited and needed to reflect on her selection.
Reid-Merritt has been teaching and lecturing on issues surrounding race and racism her entire academic career, 44 of which have been at Stockton. She is a social worker by profession and an active member of the National Association of Black Social Workers, whose fight against systemic racism has been at the forefront of their agenda for the past 50 years.
---
Moscovici Joins Statewide Conservation Leadership Team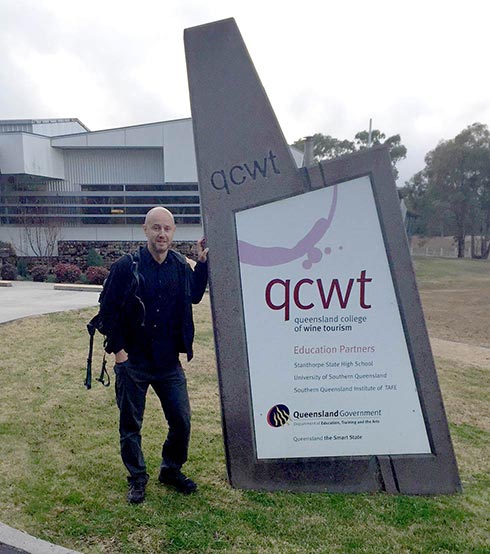 Conservation takes a team. In New Jersey, Daniel Moscovici has stepped onto the field.
New Jersey became the first state to develop a multiagency Conservation Leadership Program to train professionals who have the potential to balance expanding development in a shrinking natural world.
Moscovici, an associate professor of Environmental Studies and Sustainability, was in the first cohort that completed the program's Fall 2019 residency at the National Conservation Training Center in Shepherdstown, West Virginia. He joined participants specializing in parks, forestry, wildlife, watersheds and natural resources from the Department of Environmental Protection, New Jersey Audubon, U.S. Fish and Wildlife Service and other state and federal agencies and nonprofits.
The immersive training points out there are no procedures to follow in solving conservation's complex challenges, and the scope of the problems requires collaboration and expertise from numerous fields. Adaptive leadership strategies are the focus of the course.
---
Jones-Carmack's Research Highlighted in Psychology Today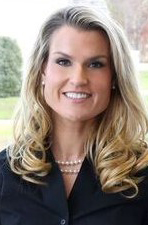 Have you ever had an experience where your politics doesn't align with a close family member, friend or even colleague somewhere, and anxiety starts to seep in, building momentum as they continue to talk? What you felt is an actual "thing," according to research by Joy Jones-Carmack, assistant professor of Business Studies-Management at Stockton University.
Political communication apprehension (PCA) is the fear or anxiety associated with real or anticipated communication about politics with another person or persons, according to Jones-Carmack's study.
In December 2019, Psychology Today featured her work in an online article, "Ways to Talk about Those Touchy Areas in Relationships," giving it national attention. In the article, Jones-Carmack offers communication strategies for those dealing with PCA in difficult situations.
---
Latourette Presents at Four NYU Events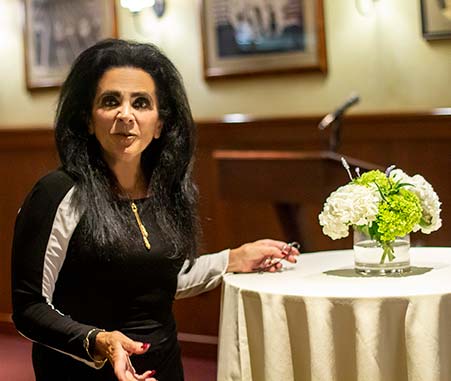 Audrey Wolfson Latourette, distinguished professor of Business Law, first served as a Scholar-in-Residence at New York University during a sabbatical in 2004 and 2013 and has since occupied summer scholar-in-residencies there. Stockton is a participating member of the Faculty Resource Network (FRN) at NYU, which enabled Latourette to apply for such residencies or participate in one-week seminars offered during the summer.
During October 2019, she presented "Plagiarism: Legal and Ethical Implications for the University" to over 75 professors and graduate students from various Schools of NYU; and addressed NYU chemistry postdoctoral students about the topic of Title IX and its legal ramifications.
In November 2019, she presented on "Scientific Integrity and Misconduct: Plagiarism" to chemistry postdoctoral students; and also presented "First Amendment Rights on University Campuses: A Legal Analysis" at the annual national symposium sponsored by the FRN, "Critical Conversations and the Academy" on Nov. 23 at the University of Miami.
View the 2020 Scholarly and Professional Activity book.