Athletics
Ten Ospreys Selected Arthur Ashe Jr. Sports Scholars
Ten Stockton University student-athletes were recognized as 2020 Arthur Ashe Jr. Sports Scholars by the publication Diverse: Issues in Higher Education. The total is double Stockton's previous high of five honorees in 2018.
The five male selections were soccer player Joel Burgos, track & field competitors Cedric Cook and Qudratullah Qadiri, cross country and track & field runner Daniel Do, and lacrosse player Will Pellicier.
Stockton's five female recipients were rower Catelyn Andrews, field hockey goalie Niya Calloway, basketball player Raquel Harris-Scott, softball player Meg Murzello and track & field competitor Lauren Preston.
To qualify, student-athletes must be persons of color with a minimum 3.20 grade point average after at least one year of college. The awards are inspired by tennis legend Arthur Ashe Jr.'s commitment to education, and they celebrate the accomplishments of hundreds of student-athletes nationwide.
Track & Field Hosts Virtual Meet
Spring seasons at colleges and universities came to an unexpected halt amid the coronavirus, but that did not stop Stockton University student athletes from getting in some training.
Some admitted it wasn't easy to train on their own. They said the support and motivation they got from coaches and one another made a huge impact.
The track and field teams missed out on their first home meet because of the cancelled season but coaches responded with a creative alternative, a virtual track meet of athletes coming up with inventive ways to "compete" at home.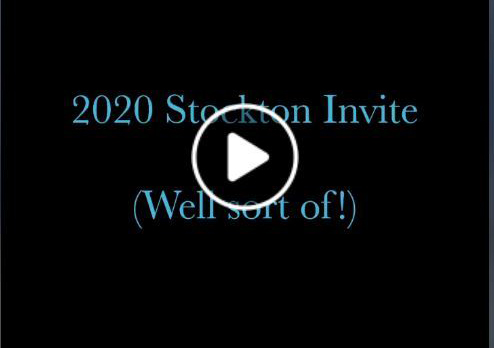 ---
Stockton Athletics Virtual Awards Recognition
Kohlhoff & Swedlund Chosen Athletes of the Year
With the annual Stockton Athletics awards brunch canceled this spring due to the COVID-19 pandemic, Stockton Athletics saluted its student-athletes via a virtual awards recognition in June. All 19 intercollegiate teams are represented with videos featuring seniors and award winners.
Men's Lacrosse player Luc Swedlund was chosen Stockton Male Athlete of the Year and Volleyball player Julie Kohlhoff was chosen Stockton Female Athlete of the Year. Swedlund and Kohlhoff each led their Stockton squads to conference championships.
Swedlund was named a USILA Honorable Mention All-American after scoring 100 goals and dishing 18 assists for 118 points, setting new school records for goals and points in 2019. He became the fifth Osprey to achieve All-American status and also was selected CSAC Player of the Year, CSAC First Team, ECAC Offensive Player of the Year, ECAC First Team, CoSIDA Academic All-District and MVP of the CSAC championship game.
Kohlhoff received AVCA All-America Honorable Mention, AVCA All-Northeast Region and NJAC First Team recognition in Fall 2019. The middle hitter led the NJAC and finished seventh in NCAA Division III in hitting percentage (.408). Kohlhoff also finished fourth in the NJAC in blocks (team-high 0.79/set) and led the Ospreys with 329 kills.
---
Men's Soccer Advances to NJAC Semifinals on Penalty Kicks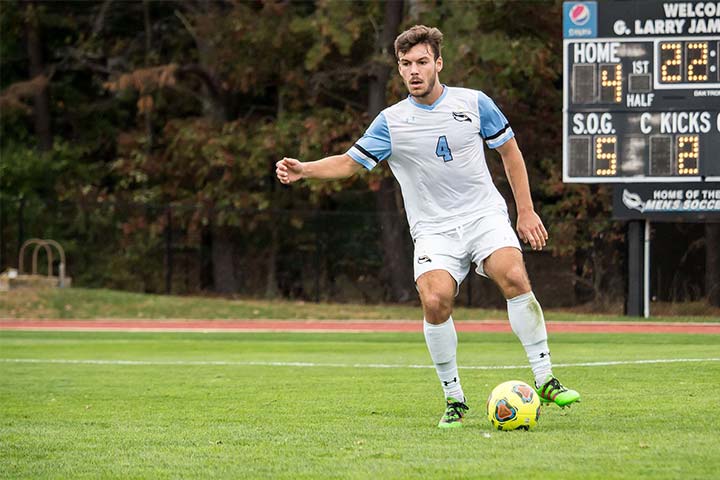 Stockton's sixth-seeded Ospreys advanced to the semifinals of the New Jersey Athletic Conference (NJAC) Tournament on penalty kicks after a 0-0 tie with third-seeded Rutgers-Camden.
Stockton converted all five of its penalty kicks in the shootout and goalkeeper Dino Gromitsaris made one save. Gromitsaris also recorded six stops during the 110 scoreless minutes for his sixth shutout of the season.
Stockton later fell in the semifinals 2-1 against Montclair.
Stockton's men's soccer team reached double-digit wins for the second time in the last four years, finishing with 10 victories. The Ospreys were unbeaten at home, highlighted by a 1-0 upset of Franklin & Marshall.
Women's Rowing Competes in Head of the Charles; Collect Mid-Atlantic Rowing Conference Honors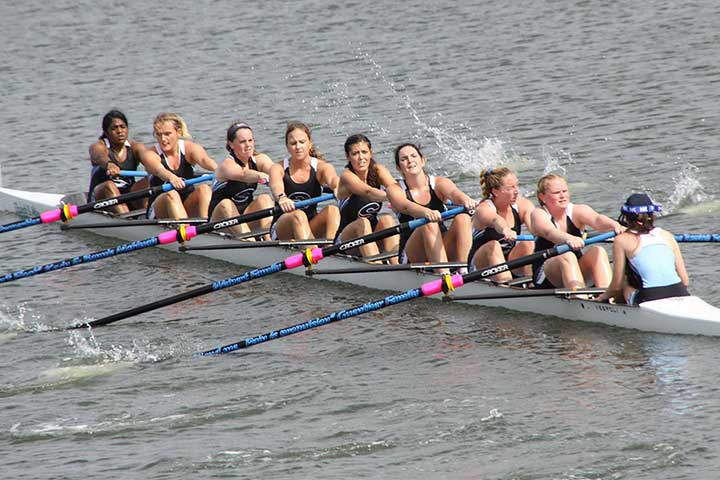 Stockton University traveled to New England and rowed in the Women's Collegiate Eights at the 55th annual Head of Charles Regatta on Oct. 20, 2019. The Head of the Charles is one of most famous regattas in the sport, attracting over 11,000 athletes and tens of thousands of spectators.
Oliva Hurley, Emily Culmone, Chloe Schulze, Karlee Farrell, Jany Anderson, Caitlyn Fogarty, Izabelle DelRoss and Michaela Pope rowed in the event.
Hurley and Schulze were chosen All-MARC Varsity by the Mid-Atlantic Rowing Conference for the 2019-2020 season.
Brianna Florentino was selected an All-MARC Novice. Hurley, Shulze, Maria Antoni, Kaitlyn Bradley and Desarae Dempsey qualified for MARC Academic All-Conference honors as sophomores or higher with GPAs of at least 3.50.
Men's and Women's Track & Field Teams Snag USTFCCCA Academic Honors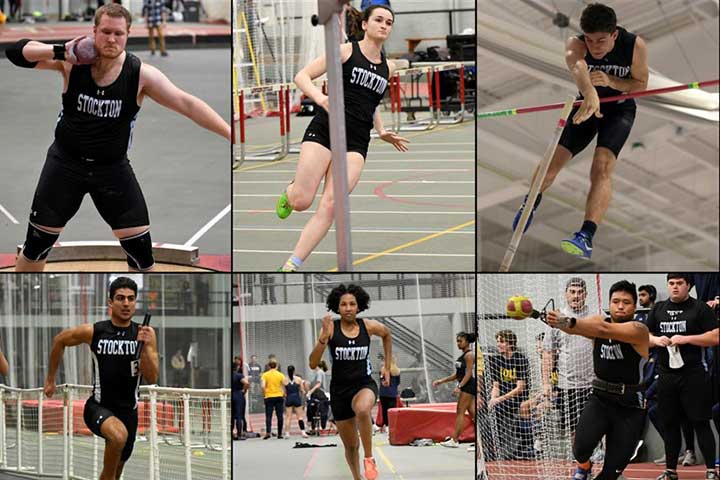 The Stockton University men's and women's track & field teams qualified for All-Academic Team honors from the U.S. Track & Field and Cross Country Coaches Association (USTFCCCA) for the 2020 season.
The women's team, coached by Todd Curll, registered a 3.63 team GPA that tied for 36th in NCAA Division III in GPA.
The men's team, coached by Jayson Resch, tied for 81st in the nation with a 3.29 GPA.
Stockton competed in 10 meets during the 2020 indoor season, with the men's and women's teams each finishing third at the NJAC Championships.
Women's Volleyball Reclaims NJAC Title; Reaches NCAA Second Round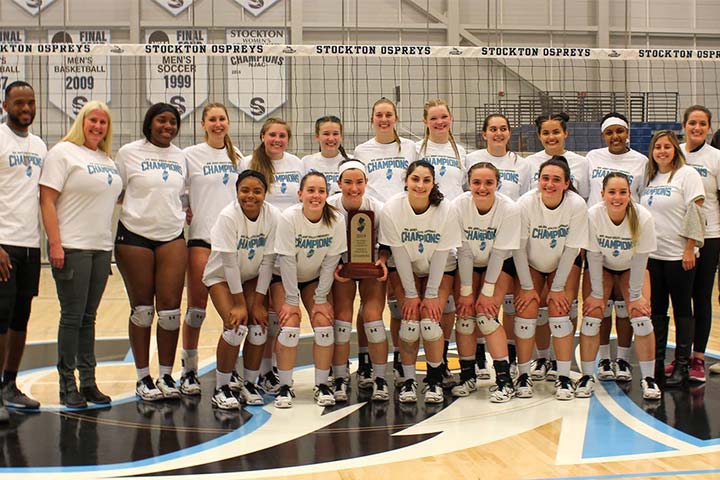 The Stockton volleyball team had a remarkable 2019 season, winning 31 matches, including a 23-match winning streak, and advancing to the second round of the NCAA Tournament. Head coach Allison Walker, the NJAC Coach of the Year for the sixth time, guided a team with just two seniors to the school's 15th NJAC title and 13th NCAA Tournament berth.
The Ospreys led the NJAC in hitting percentage, kills and assists while placing second in blocks. Stockton also ranked seventh in NCAA Division III in winning percentage, 13th in kills, 15th in assists, 25th in hitting percentage and 26th in blocks.
Five players were selected NJAC All-Conference, led by NJAC First Team selections for Julie Kohlhoff and Emily Sullivan.