Giving Highlights

University alumni and friends donated $10,506,767 during the 2020 fiscal year. These are just some of the many notable gifts to the Stockton University Foundation this past year:
8 Boats Named at Rowing Ceremonies
Eight Stockton University varsity eight boats were doused with champagne during naming ceremonies at the Atlantic City Boathouse on Sept. 25 and 28, 2019.
Two varsity eight boats were named Sept. 25 for local rowing legend and coach Stan Bergman of Ventnor and supporter and former state senator William "Bill" Gormley of Margate. The Bergman boat was made possible through a generous donation by Horizon Blue Cross/Blue Shield of New Jersey, which is also listed on the Bergman boat.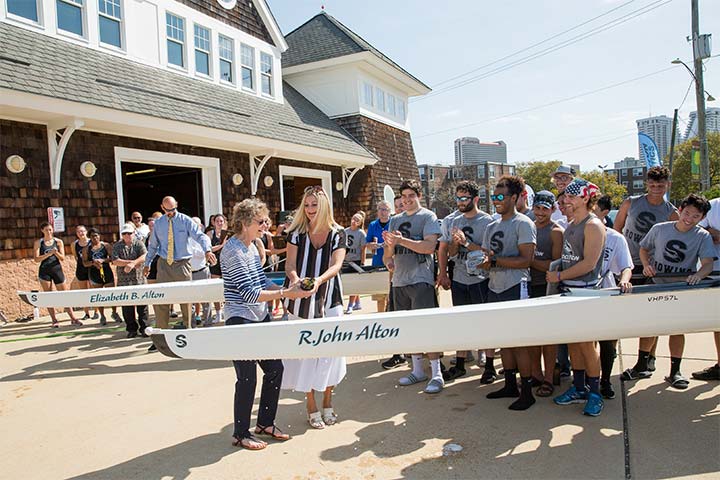 On Sept. 28, during the Atlantic City Stakes boat races in Atlantic City, ceremonies were held to name six more boats for coach Bob Kerstetter, Ray D'Amico '81, Stockton trustee Madeline Deininger '80, who rowed at Stockton, Stockton First Lady Lynne Kesselman '82, Stockton founding trustee Elizabeth B. Alton and her son, R. John Alton.
---
A.C. Student Lounge Named for Elizabeth B. Alton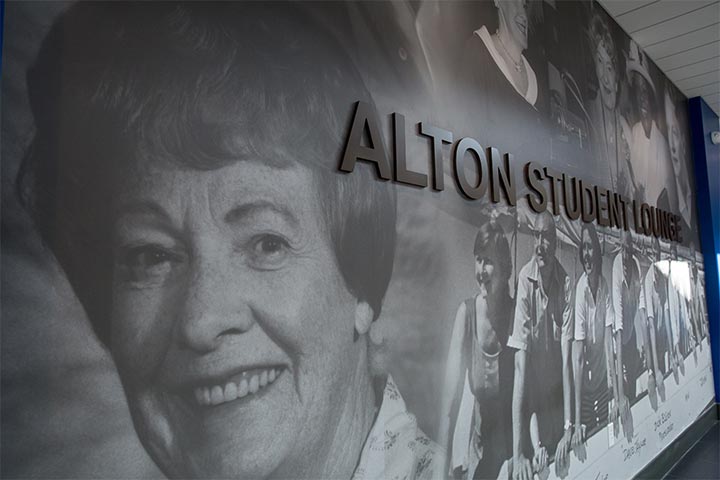 Elizabeth B. Alton believed so strongly in access to higher education that in the 1960s she traveled around the state to convince the legislature to fund a new state college in South Jersey.
South Jersey got its college when Richard Stockton State College opened in fall 1971. Elizabeth Alton served on the first board of trustees.
The Alton family has continued her legacy of support for the college and Atlantic City. On Sept. 28, 2019, the Alton Student Lounge was named in her honor at the new Stockton University Atlantic City Academic Center in Alton's hometown.
"Our institution continues to grow into Atlantic City because of the roots set forth by Elizabeth Alton's vision and activism to build an institution of higher learning in South Jersey," President Harvey Kesselman said. "Her daughter Elizabeth Endicott, continued her belief in Stockton and remained committed to scholarship and commemorating her mother's legacy."
---
Ospreys Give Raises More Than $350,000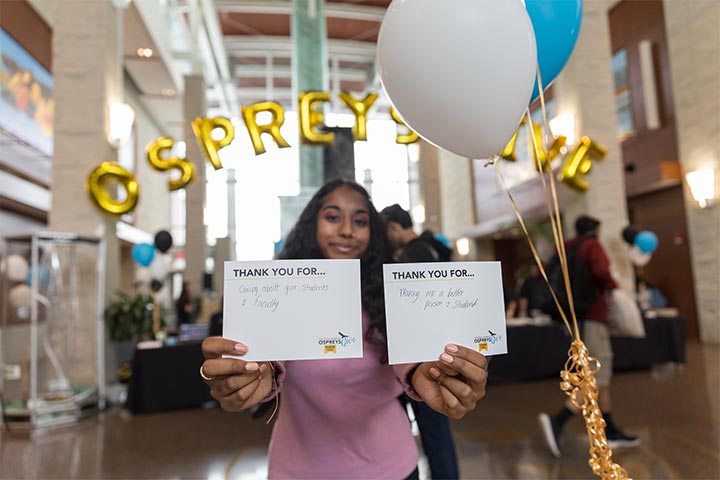 Stockton University's second 24-hour Ospreys Give Campaign last October raised a record $350,697 for the Stockton Foundation to benefit student scholarships and programming.
Among the 677 gifts received was a significant new endowed scholarship fund from Pravin Khatiwala of Ventnor, CEO of PND Properties.
"The generosity of our Stockton community members, alumni and supporters who contributed to this campaign is incredible," said Daniel Nugent, Stockton chief development officer and executive director of the Foundation.
More than 75 donors chose to make their gifts prior to the 24-hour event to help jump-start the donation drive. Several alumni, deans, University cabinet members, and Foundation board members joined Stockton University President Harvey Kesselman and his wife, Lynne, in offering matching gifts and challenges to inspire others to give back.
---
Four New Engelberg Scholars Named
Four Stockton University students with strong ties to Atlantic City have been chosen as the second cohort of recipients for the Engelberg Leadership Scholarship Program.
Ivett Carrasco, Linh Tran and Yamirah Williams of Atlantic City and Amna Haider of Brigantine, all rising sophomores, were chosen for their performance as freshmen at Stockton and also for their commitment to their hometowns and desire to give back to Atlantic City.
Each student recipient receives a full scholarship that funds all costs, including tuition, fees, room, board, books and any other expenses.
The core of the program is a unique leadership development series, which provides the scholars with opportunities to meet and learn from community leaders dedicated to the future of Atlantic City. Last year, the first cohort of Engelberg Scholars met with Atlantic County Prosecutor Damon Tyner; President of Atlantic Cape Community College Dr. Barbara Gaba; and Michael Epps, executive director of the office of Atlantic City Initiatives for the New Jersey Department of Community Affairs.
The new cohort will also have the opportunity to learn from the first cohort of Engelberg Scholars who are now entering their junior year. Those students said that the scholarship funds not only lifted financial stress, but allowed them to take advantage of more opportunities for leadership and community activities because they did not have to work.