Thousands Celebrate Commencement Online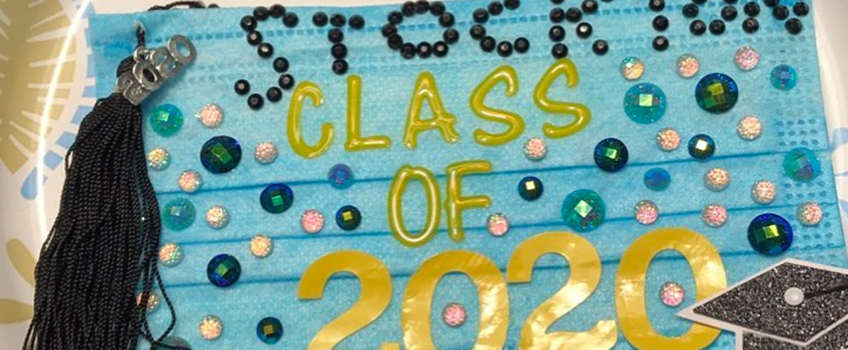 Galloway, N.J. – The confetti fell on the Class of 2020 at Stockton University on Friday, May 15, but it did so virtually, as the class celebrated eCommencement online at home, sharing their day on social media rather than at Boardwalk Hall.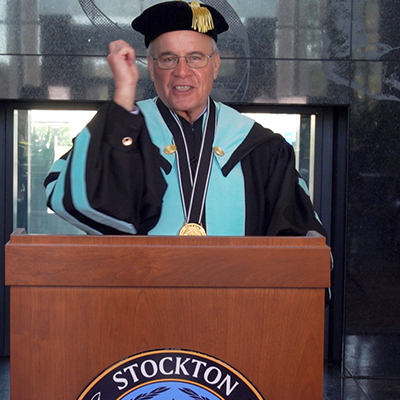 The website went live at noon, when Commencement would have begun at Boardwalk Hall, and within the first two hours had 6,000 unique pageviews. That number grew to 11,500 through the weekend. Families also interacted on Stockton's Facebook page, where eCommencement reached 37,000 and had 15,000 video views.
"We would love to congratulate each and every one of you, to present your degrees in person, to shake your hands," said President Harvey Kesselman in his video address. "But as you know, the current global health crisis has presented considerable challenges to our time-honored traditions of commencement.
Still, he said, Stockton was proud and privileged to carry on the tradition of recognizing graduates.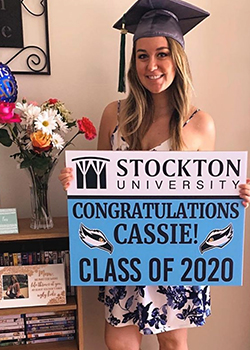 "Let not the challenges we face keep you from fulfilling the very charge that brought you to Stockton," Kesselman said. "I say this without reservation and with every confidence because I believe in you."
Kesselman recognized two students who have reached out to help during the Covid-19 crisis. Graduate student Gavin Rozzi of Lacey Township printed 3-D masks for essential workers and Social Work major Ashley Berenato of Hammonton led a project by the Gerontology Club to make cards for residents in nursing homes who could not have visitors.
Stockton Board of Trustees Chairman Leo Schoffer congratulated the graduates and noted that every generation has been faced with challenges. He thanked them for their dedication in rising to the challenge of completing their degrees.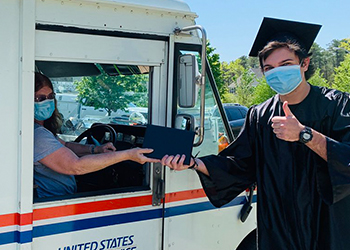 "This dedication will serve you well as you move forward to the next stop in your journey," he said.
New Jersey Secretary of Higher Education Zakiya Smith-Ellis was scheduled to be the keynote speaker at Boardwalk Hall. Instead she led the congratulatory shout-out video honoring the students. Others on the video included New Jersey Senator Cory Booker, Student Senate President Ariana DeFillipo, Athletic Director Kevin McHugh, Vice President for Student Affairs Christopher Catching and many faculty members and staff.
The video is viewable on the Stockton eCommencement website at stockton.edu/commencement. A searchable list of the more than 2,000 undergraduate and 350 graduate students who earned their degrees at Commencement is also on the website, along with GIFs students could use on social media. Students also posted their photos and messages on the page.
Stories of some of the Class of 2020 are on the Stockton website.
# # #
Contact:
Diane D'Amico
Director of News and Media Relations
Galloway, N.J. 08205
Diane.D'Amico@stockton.edu
609-652-4593
609-412-8069
stockton.edu/media