Instrumentalists Record Senior Projects for Online Recital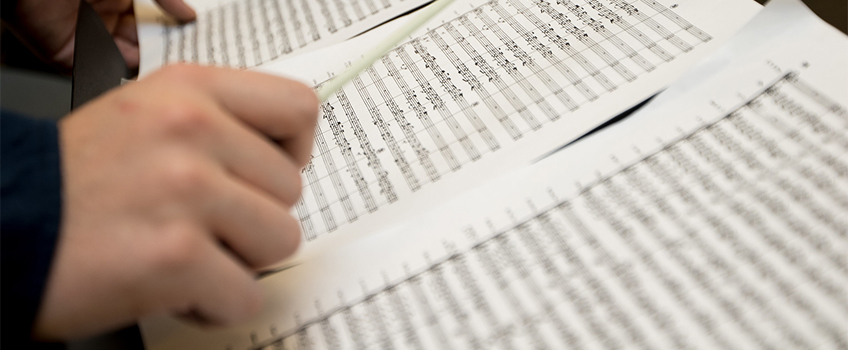 Galloway, N.J. - Three Instrumental Music majors completed their senior projects from home in video format. Robert Fell, Natalie Doucette and Joseph McLaughlin performed as if their living rooms were standing room only to share the culmination of their college careers.
Christopher Di Santo, associate professor of Music, couldn't be more proud of their perseverance. "They have all distinguished themselves and excelled in so many ways and on so many levels academically and musically. I know they will reflect the value of their Stockton education and experiences in everything they do moving forward," he said.
Robert Fell and Joseph McLaughlin were the first two students to receive the prestigious Woodruff Instrumental Music Scholarship, which provides $5,000 annually to recipients. They were planning to perform at Boardwalk Hall for Stockton's Commencement ceremony during the National Anthem.
Natalie Doucette was selected as a student speaker finalist.
Help us to give the students a virtual recital by watching their performances in the videos below. We also asked them to reflect back on the past few years to share some of their favorite memories and to look ahead and share their goals for the future.
Joseph McLaughlin
Joseph McLaughlin presents a college student's guide to building a marimba, an instrument with thousands of years of history and ties to slavery. With wood for the keys and frame, PVC pipe for the resonators and drop ceiling lag screws for tuning, he crafted the instrument and demonstrated how it works with a performance of The Prelude from Bach's Cello Suite No. 1 and Winelight by Grover Washington Jr. Watch how McLaughlin transformed simple materials into his own musical masterpiece.
Robert Fell
Robert Fell selected a repertoire to perform on saxophone and clarinet. The nine pieces are Airmail Special, Bob's Blue Bossa, Chaconne, Chanson Moderne, Csadras, From a Distance, Incantation and Ritual, Lullaby of Birdland and Scrapple from the Apple. In Bob's Blue Bossa, there are two saxophones, both played by Fell who recorded them seprately and combined them for the video. Fell would have crafted marketing and program materials for a spring recital at a Stockton venue.
Natalie Doucette
Natalie Doucette prepared a two-hour classical broadcast for the WLFR radio station that provides a historical evolution of the clarinet, how it got the name little trumpet and musical demonstrations. Christopher Di Santo had dreamed for years of having a classical recital lecture broadcasted on WLFR and Doucette was the first to create one. An excerpt is presented in the video below.
Meet the Musicians Q&A
What instruments do you play?
Joseph: As a percussionist, you must study a myriad of instruments in your family. My main instrument is the vibraphone, but I also play the piano, drum set, timpani, and various other hand percussion instruments. I train students on other bandroom instruments such as the saxophone, clarinet, flute, trumpet and guitar.


Robert: Soprano Sax, Alto Sax, Tenor Sax, Baritone Sax, Clarinet and Bass Clarinet.


Natalie: The instruments I play are the clarinet and the ukulele.
What is your favorite Stockton memory?
Joseph:

My favorite Stockton memory (or memories) would have to be carpooling with all of my friends on the way to various performances. Trying to fit a whole band in a small car (with instruments!) was quite a hassle, but it was always fun to try. These are memories I'll keep with me for the rest of my life.


Robert:

Playing with the Ed Vezinho / Jim Ward Big Band multiple times throughout my time at Stockton.


Natalie: My favorite Stockton music moment is the Fall 2019 classical ensemble concert because it was the first time we played arrangements I had made. Outside of my favorite music moment, my other favorite Stockton moment was joining Sigma Sigma Sigma Sorority.
What was your favorite music performance of your college career?
Joseph:

I have had many memorable performances during my time at Stockton University, but my favorite one would have to be with the Theatre Department for Stockton's production of Into the Woods. It was my first major performance at the University, and I made many lifelong friends during my time there.


Robert:

I have two since I played a lot on campus and off campus professionally. Off Campus: Playing saxophone professionally at Dorney Park for two summers and at Morey's Pier during Oktoberfest for two years. I went through audition rounds with playing different excerpts of music styles and it was really enjoyable playing in front of hundreds of people throughout Dorney Park and Morey's Pier. On Campus: Playing saxophone at the Scholarship Dinner in 2019. I have always enjoyed performing in front of people.


Natalie:

My favorite music performance was when the classical ensemble performed a medley of songs from "The Prince of Egypt." I had the melody in the opening and it was such a great piece.
What was your favorite class?
Joseph:

I had a lot of great and memorable classes, but my favorite would probably be a toss up between Dr. Vaughn's Music History and Dr. Di Santo's Music Theory.

Robert:

Music History I and II. Dr. Vaughn has so much energy, makes everything fun and is really a fantastic person and professor!


Natalie: My favorite class at Stockton was Dr. Di Santo's Form and Analysis of M

usic

. I really enjoyed learning about how to analyze the different forms of music and I hope to continue my study of Music Theory in a graduate school.
Where do you see yourself in 10 years?
Joseph:

In 10 years, I see myself working in interactive entertainment. I'd like to put my experience to work with artists, programmers and designers to blend creative fields and create a final product that we can all be proud of.


Robert:

Having a full time job in music or the financial industry and providing for my family.


Natalie:

In 10 years I hope to have a career in both playing in a professional setting and teaching. I have been so inspired by my professors that I have had that I would like to one day teach at the college level, maybe even at Stockton.
What do you enjoy most about being a musician?
Joseph:

I enjoy being a musician because I am able to express myself creatively in a language of my own. While I've spent much of my time writing papers and making speeches, I have found my passion in composing, playing and performing music.


Robert:

Playing in front of people and bringing them joy listening to me play!


Natalie:

What I enjoy the most about being a musician is bringing joy to those I play to and with. It is the most fun to see people enjoying music.
What do you have planned for after graduation?
Joseph:

I will be continuing my work teaching high school marching band and drumline. I will also be extending my reach into game development and IT support.


Natalie:

Post graduation I hope to be working toward a Master's degree in Music Theory and helping out at any local theater pit bands once they open.
Is there anything else you'd like to share?
Joseph:

I could not have made it to graduation without the love and support of my family and friends. I'm so incredibly thankful for the myriad of life-changing opportunities I've been given by Dr. Christopher Di Santo and Dr. Beverly Vaughn. I have been able to perform at venues with such talented musicians that I would have never thought possible at my age due to their hard work.


Robert:

I want to thank Dr. Di Santo and Mr. Vezinho for the opportunities over the last four years of having me perform at Stockton Chamber Players and the Jazz Orchestra in residence!


Natalie:

I would encourage everyone to see what music events Stockton has to offer. Every single event is a real treat and is well worth seeking out.
Reported by Susan Allen