Holocaust Center Launches Interactive Biography
Galloway, N.J. – Pleasantville High School senior Ernest Howard knew he was looking at a taped video of Holocaust survivor Edward Mosberg, 94, of Parsippany, N.J.
But when Mosberg answered his question about what food was served in the Mauthausen Concentration Camp, Howard admits he was amazed.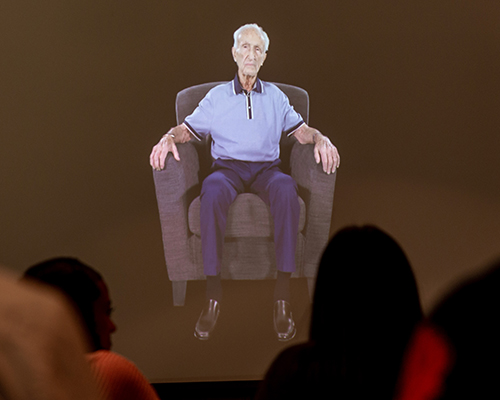 "I felt like he was looking right at me while he was talking," Howard said during a demonstration of the Dimensions in Testimony Interactive Biography Program on Feb. 12 at the Sara and Sam Schoffer Holocaust Resource Center at Stockton University.
As Holocaust survivors age, and fewer remain to tell their stories, the University of Southern California Shoah Foundation is using modern technology to create interactive biographies of survivors.
The Dimensions in Testimony program is already used by museums. Stockton's Holocaust Center was chosen as the national site to beta test a model that can be used by schools.
Area middle and high schools will have the opportunity to bring students in grades five through 12 to meet and learn from Mosberg.
"Thanks to the Shoah Foundation, we will have something that is as close as it can be to a living Holocaust survivor," said Stockton Board of Trustees Chairman Leo Schoffer.
Stockton president Harvey Kesselman said the university is proud to have been chosen as the test site.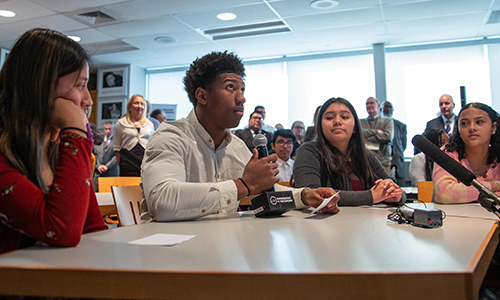 "This program represents an extraordinary opportunity to learn from a Holocaust survivor," Kesselman said. "We all need this."
Attorney Stephen Draisin, a member of the New Jersey Commission on Holocaust Education, who assisted in bringing the program to Stockton, said books are typically just a cold recitation of facts.
"There is no better substitute than hearing stories from people," Draisin said. "Survivors are the witnesses we need to tell these stories."
He told the students he hoped their experience will encourage them to continue the fight against antisemitism and discrimination.
Kori Street, director of programs and operations at the USC Shoah Foundation, said their goal is to develop understanding, empathy and respect for everyone. She said the Foundation has 55,000 testimonies from survivors of genocide around the world.
"We are also teaching students how to ask sensitive questions respectfully," Street said. Their research has shown that students learn as much from the interactive video as they do from a live survivor, but are more willing to ask tough or sensitive questions with the interactive video.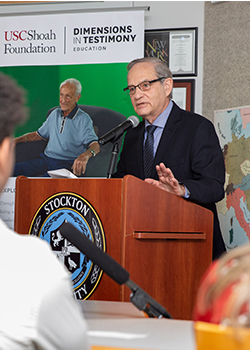 Street said they also want to make the technology as user-friendly as possible so that teachers and schools will want to use it. She said as more questions are asked, the program will learn to adapt Mosberg's answers to get the most accurate and thorough response. Mosberg answered more than 1,000 questions about his life during several days of taping.
Stockton will host the program for three years. Some 30 area high schools already participate in a dual credit Holocaust and Genocide class with Stockton, and those classes will also be invited to visit and interview Mosberg.
The program is free and open to any school. The target audience is students in grades five through 12. Holocaust Center Executive Director Gail Rosenthal said they do ask that teachers do a pre-workshop with students to learn about Mosberg and prepare questions, then a post-event lesson on what they have learned.
"It's really exciting to see how the students interact with the video," said Pleasantville High School teacher Kelsey Shockley, who teaches the Holocaust and Genocide class there. "This is the first year we have not been able to have a Holocaust survivor visit the school. But you can see the emotion and impact when Mr. Mosberg talks. You really get the human impact."
"It was way more real than what I expected," said student Evelisa Merced.
Teachers interested in bringing students to talk to Mosberg can contact the Holocaust Resource Center at Stockton University at 609 652-4699.
# # #
Contact:
Diane D'Amico
Director of News and Media Relations
Galloway, N.J. 08205
Diane.D'Amico@stockton.edu
609-652-4593
609-412-8069
stockton.edu/media