Annual Career Fair Full of New Additions and Familiar Faces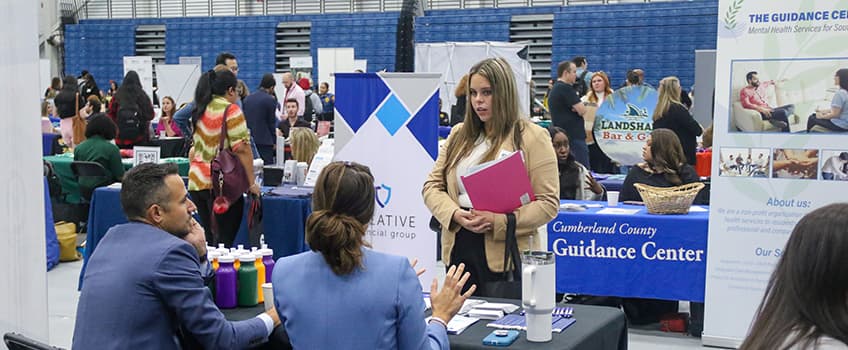 Galloway, N.J. – If there was an accurate hashtag for this year's Fall Career & Internship Fair, it would be Alumni Relations' favorite: #OspreysEverywhere.
In addition to having more than 700 preregistered students and over 100 recruiters on Thursday, Oct. 5, in the Sports Center, the Fair was full of graduated students ready to recruit their peers on the other side of the table.
Alumni from ACT Engineers, Renault Winery and TTI Environmental all said they met eager students ready to join the workforce, which only made it all the more fulfilling for them to come back to campus.
"It's been really interesting to be on this side and to see where I was just a few years ago. This is an amazing opportunity to have right in front of you as a student." Rachel Thornton, '21, said. Thornton graduated from the Environmental Science (ENVL) program and is now a staff environmental technician with ACT, which is currently looking for more students within the ENVL program.
Elaina Gill, '22/'23 is an Events Sales Assistant with Renault Winery and Resort, where she helps plan and execute large-scale events on the property.
"I love supporting my Stockton community; when I was brought in as a freshman, I was immediately welcomed by lovely faces of the TALONS, professors and employees in the Campus Center, so I felt like a part of the community and that it was only right to come back to my service as an alumna," she said.
Jennifer Polios, ENVL '22, and Kevin Carr, ENVL '18, both work for TTI Environmental in Moorestown and said it's great to be back on campus. They plan to visit some of their favorite professors.
"Right now, we're looking for dedicated and hardworking individuals who can work well in a team environment. We do a lot of collaboration with different departments, so they need to work well with others," said Polios.
When alumni weren't working the tables, they were volunteering for the new "Alumni Zone," an initiative spearheaded by Megan Hart, associate director of Alumni Engagement, as a part of their with Career Education and Development (CED).
"This is a student prep station where they can practice their elevator pitch, get their CVs, or resumes, looked at and help get the jitters out," Hart said. "This is a way for them to calm down and relax before they hit the tables. It can be overwhelming, so we want them to feel confident and ready to go."
Alumni Relations and the CED plan to continue their collaboration through long-term projects such as a new alumni business directory, expanding OspreyConnect – a platform for alumni who want to stay connected – and hosting alumni employer panels for current students.
Alumni volunteers Loresa Daniels, '08, and Nick Noto, '18, were happy to help students and see how the campus has (or hasn't) changed since they graduated.
Daniels works for the New Jersey Department of the Attorney General in highway traffic safety, and she felt like it was time to give back to Stockton.
"I know other alumni who are actively participating as alumni, and I just wanted to begin that, so this is my first event. I have to take my own personal tour today after this. I started in 1989 in the (Educational Opportunity Fund) program, so Lakeside (Lodge) was like the gym of the new addition to the Stockton campus. Now I get to walk through and experience all the changes now with a new perspective and new vision," said Daniels, who graduated from the Sociology & Anthropology program. As someone whose topic concentration was African-American Studies, she's excited to learn more about the now two-year-old Africana Studies program.
Noto said he enjoyed being able to use his experience at previous career fairs to help out current students, especially those who pivoted from Health Science to another major, as he did.
"I was really excited just to kind of see as I'm talking to some (students) and their demeanor kind of change a little bit, really start to settle in and just, you know, start to gain a little confidence in speaking (to professionals). It's funny, too: I was joking with a couple of alumni, saying that some things never change, like the parking still is terrible," Noto said with a laugh. He's a graduate of the Business program and current marketing coordinator for Jottan, Inc. in Delran.
Students also had the option to enjoy light refreshments, use the mirror station to prepare for headshots provided by the Public Relations Student Society of America and use complimentary checklists with tips and best practices for networking.
The fair and what it provided proved to be popular with students, regardless of academic year.
"I'll definitely come to a spring fair; it's been really helpful to find jobs like this when you're in college and so busy all of the time. I'm going to apply to AtlantiCare because I'm going to be certified as a medical assistant in April," first-year student and Egg Harbor Township native Nathaly Urquilla said. She and her friend, Litzy Lopez, were both looking for careers in the health science field and mentioned talking to recruiters from Virtua Health, as well.
Sophomore Joseph Corbit is a Computer Science major who said he researched all of the IT/data companies that were in attendance before coming to the fair.
"My favorite part was learning about the different businesses, what they do and all of the different sides – like, there were some environmental businesses that I talked to, and they all had IT sides that they're recruiting for, so it was interesting to see how they work with other people and how interconnected it is," said the Manahawkin resident.
Trenton native Jada Phillips graduated with a Business Management degree in 2020, but since her senior year fair was canceled due to COVID-19, she decided to check out this year's event.
"I felt like it was very helpful being able to go up to professionals and trying to conduct yourself the same way outside of work. It was good networking practice. When I came to the jobs fairs as a student, there was no Alumni (Zone), so I feel like the fair has been elevated," she said.
Phillips' friend Tatyanna Alston, '21, thought getting to actually talk to the people who might hire you was a great opportunity.
"I really enjoyed this because it cut out the sitting behind a screen and just scrolling and uploading your resume. I love this (Zone), getting to talk to alumni and practicing our pitch and the headshots station. That was a big help," Criminal Justice graduate Alston said.
This was all welcome news for Sofia Abreu, director of the CED. This fair was special for Abreu, '11, as it was the first one that she implemented at Stockton.
"It superseded my goals and expectations. I was thrilled to see the energy from students, faculty, alumni, and employers. Even our president showed up to connect with the community – this was a first for me," Abreu said emphatically.
Abreu plans to continue finding ways to improve and expand the fair, such as more opportunities for students in North Jersey and surrounding states who want to join organizations in their hometowns. However, she was very impressed with the support she had already seen from the faculty and how ready and willing students were to explore opportunities.
"This event brought together a community and showcased the university's investment in our students' futures. Faculty jumped in to support the event wherever needed and supported their classes by being at the event with the students. Our students came dressed to impress, ready to share copies of their resumes and networked with alumni in the alumni zone. I was also impressed with the diversity at the fair. It was nice to see representation from campus organizations, EOF, Greek life and more," Abreu shared.
"Supporting the graduating class is our top priority, and we are excited to continue to partner with alumni, faculty and staff across campus. This important work wouldn't have been possible without their support. Today, I felt proud to lead Career Education & Development, serve as an alumna and represent Stockton!"
---
Galloway, N.J. – The spring Career and Internship Fair drew a record crowd, with more than 500 students stopping by to network and job hunt on March 7.
Over 130 employers from across the region spent the day matching their open positions with the skills of students who made the rounds in the Sports Center.
Georgia DeMas, senior Human Resources coordinator at Sesame Place Philadelphia, said she was looking for students interested in working in a fun environment. "We stand for hard workers and a fun and creative environment as well."
She said they were filling roles in multiple areas, including culinary, entertainment and maintenance, and they were looking for personable individuals who could be problem solvers.
– Story by Loukaia Taylor
– Photos by Lizzie Nealis